As I mentioned last week with my Cheese Flautas recipe, I summed up the courage to make two Recipe Sunday dishes for the same meal, and much to my relief, it actually worked! Yay! So take a stab at the Cheese Flautas and throw together this yummy salad for the perfect summer dinner! Yum!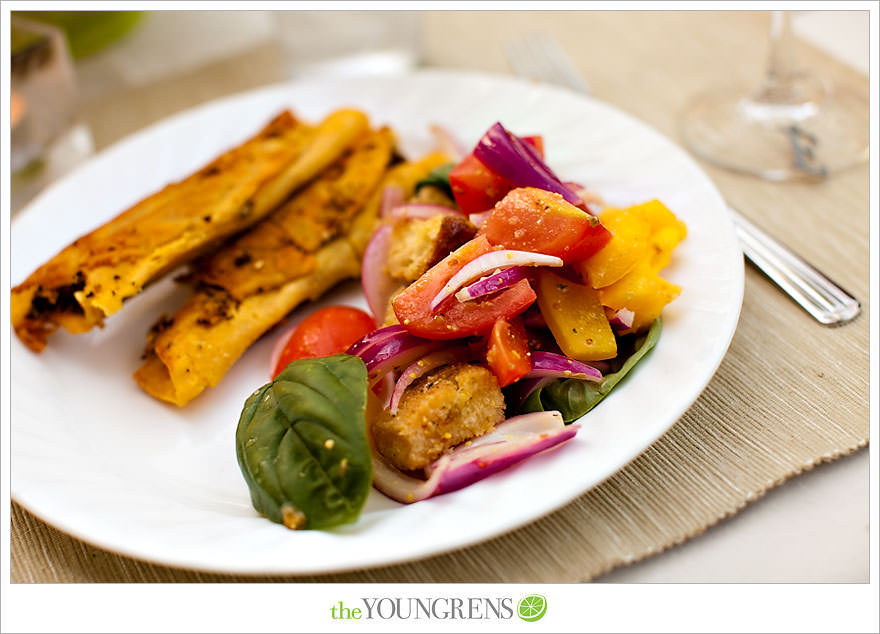 This salad is crazy easy, and the best part is that you make it ahead of time and keep it in the fridge overnight. Just whip it out for dinner the next day and you'll look like a star!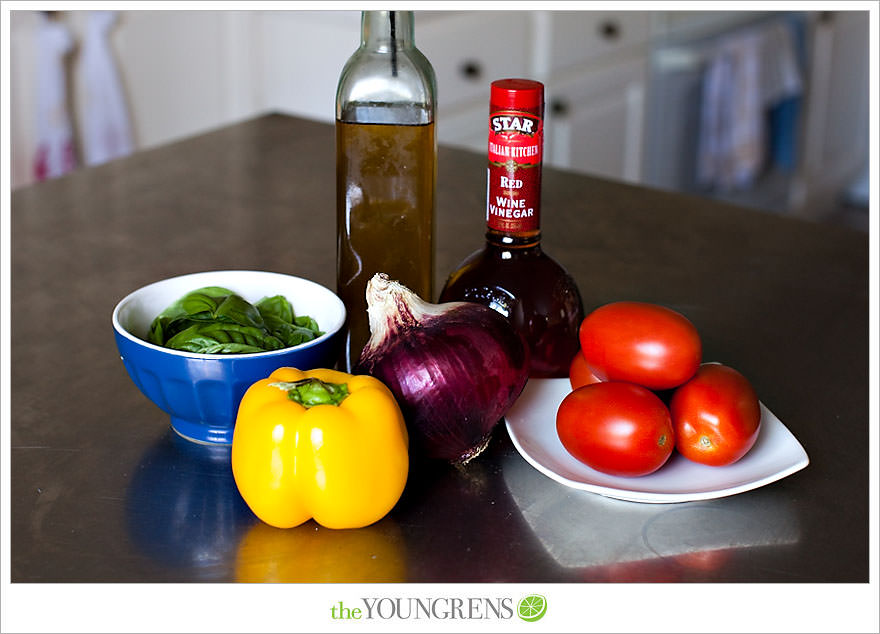 The main ingredient is roma tomatoes, which just so happen to be my favorite kind of tomatoes – mostly because they look all odd-shaped. Then pull out a yellow pepper and red onion from your produce drawer.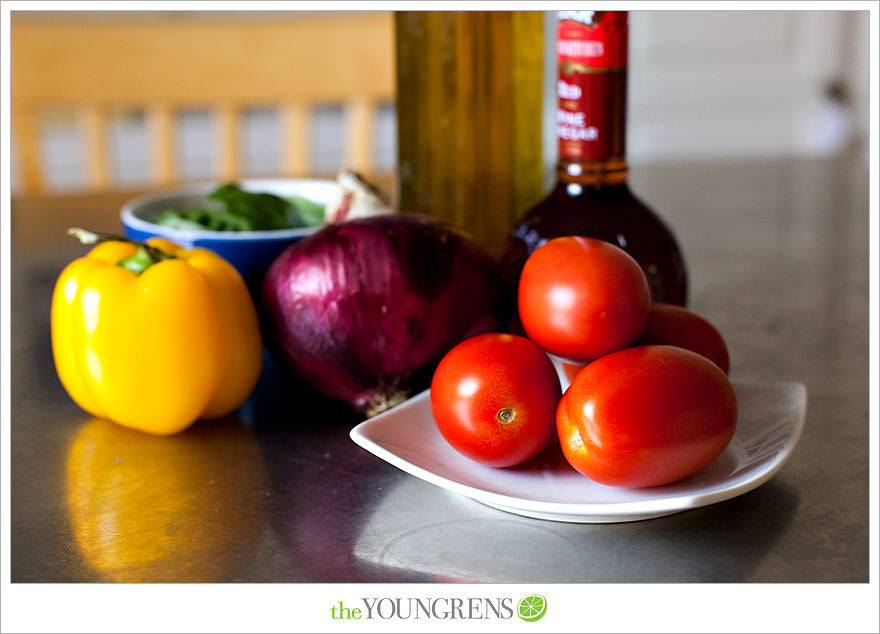 Then pay a visit to Miss Sweet Basil in your backyard.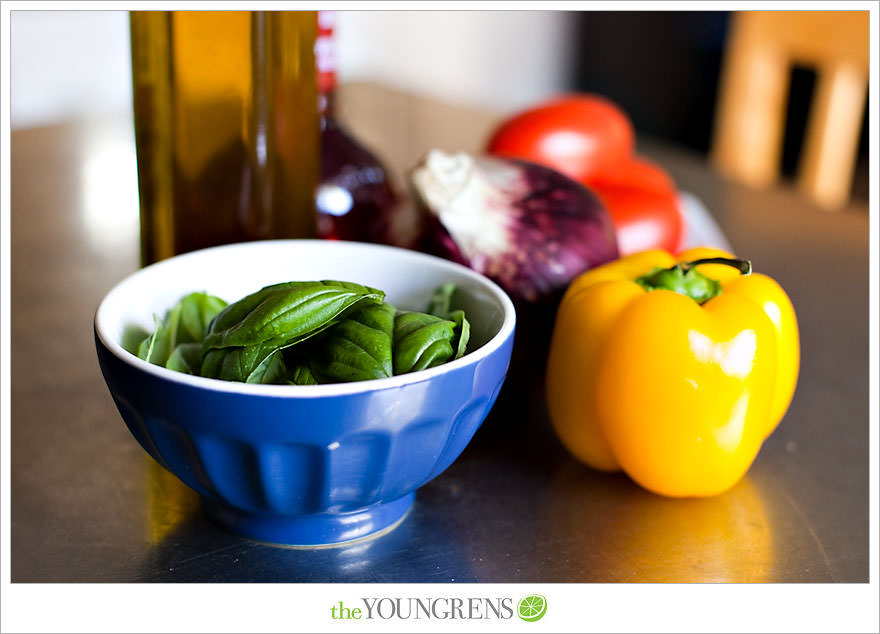 For the dressing, you'll need olive oil, red wine vinegar, dijon mustard, and a bunch of seasonings. Be creative. You'll thank me.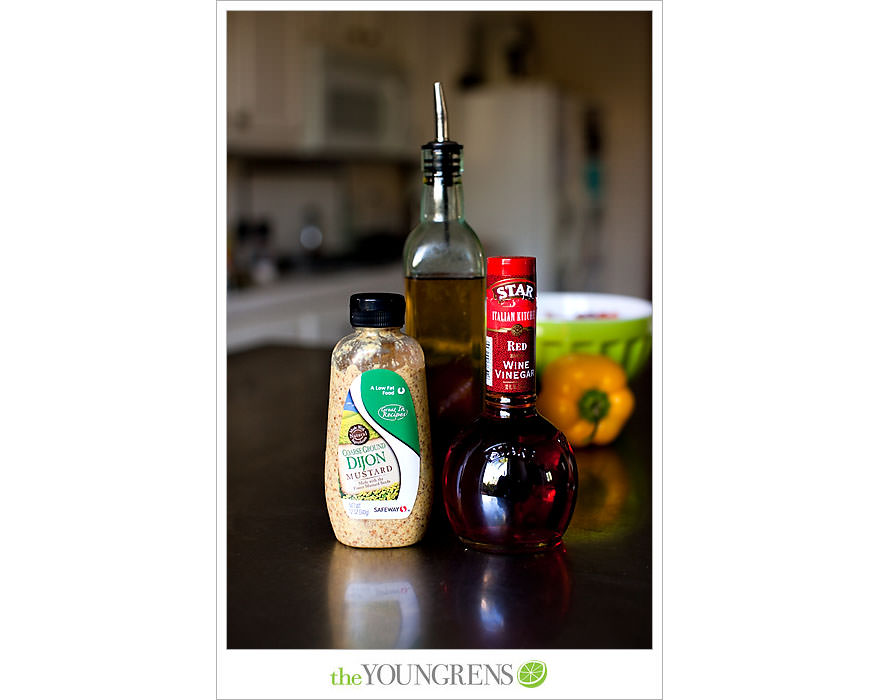 Chop up your veggies…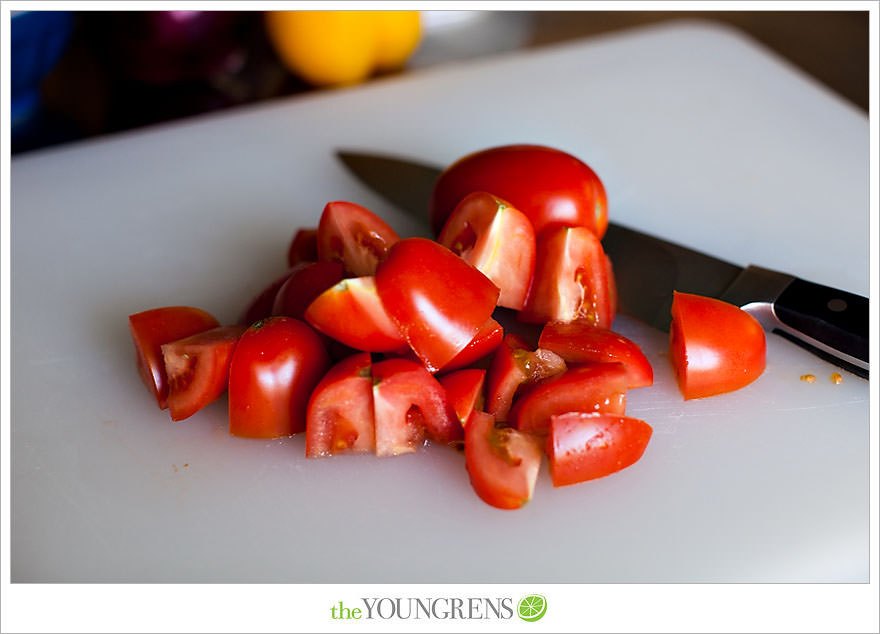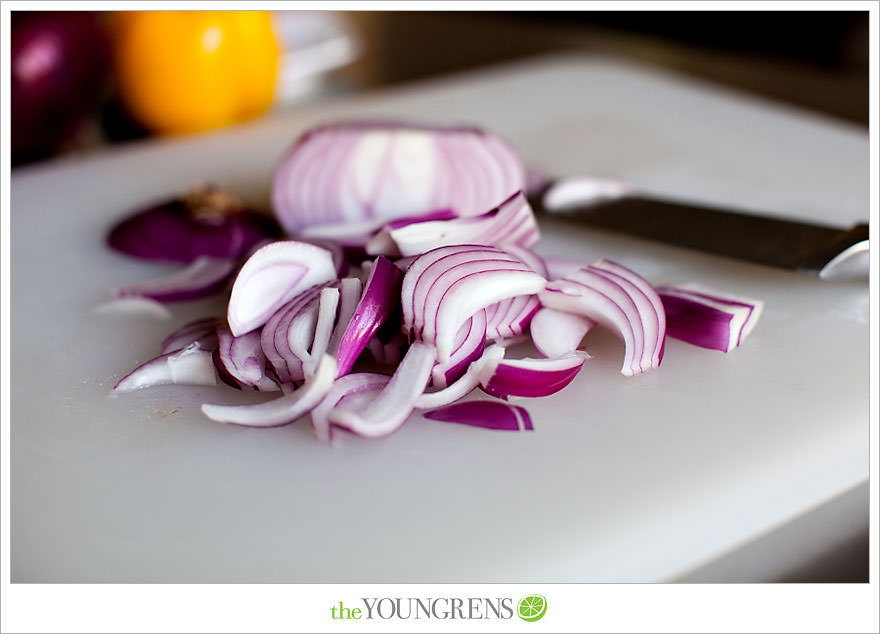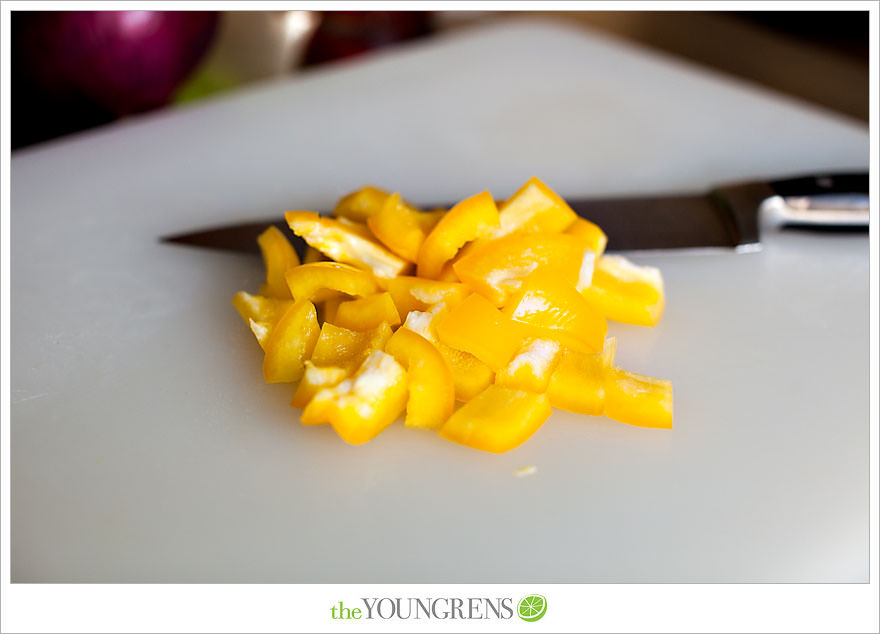 Throw them into a cute bowl…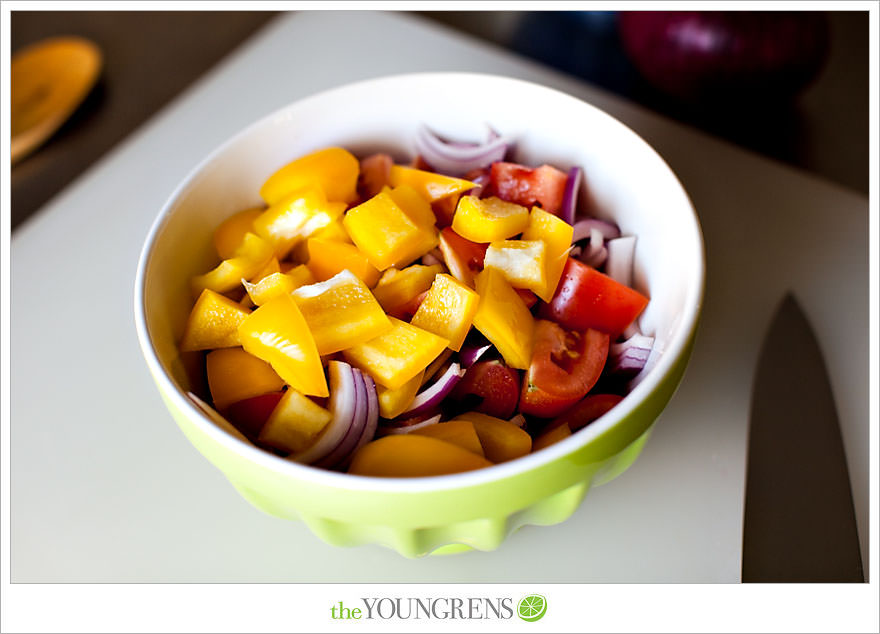 And toss them together. I love all of the colors!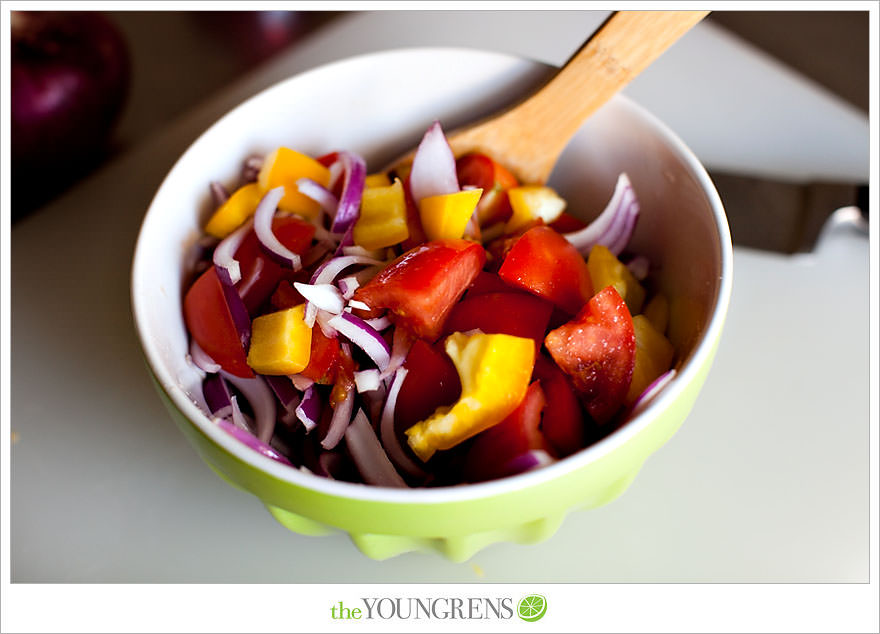 I love this part. Combine your dressing ingredients and throw them into the screw top jar that you were using to hold your cotton balls in the bathroom – wash it first – and then shake it all together while singing to your favorite Lady Gaga song.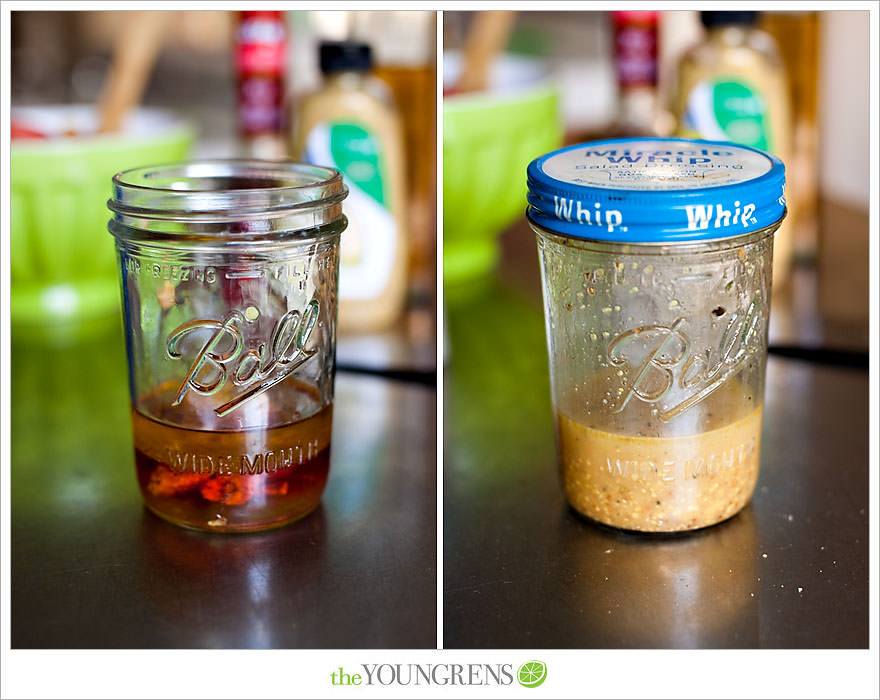 Dump it on top of your veggies and toss it all together. Cover and refrigerate for up to 24 hours.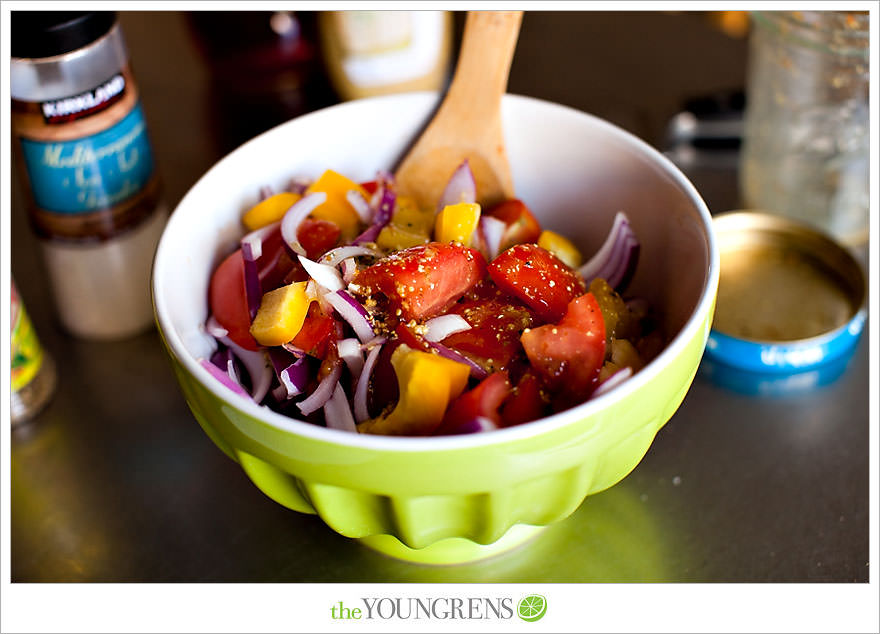 The next day, cut up a bunch of foccacia bread – I used rosemary olive oil bread that I had gotten from a local bread shop – and douse them in olive oil.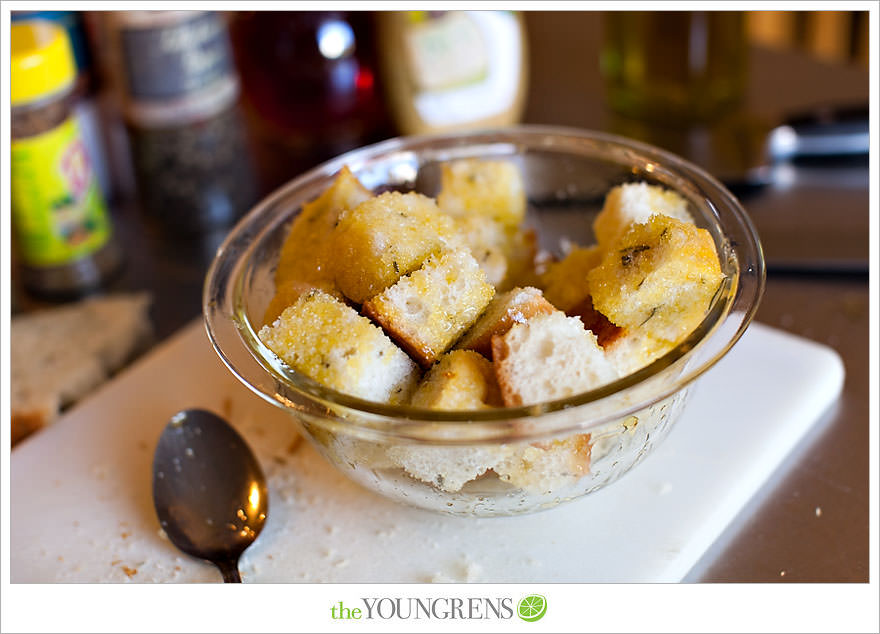 Toast them in the oven and dump them – along with your fresh basil – into the salad from the fridge.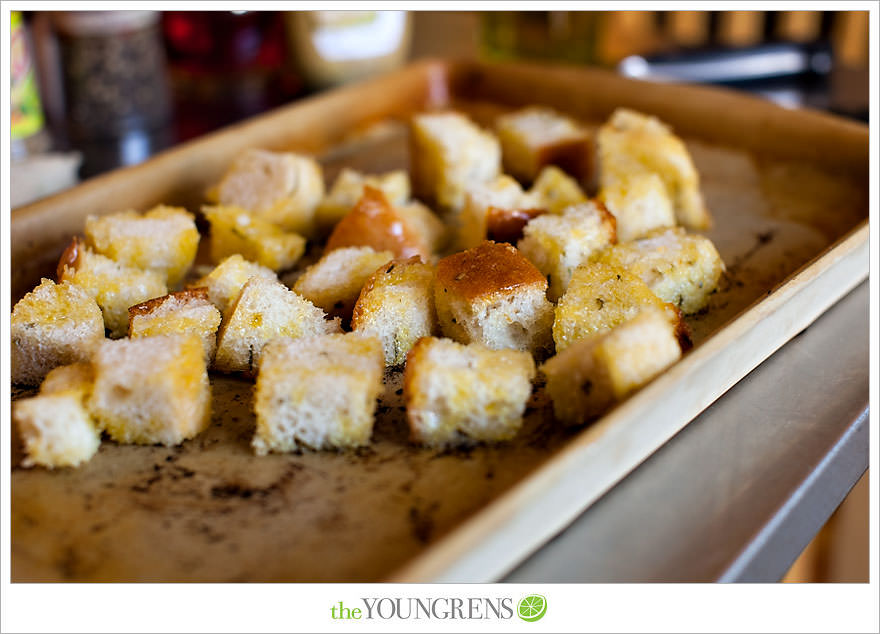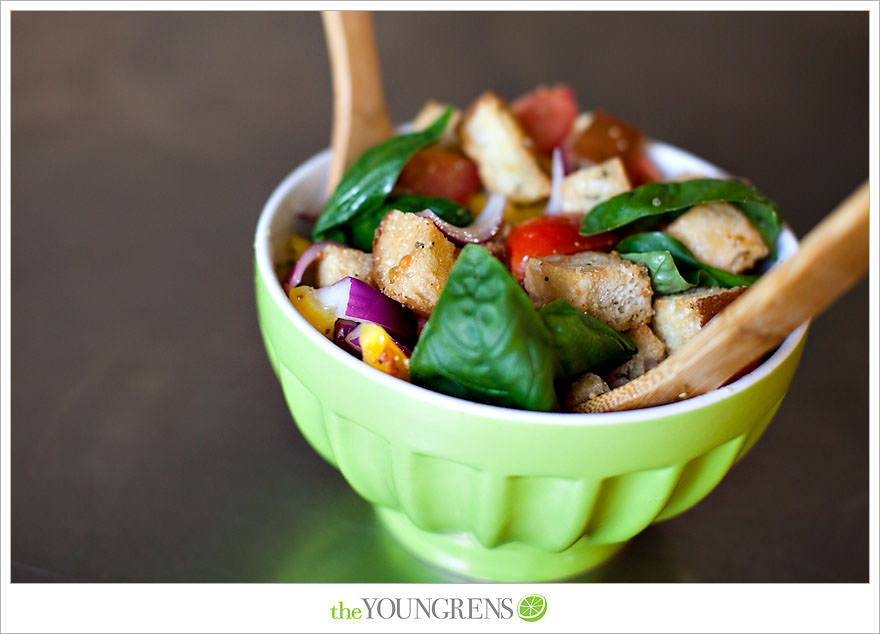 This salad was so stinkin' yummy! The bread cubes and basil leaves tasted SO GOOD along with the marinated tomatoes and veggies. This is such a fresh summer side dish and incredibly good for you, not to mention easy. I loved it!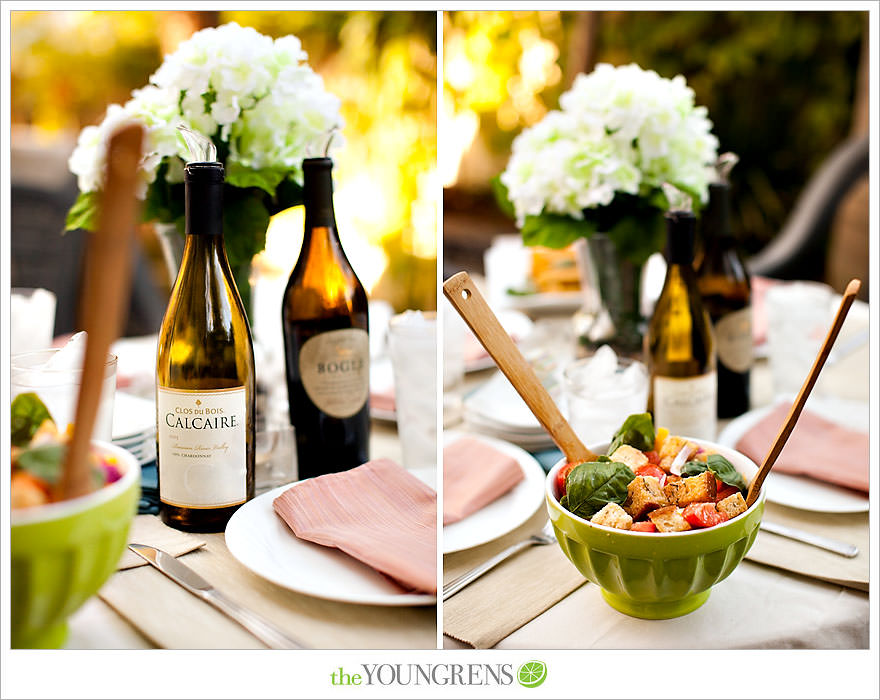 Tomato Bread Salad
(click here for reviews and nutrition info)
4 medium roma tomatoes, cut in 1-inch chunks
1/2 of a medium red onion, cut in thin wedges (1/2 cup)
1 medium yellow sweet pepper, cut in 1-inch pieces
1/4 cup olive oil
1/4 cup red wine vinegar
1 Tbsp. Dijon-style mustard
1/2 tsp. Italian seasoning, crushed
8 oz. ciabatta or focaccia bread, cut in 1-inch pieces
1 Tbsp. olive oil
1 cup small fresh basil leaves
White cheddar cheese shavings (optional)
1. In large serving bowl combine tomatoes, red onion, and yellow sweet pepper. In screw-top jar combine 1/4 cup olive oil, the red wine vinegar, mustard, Italian seasoning, 1/2 tsp. salt, and 1/4 tsp. black pepper. Cover; shake well to combine. Add to tomato mixture and stir to coat. Cover and refrigerate overnight (up to 24 hours).
2. Preheat oven to 400 degrees F. In a shallow baking pan, toss bread cubes with 1 Tbsp. olive oil to coat. Bake about 10 minutes or until toasted, stirring once. Remove and cool on pan. Add bread cubes and basil to tomato mixture; toss to coat. Top with shaved white cheddar cheese. Makes 6 to 8 servings.
Hugs,
Erin