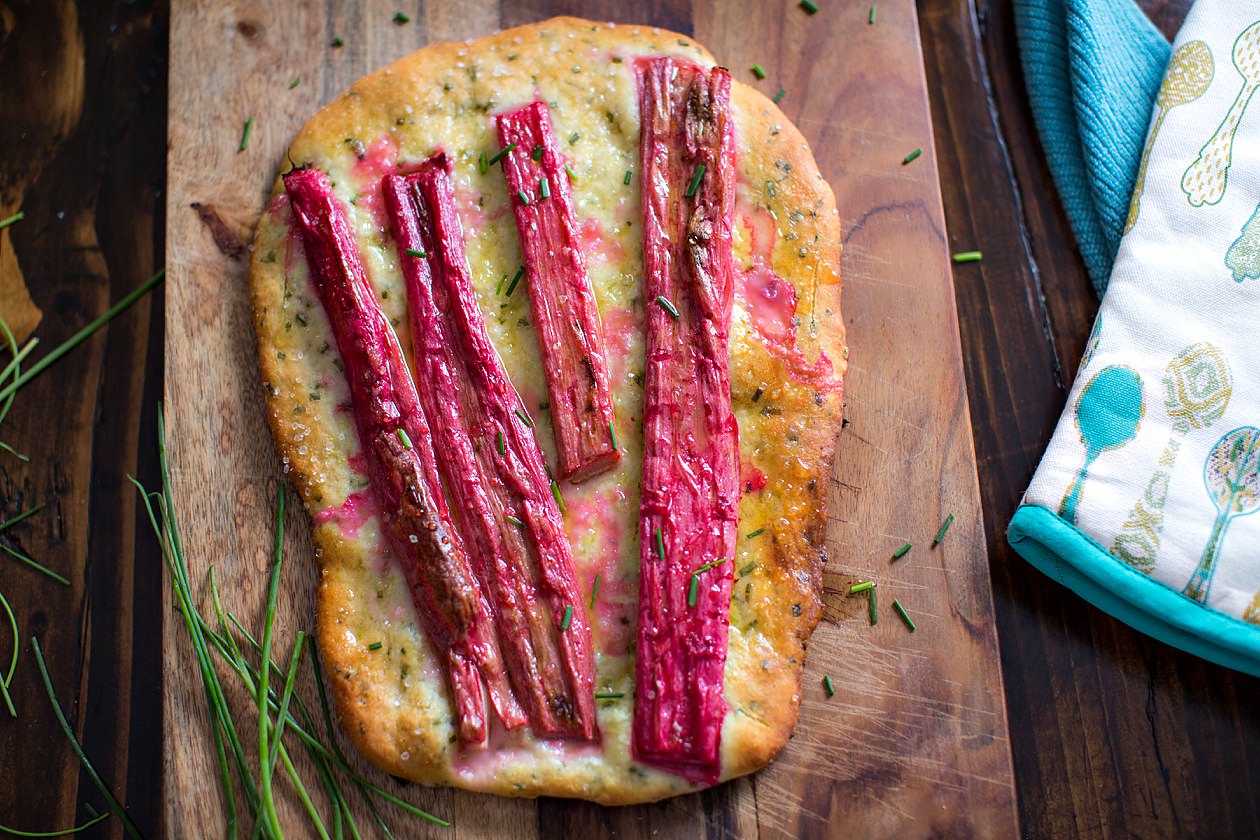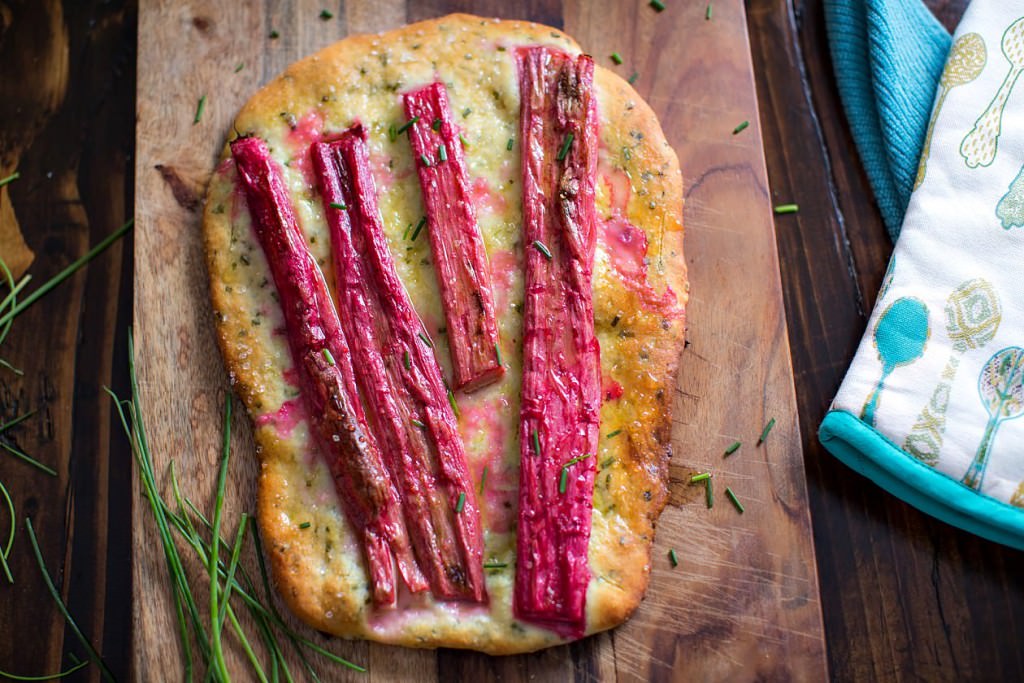 Rhubarb Flatbread with Chives and Honey
I know. The title of this recipe doesn't exactly sound appetizing once you really think about it. Rhubarb? On flatbread? Eh?I found this recipe in my recent issue of
Better Homes and Gardens
 because rhubarb is in season right now. But their thinking is that there has to be more than just sweet dishes for this ingredient, so they did a feature on savory rhubarb recipes. This one, in particular, caught my eye.We didn't exactly love it. The recipe says to stick whole stalks of rhubarb on the flatbread and the stalks were just too thick and tart to be palatable.HOWEVER, I think there's some big highlights in this recipe which is why I'm posting it. First, we think that if we cut the rhubarb into tiny thin strips, it could be remarkably delicious. Second, the chive flatbread dough is AMAZING. We're keeping this recipe around Casa de Youngren for this chive-infused dough alone. It's un-freakin-believable! So I say that you should take a stab at this flatbread too - I think the unique-ness plus the delicious dough makes the afternoon of kitchen fun worth it!Grab some sticks of rhubarb, a bunch of chives, and the usual ingredients for flatbread dough. Plus, you'll need some honey to drizzle on just after it comes out of the oven.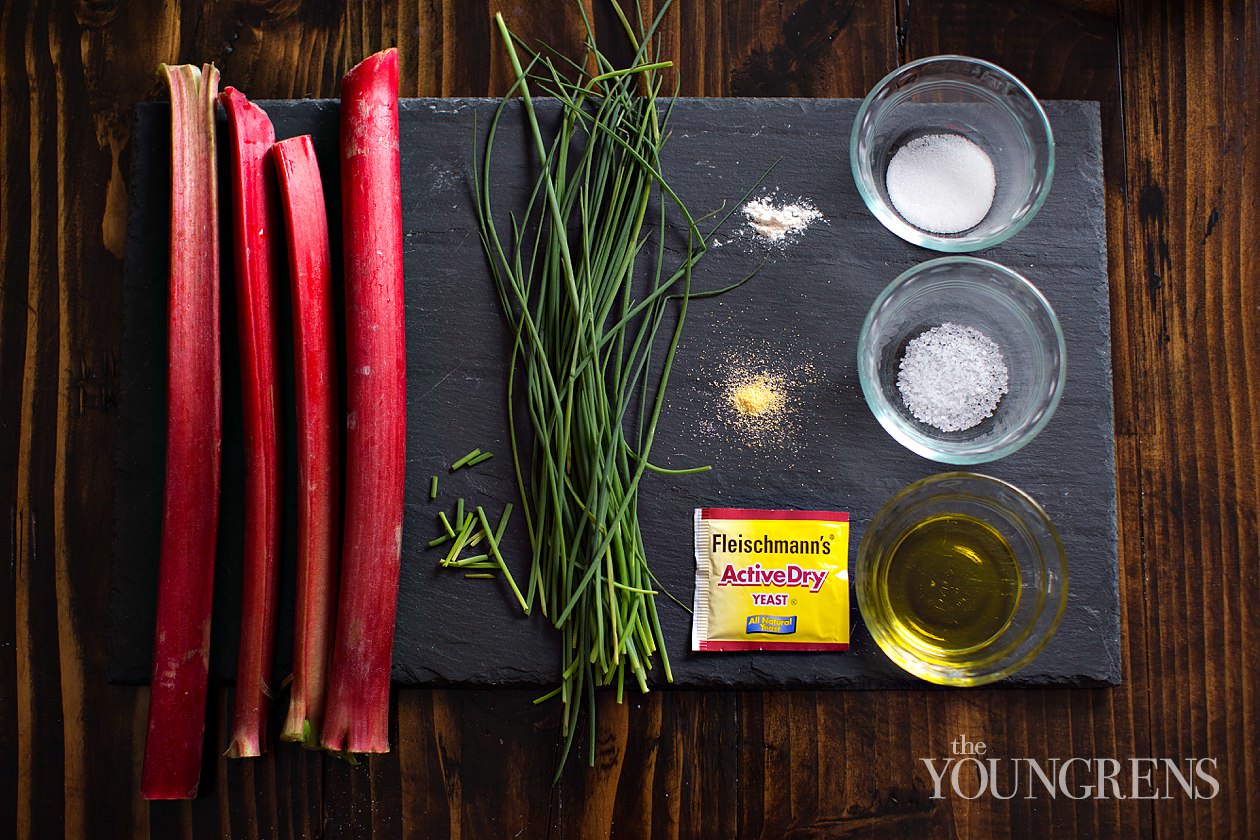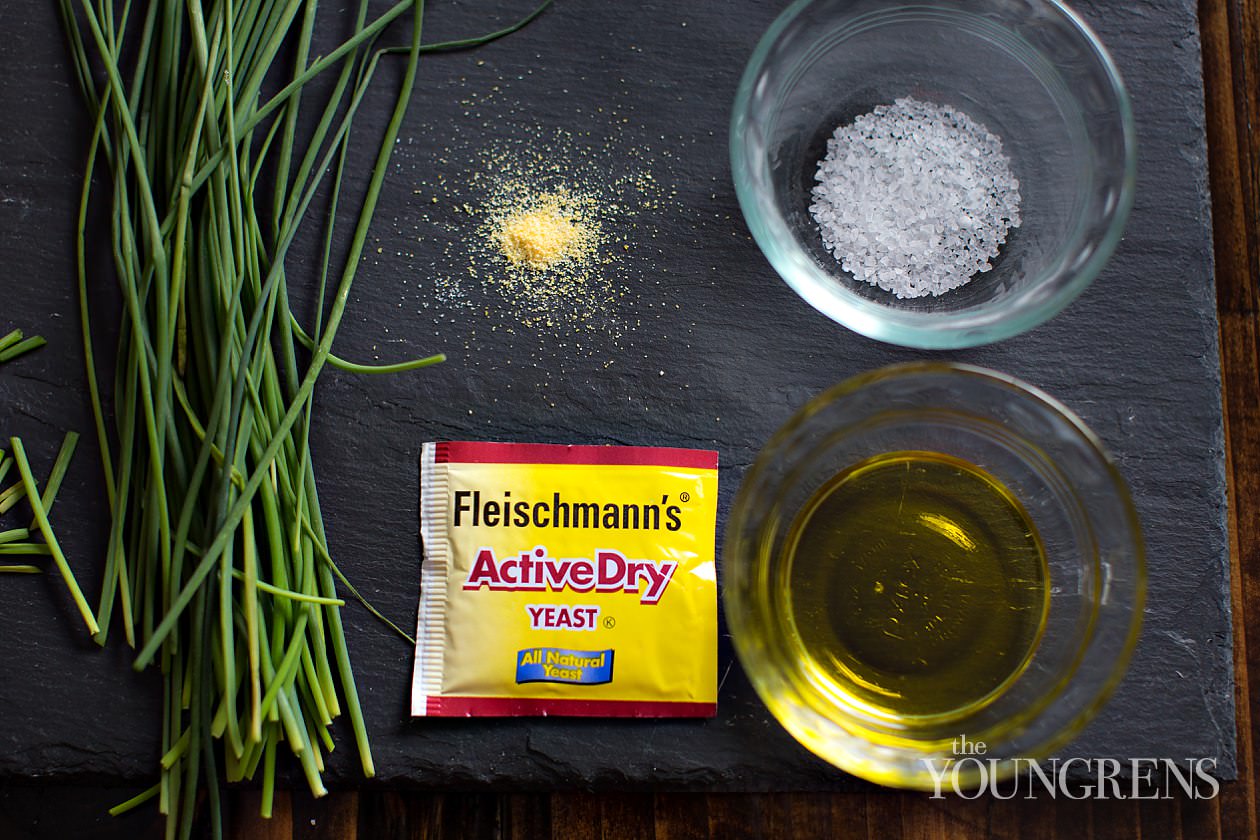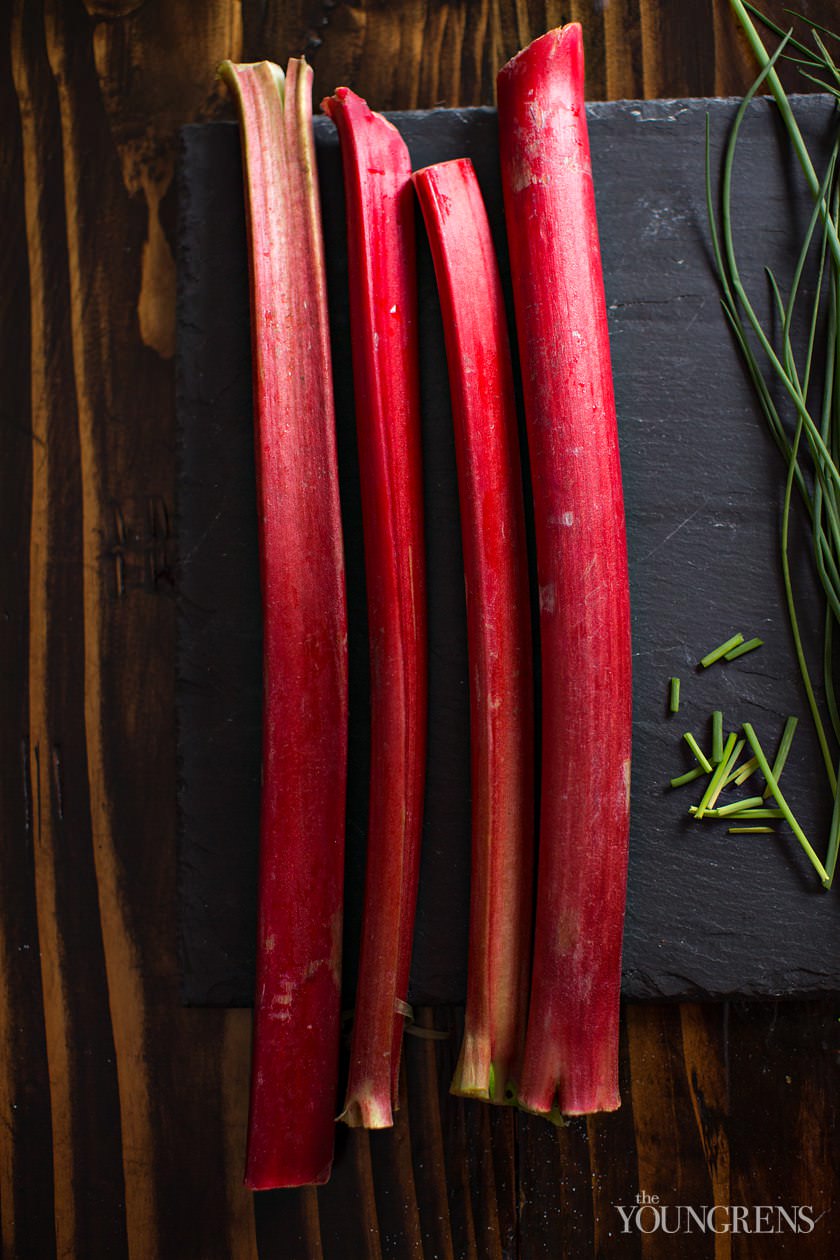 First, prep your yeast by sprinkling it into warm water - between 105 and 115 degrees F. You'll want the yeast to become foamy and the warm temperature is important.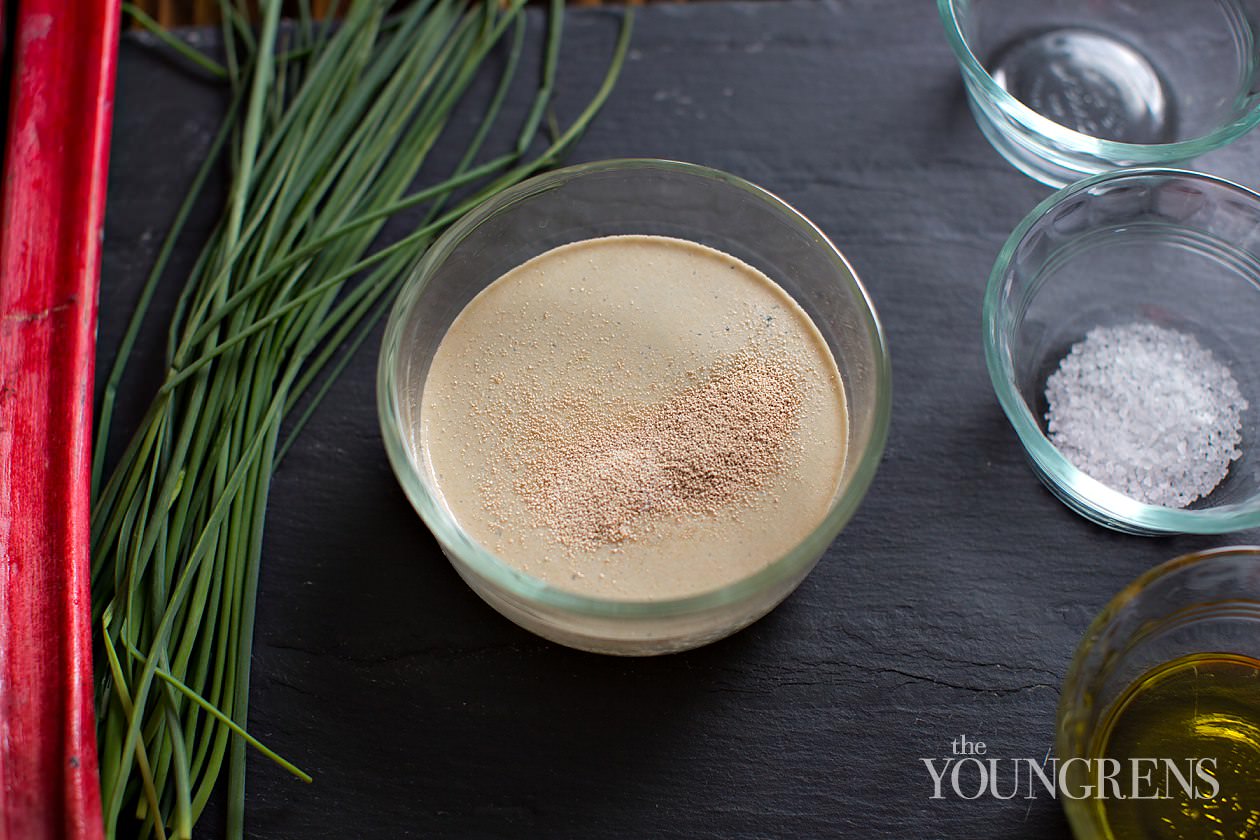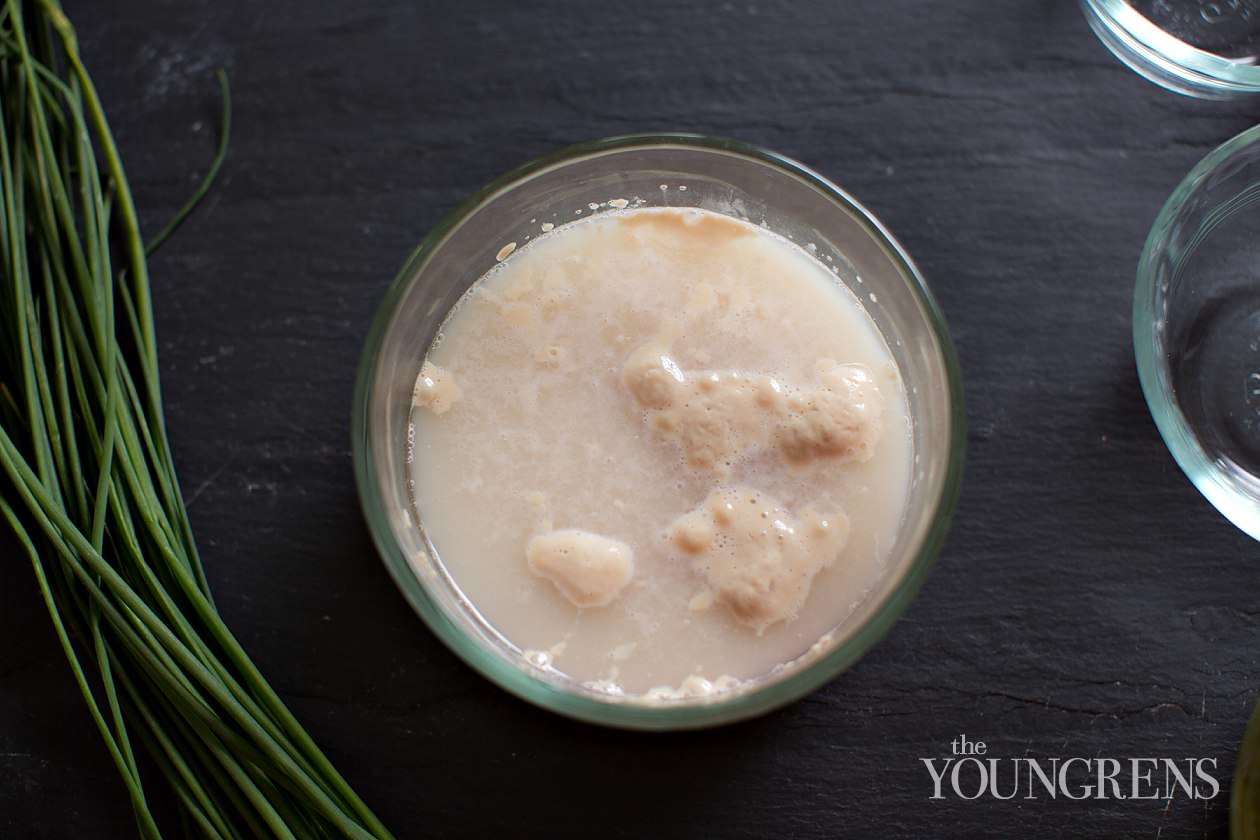 Then snip your chives (I like to use kitchen shears) into small pieces.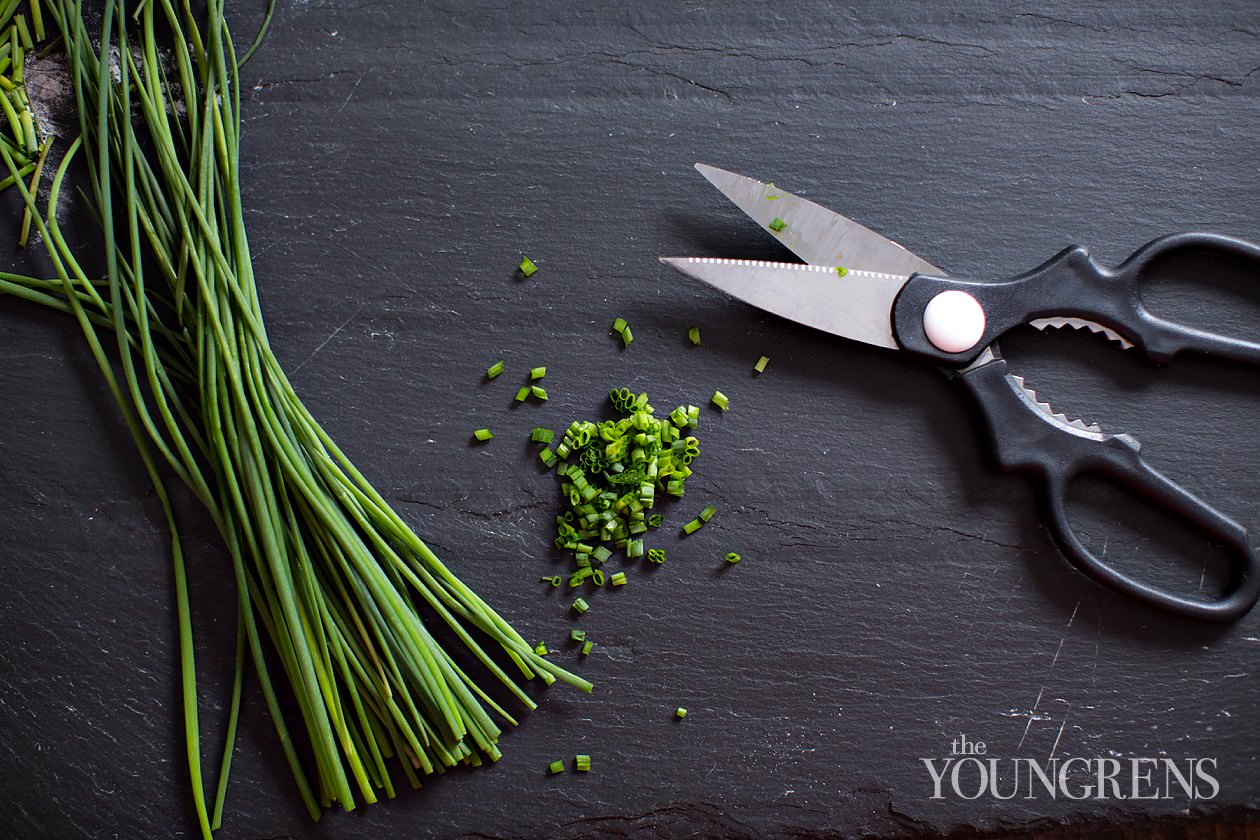 Combine all of the dough ingredients in a large bowl until it sticks together.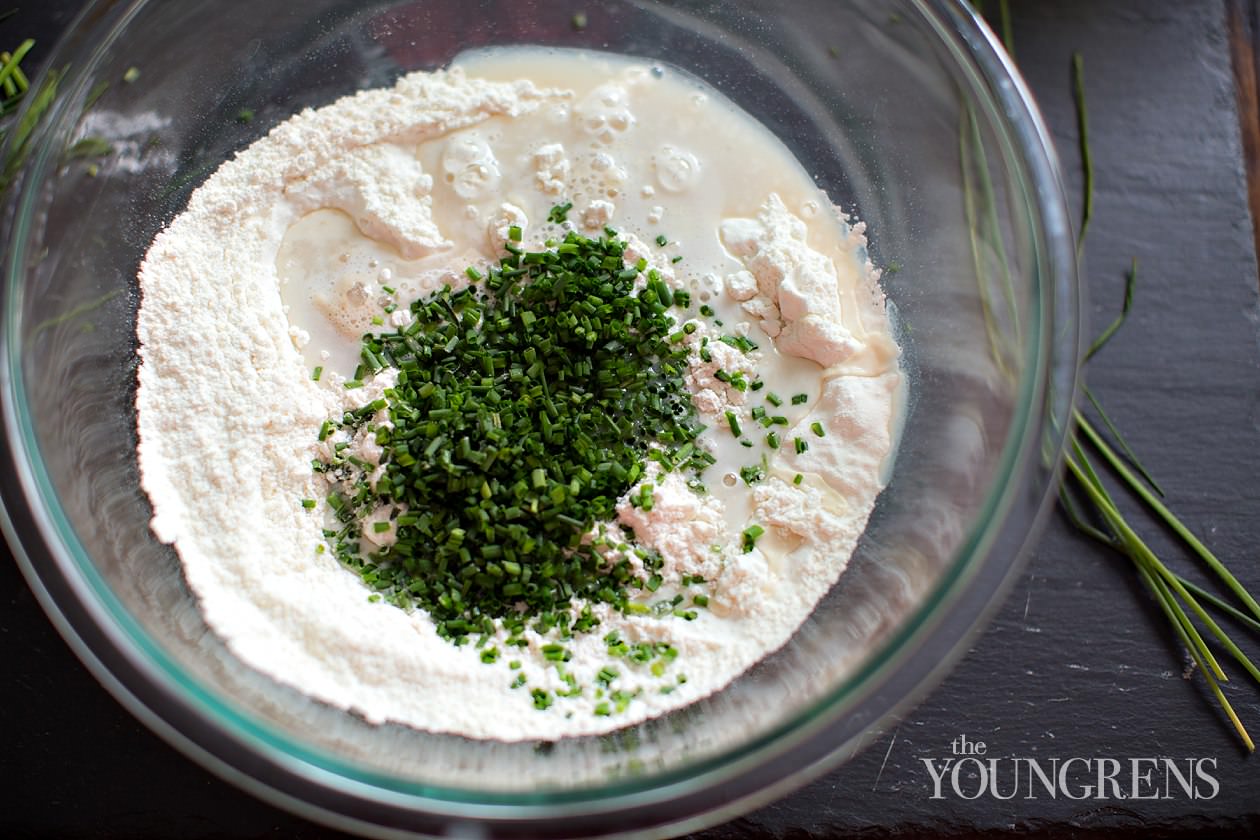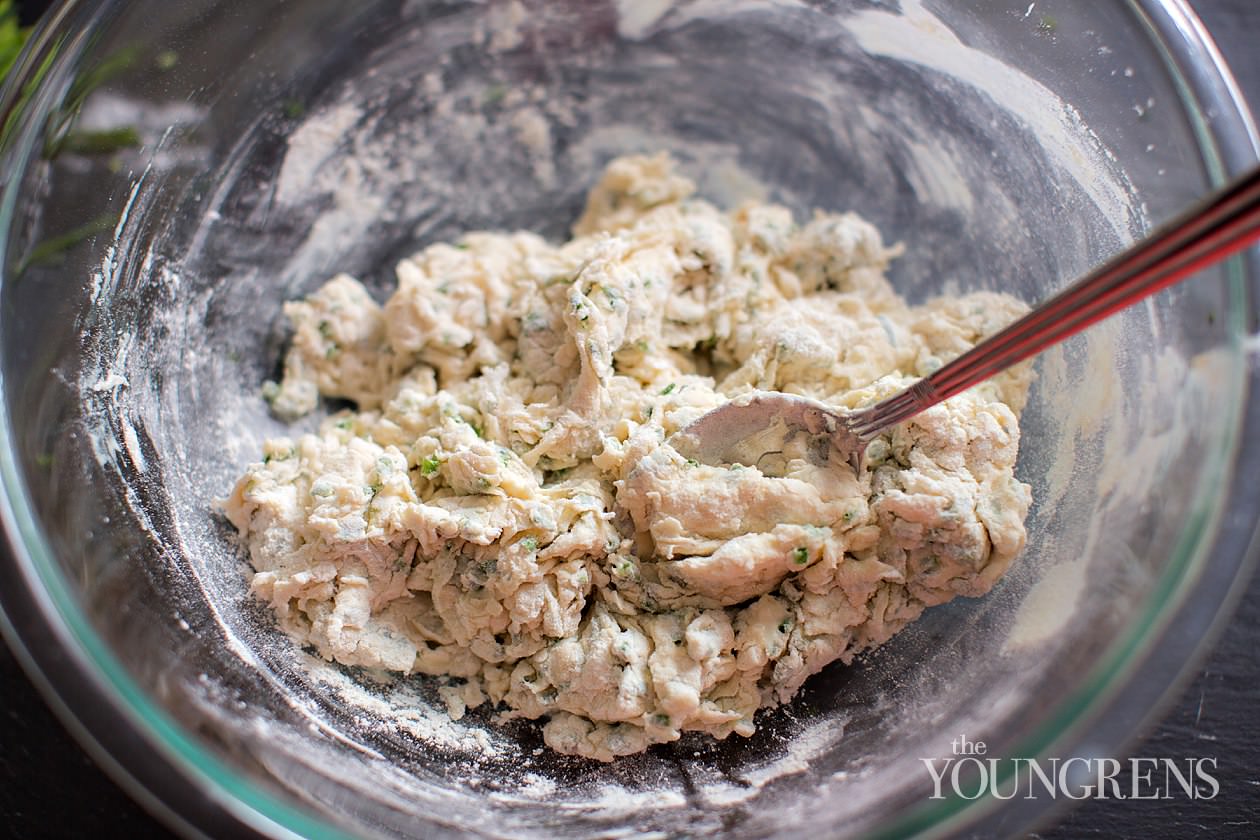 Then transfer the ball of dough to a floured surface and knead for a few minutes until it's smooth.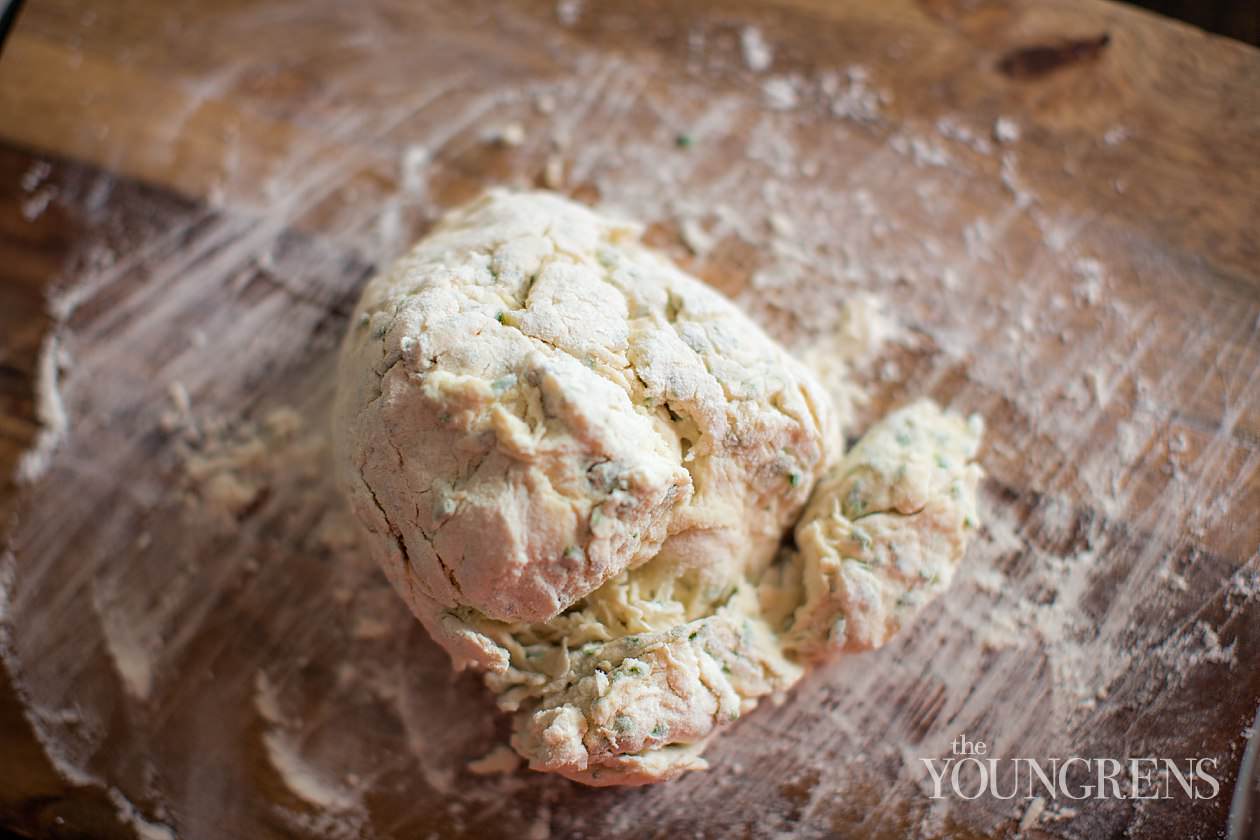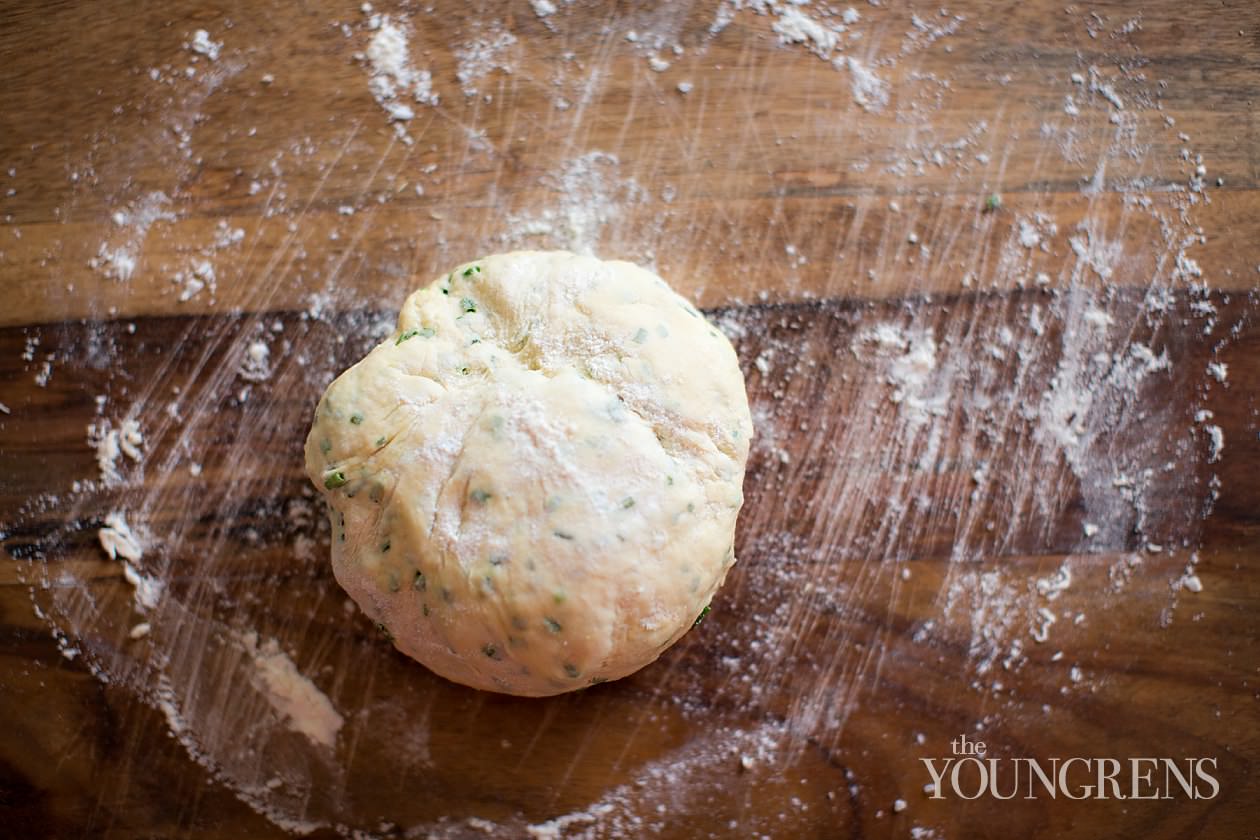 Lightly coat the bowl with oil, then turn the dough a few times inside to coat it. Then let it rise in a warm (not hot) place for 30 minutes. It should double in size.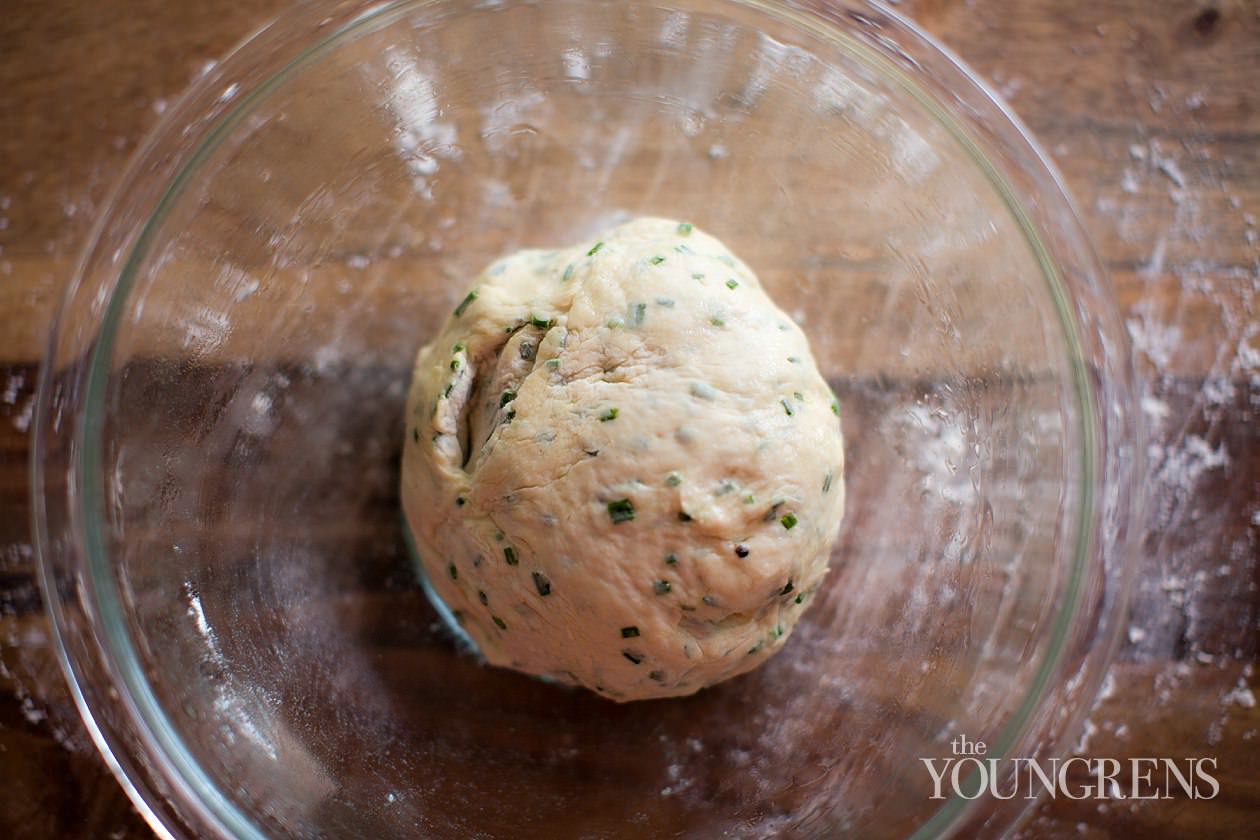 Once the dough has risen, stick your fist in flour, then punch the dough down. This is my favorite part!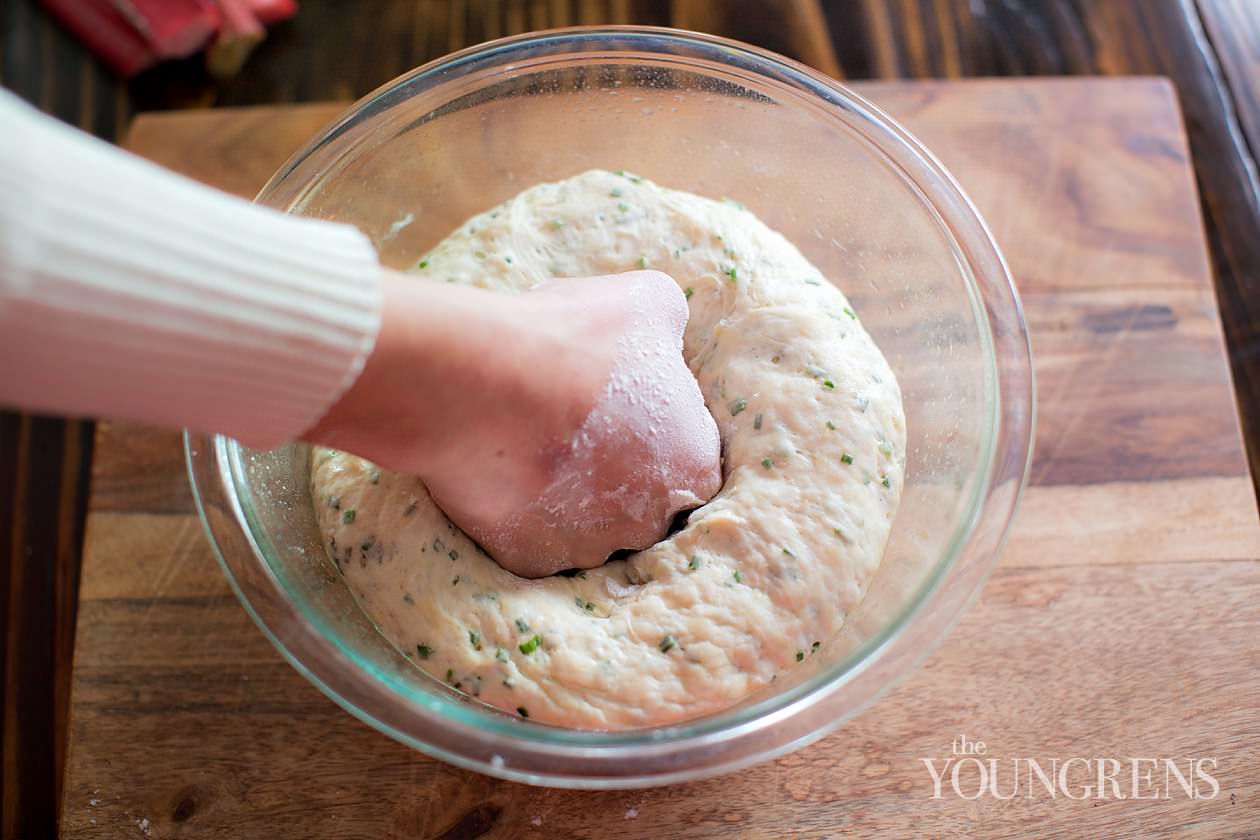 Preheat your oven, then cut the dough in half and roll it out to a 12x4 inch rectangle - flat bread size.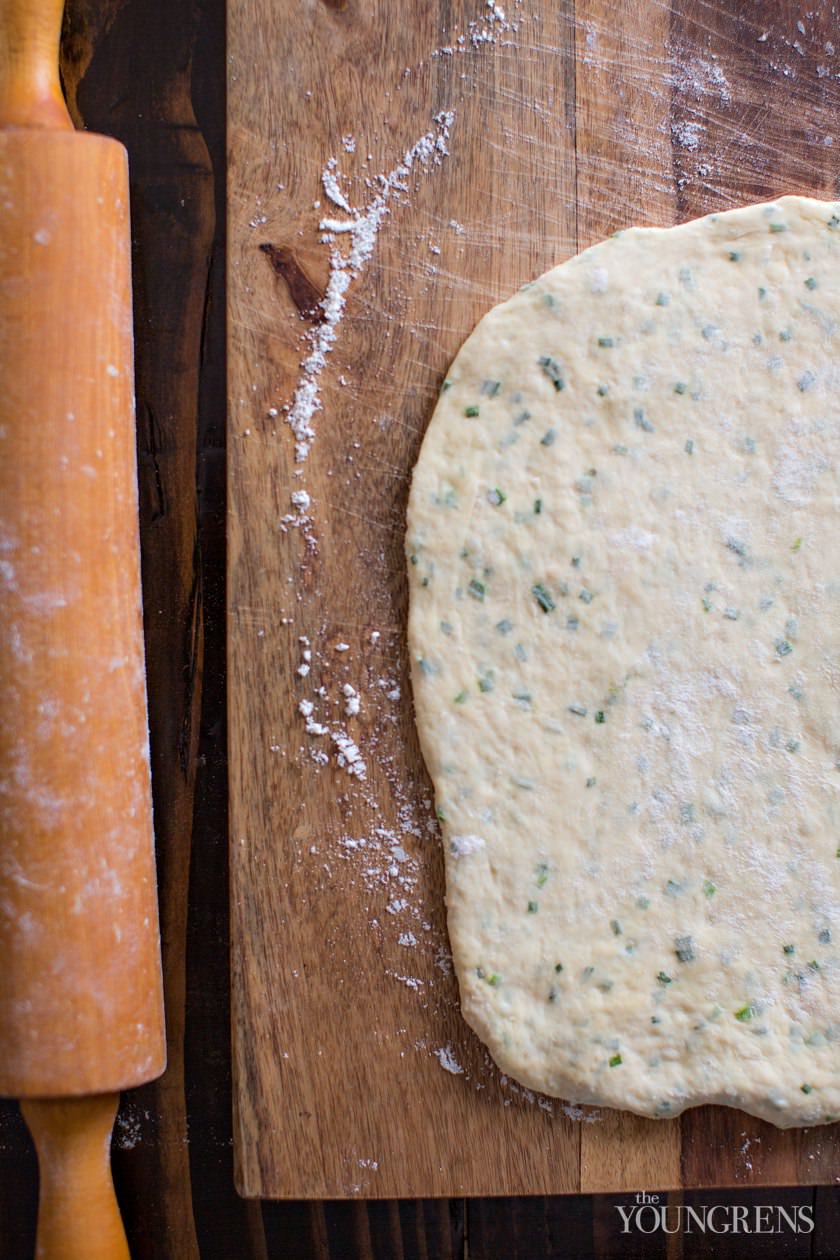 Carefully transfer the dough to a baking sheet that you've sprinkled with cornmeal, then press the rhubarb stalks into the dough. Again, we didn't slice them up here - we did exactly what the recipe called for with the stalks intact, but I would thinly slice the rhubarb.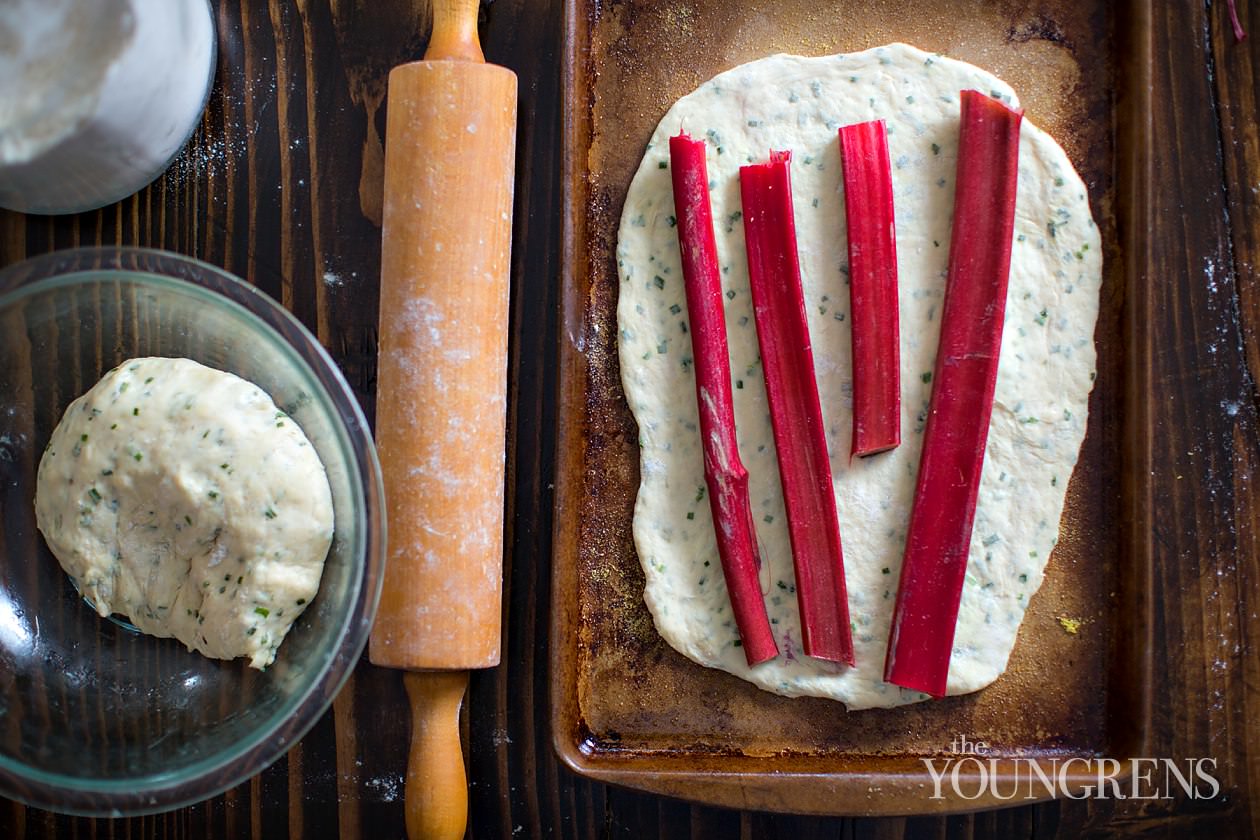 Brush with olive, sprinkle with salt, and bake until the dough is golden and crisp. Then drizzle with honey while it's still warm and serve.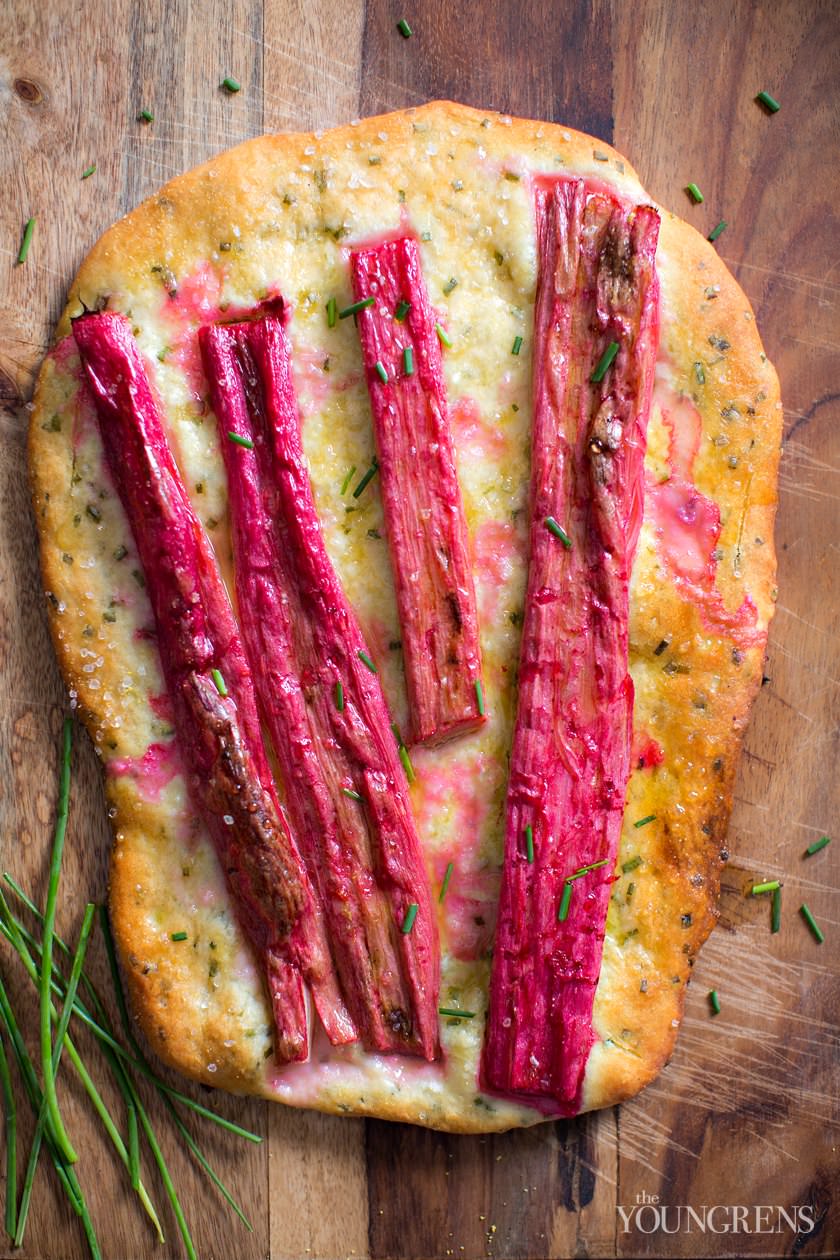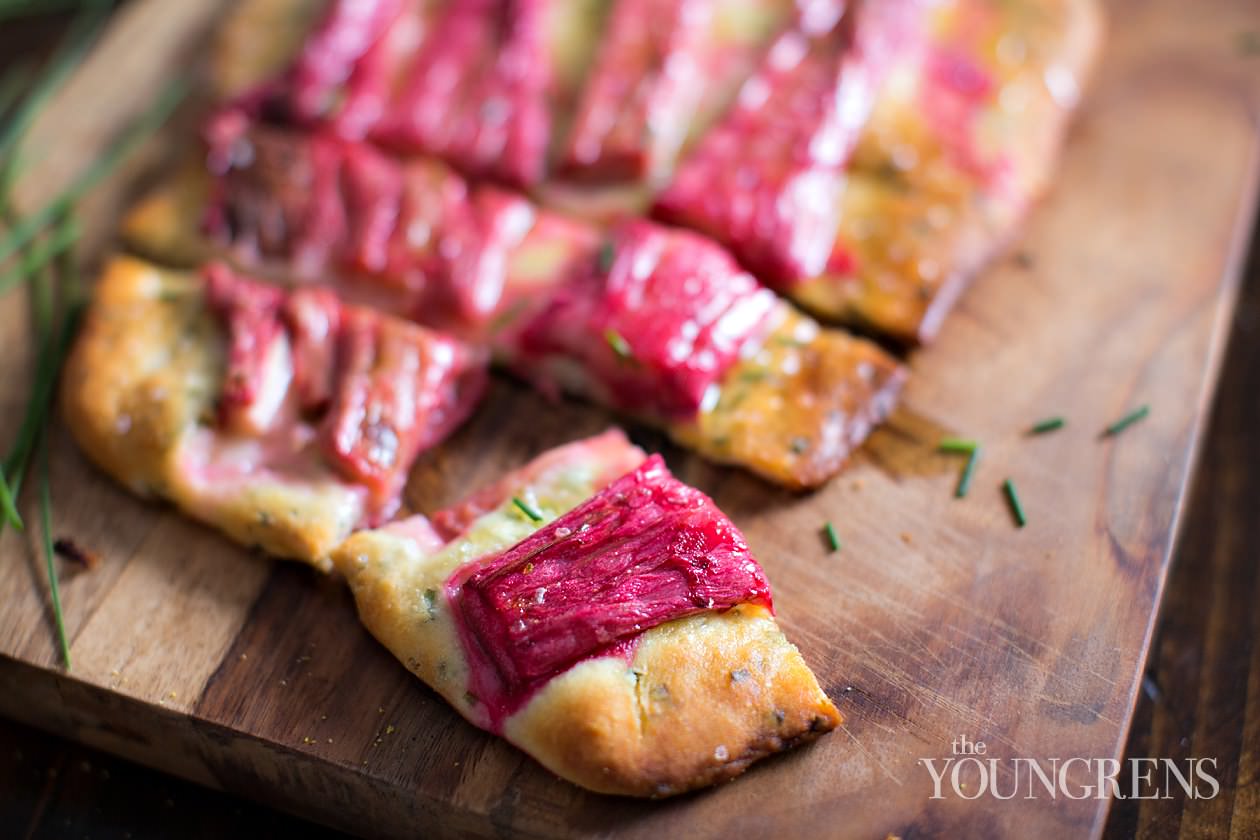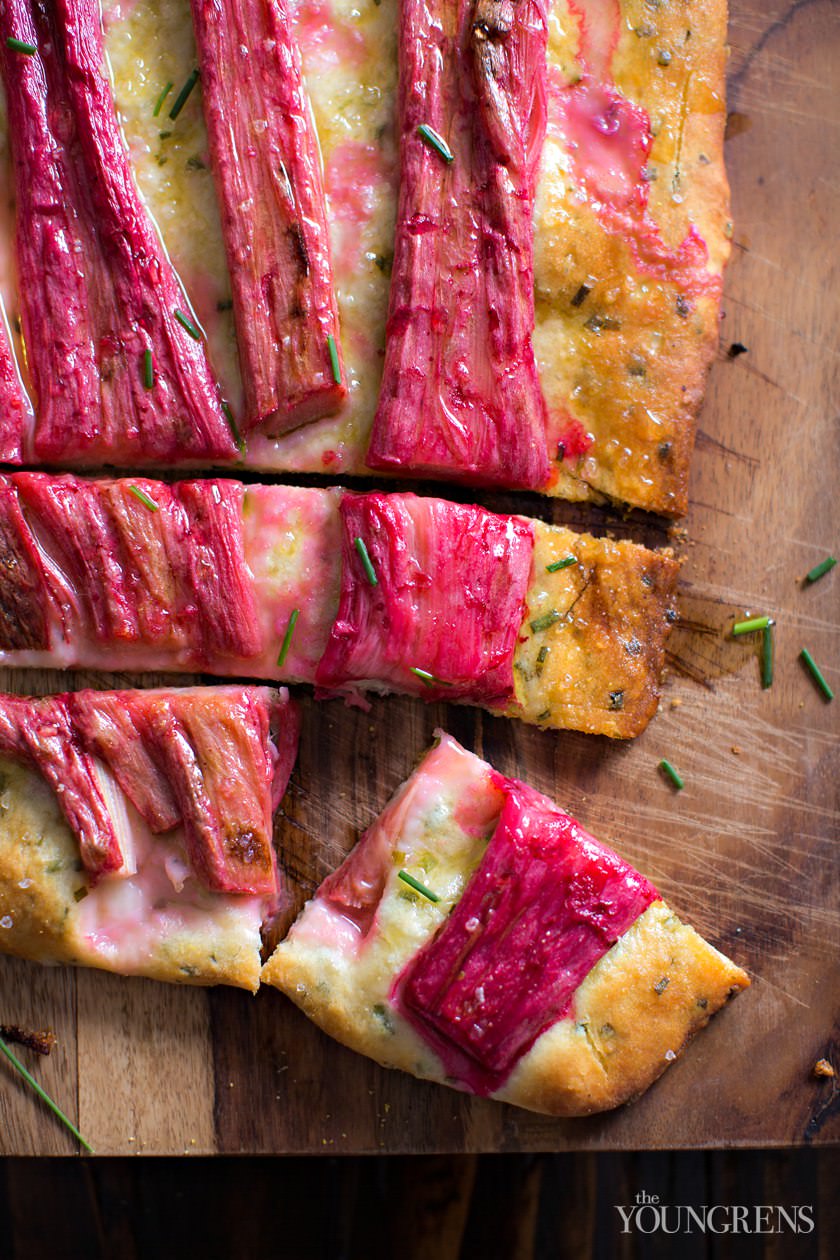 Like I said, we loved the chive dough so much that we made some extra flatbreads. My hubby, of course, made his personal favorite...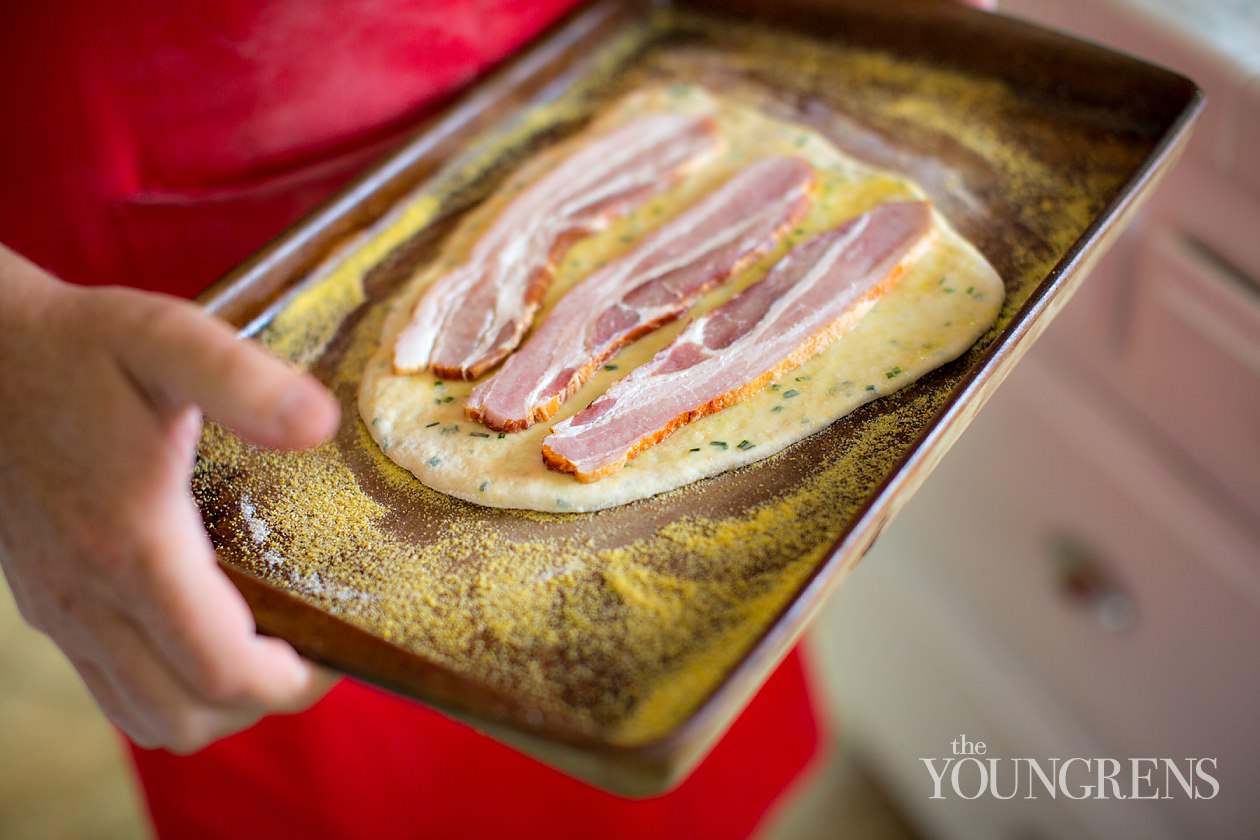 Rhubarb Flatbread with Chives and Honey
(view original recipe from Better Homes and Gardens)
1 cup warm water (105 degrees F to 115 degrees F)
1 package active dry yeast
1 teaspoon sugar
2 1/2 cups 

all-purpose flour

1 teaspoon sea salt or kosher salt
1/2 cup finely snipped 

fresh chives

3 tablespoons olive oil
Cornmeal
4 stalks fresh rhubarb, trimmed
Sea salt or kosher salt
Olive oil
Honey
Directions
In a small bowl combine water, yeast, and sugar. Let stand 10 minutes or until foamy.

In a large bowl combine 2 cups of the flour and 1 teaspoon salt. Add yeast mixture, chives, and 2 tablespoons of the olive oil. Stir until combined. Transfer dough to a lightly floured surface. Knead in enough additional flour to make the dough smooth and elastic.

Place dough in a lightly oiled bowl; turn to coat. Cover and let rise in a warm place until double in size, about 30 minutes.

Preheat oven to 475 degrees F. Grease a large baking sheet and sprinkle lightly with cornmeal; set aside. Punch dough down. Divide dough in half (dough may be slightly sticky). Roll each half into a 12x4-inch rectangle. Carefully transfer to prepared baking sheet. Gently press 2 to 3 stalks of rhubarb into each half of shaped dough. Brush with remaining 1 tablespoon olive oil and sprinkle with additional salt.

Bake about 18 minutes or until crisp and golden brown and rhubarb is tender. Drizzle with additional olive oil and honey before serving.
Hugs,Erin
OUR FAVORITE WEDDINGS
the portfolio
Loving our work? Check out our favorite weddings we've ever photographed
VIEW HERE
OUR MOST HELPFUL WEDDING PLANNING TIPS, STRAIGHT FROM THE EXPERTS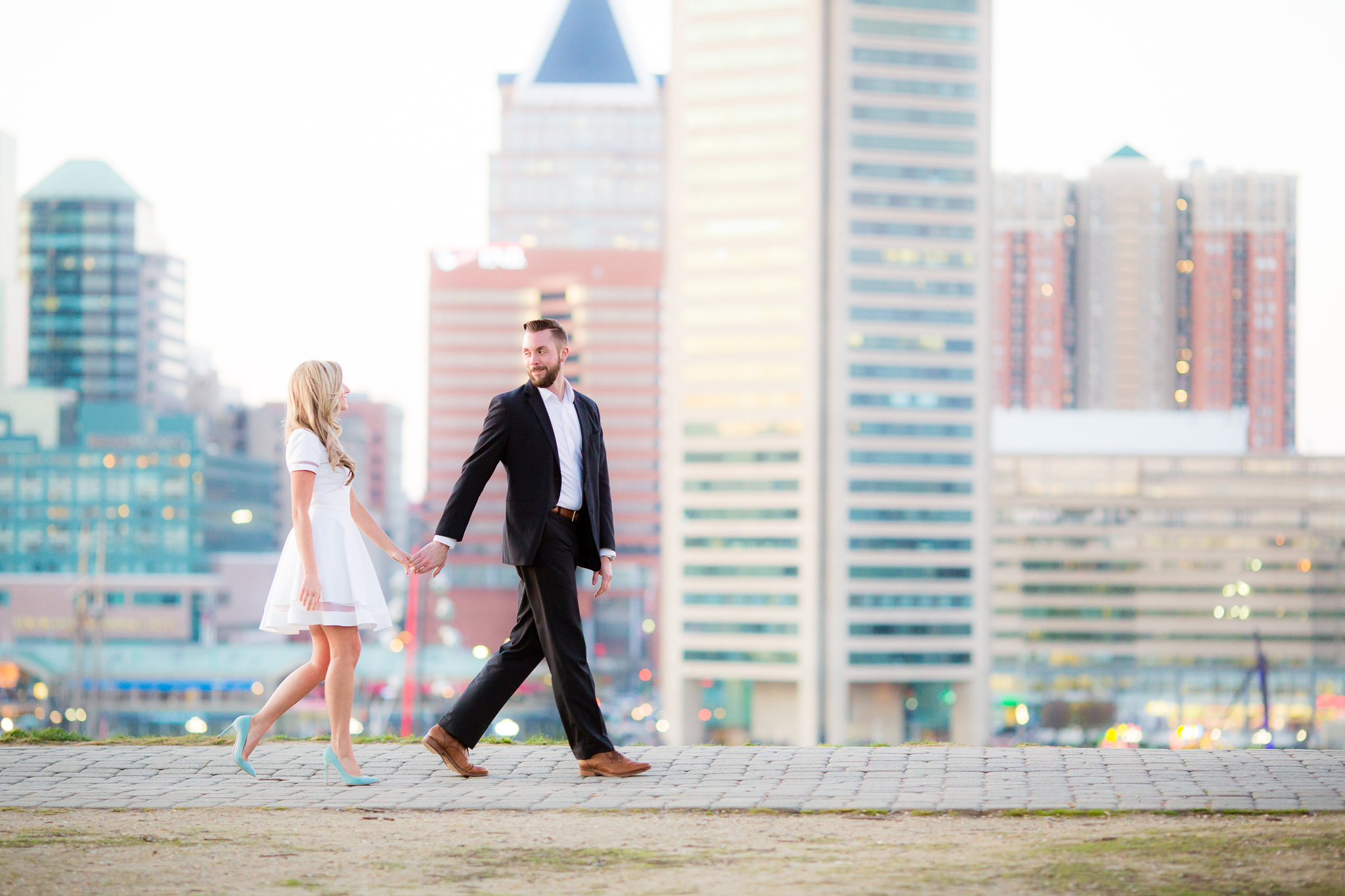 Our Formula for the Perfect Engagement Outfit
Picking the perfect outfit for a photo session can be one of the most difficult experiences BUT it doesn't have to be. I've seen enough outfits that work and don't work that I've cracked the ultimate code for our couples...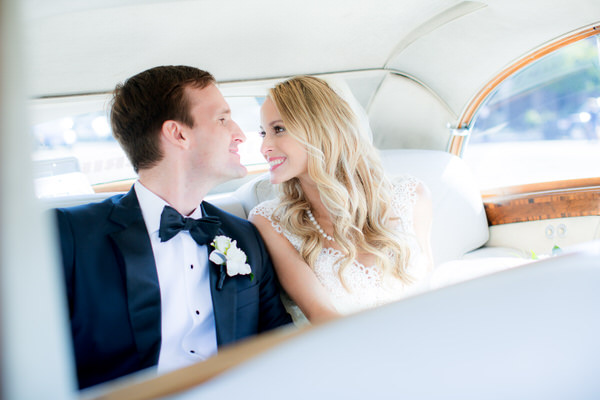 Our Stress-Free Wedding Day Timeline
There's nothing better than a stress-free wedding day when everything runs smoothly, your guests have the time of their lives, and you soak in the day with your sweetie. Though it sounds too good to be true, you can...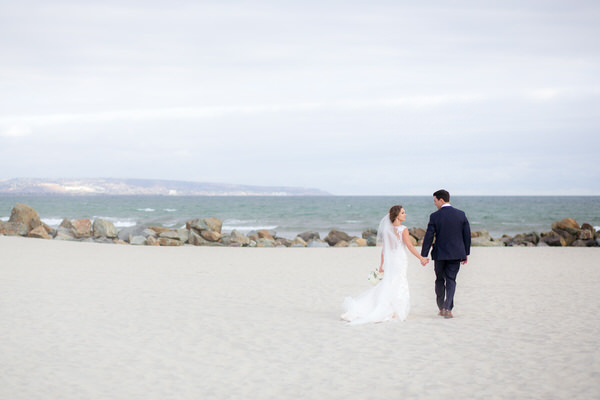 10 Foolproof Tips to Get Gorgeous Wedding Photos
It's the #1 question brides ask: What can I do to get the most amazing photos on my wedding day?
Having been through the in's and out's of countless weddings, I have loads of tips to share, so let's...
We're Jeff and Erin Youngren, a hubby and wifey team that photographs amazing couples and their incredible weddings. Hopeless romantics, BFF's, and mama + daddy to James, we're obsessed with traveling, podcasts, Oreos (Erin) and whiskey (Jeff).