Jeff and I are not what you'd call 'fish' people. We love our seafood, and will eat it when presented with the opportunity, but we don't cook fish or seafood on a regular basis. In fact, this was one of my first attempts at grilling salmon, so I felt a bit like a fish out of water…
Sorry about that… I couldn't resist.
This grilled salmon recipe caught my eye because the flavors seemed like a unique combination that we would definitely enjoy. For one, Jeff and I love the flavor profiles of chipotles in adobo sauce, so any recipe that includes this ingredient automatically piques my interest. Then the smoky chipotles are blended with jasmine tea for a marinade that makes the salmon taste DELISH. For non-fishy types like us, this recipe will be one of the few and the proud that should be kept in the seafood tab of any recipe book.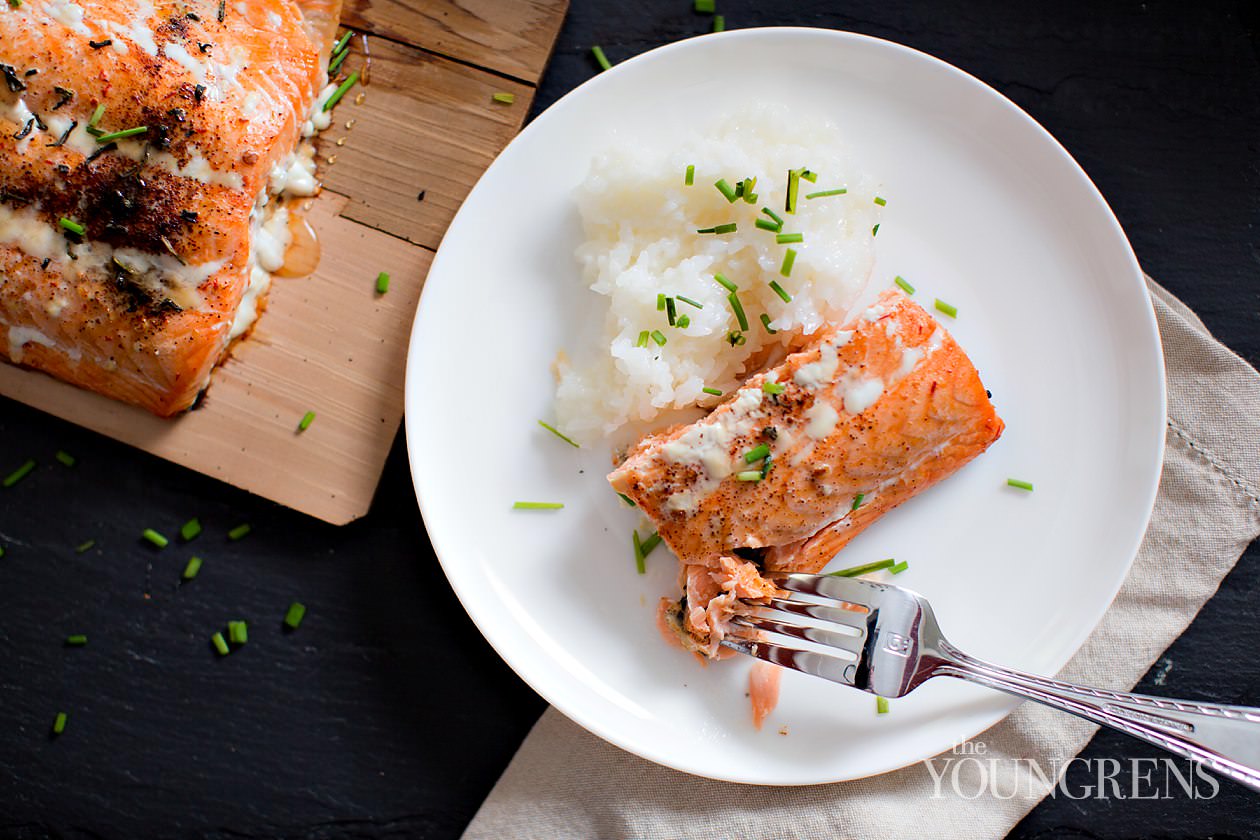 First, start soaking your cedar plank in water and let it sit for at least an hour while your salmon is marinading. This is really important – it prevents the planks from catching on fire on the grill, so don't forget! Then get started on the marinade – we're lucky that we live near a Vietnamese neighborhood, so finding loose leaf jasmine tea was a breeze. The Vietnamese market had shelves of it. You definitely should use a loose leaf type so that you get the full flavors of the tea in the marinade – don't skimp on that ingredient!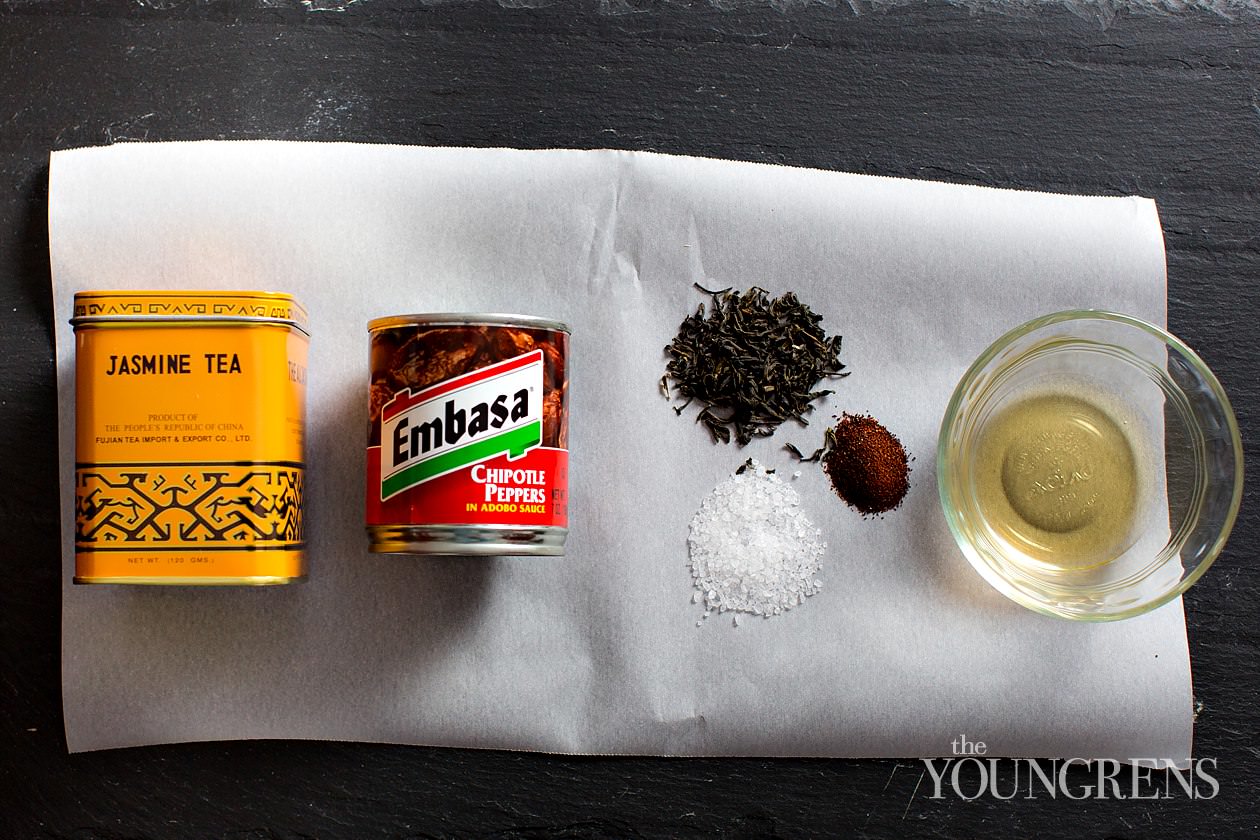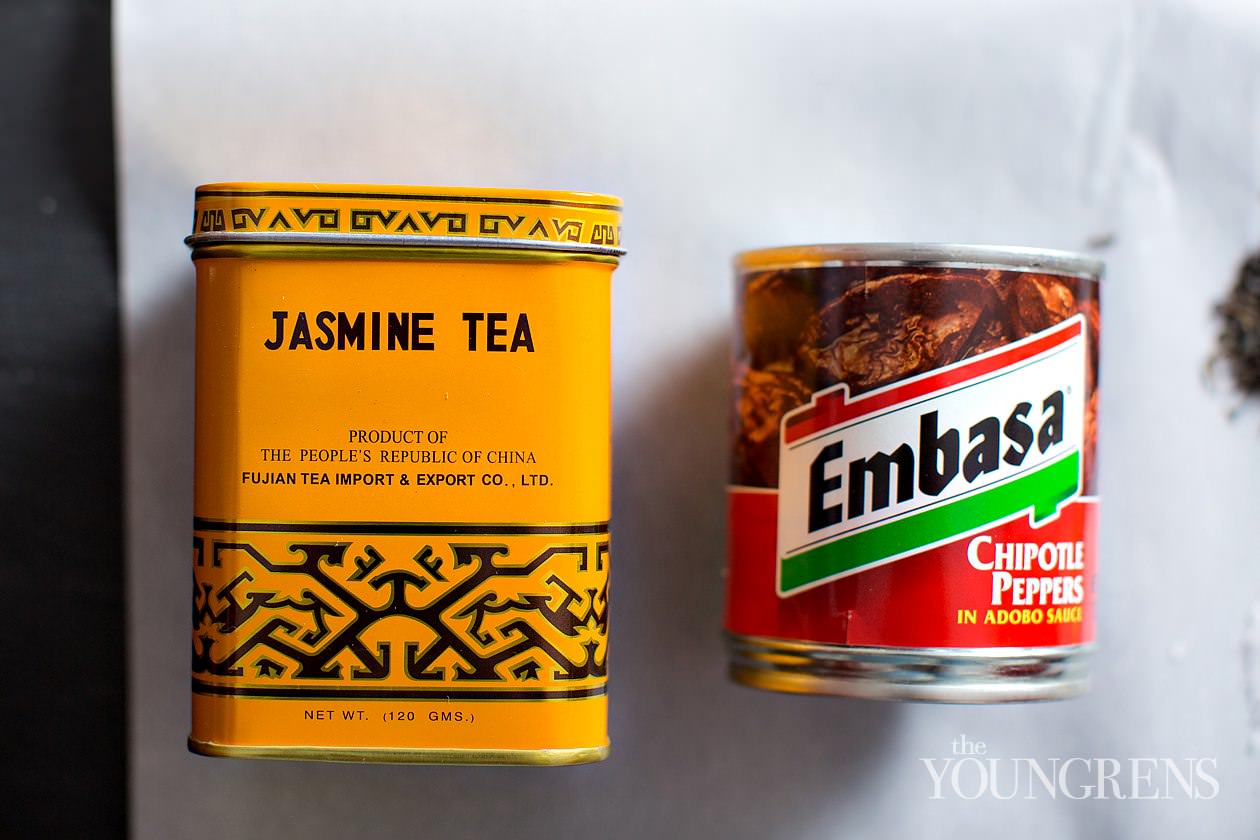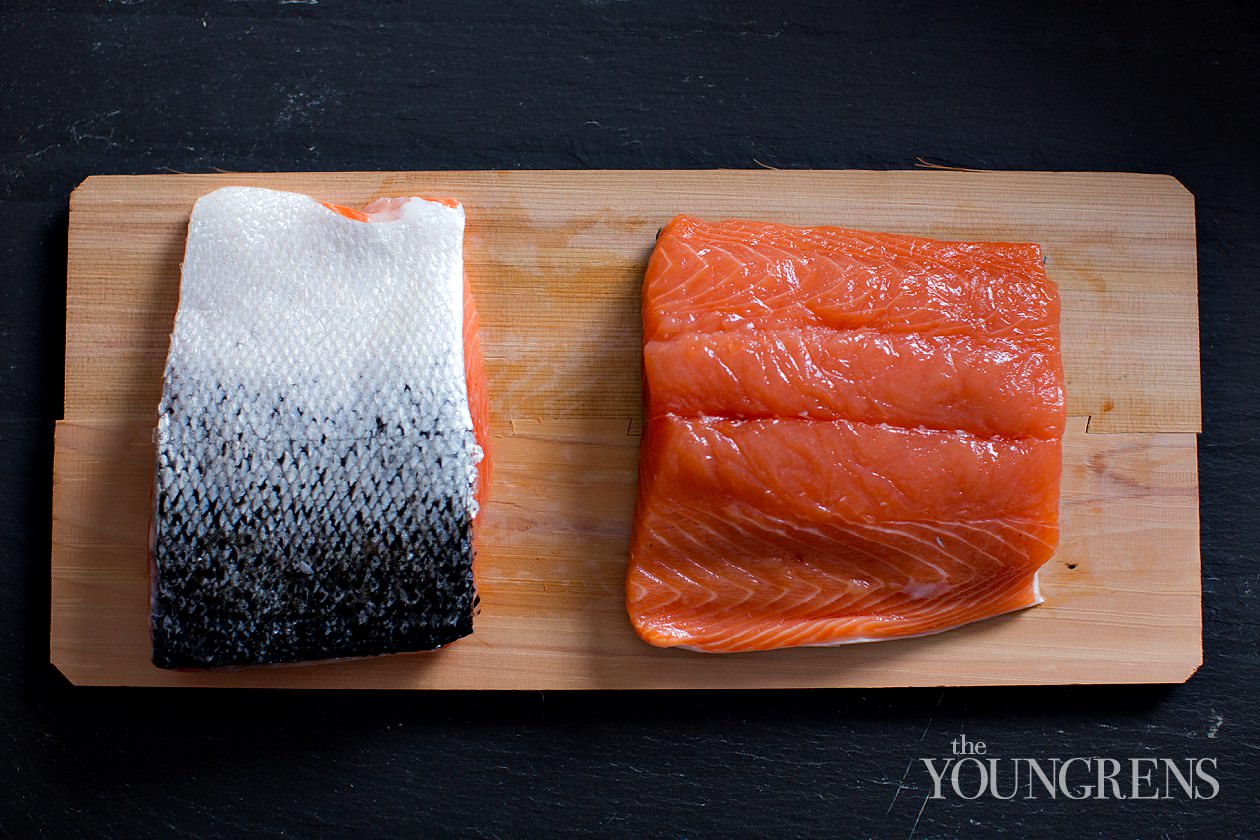 First, brew the jasmine tea leaves in hot water. We used one of our Asian-style tea cups with a mesh container, but you can brew the tea in a bowl of hot water and pour the liquid through a mesh sieve to separate out the leaves.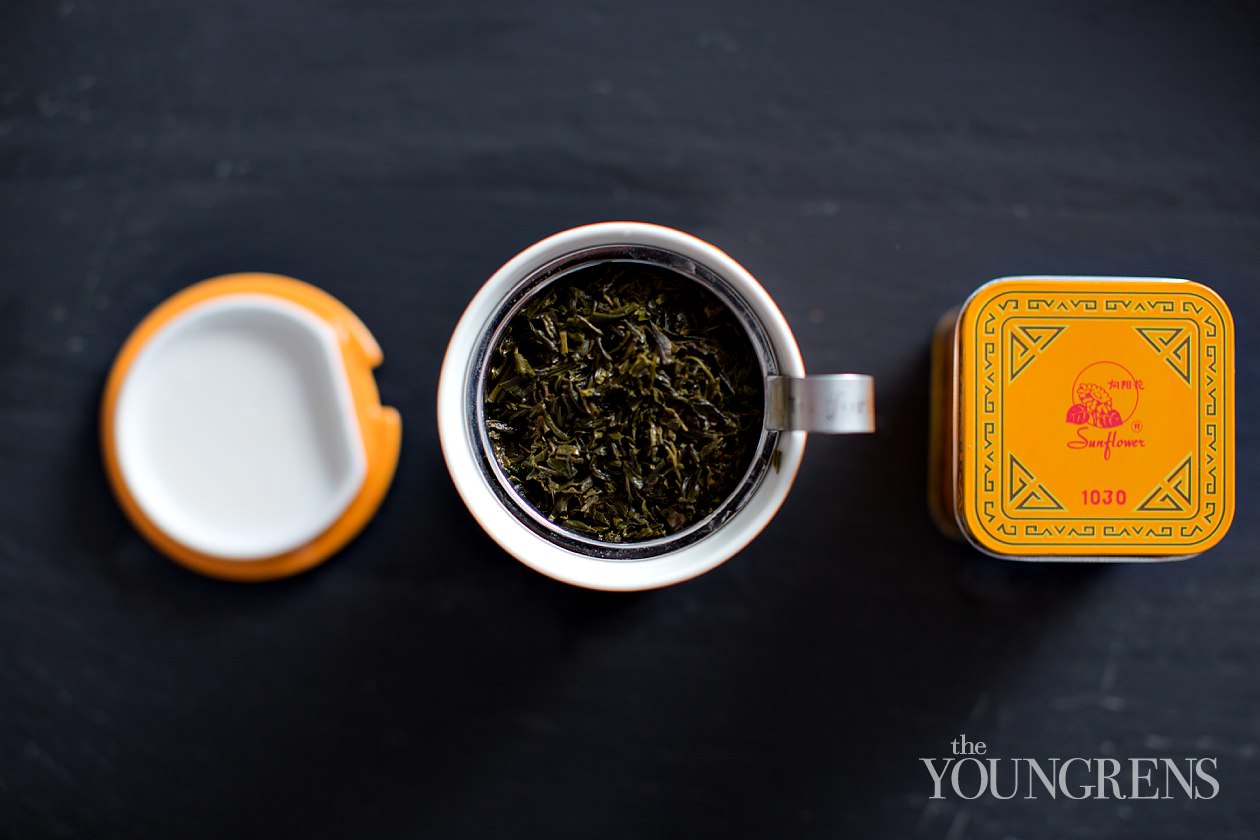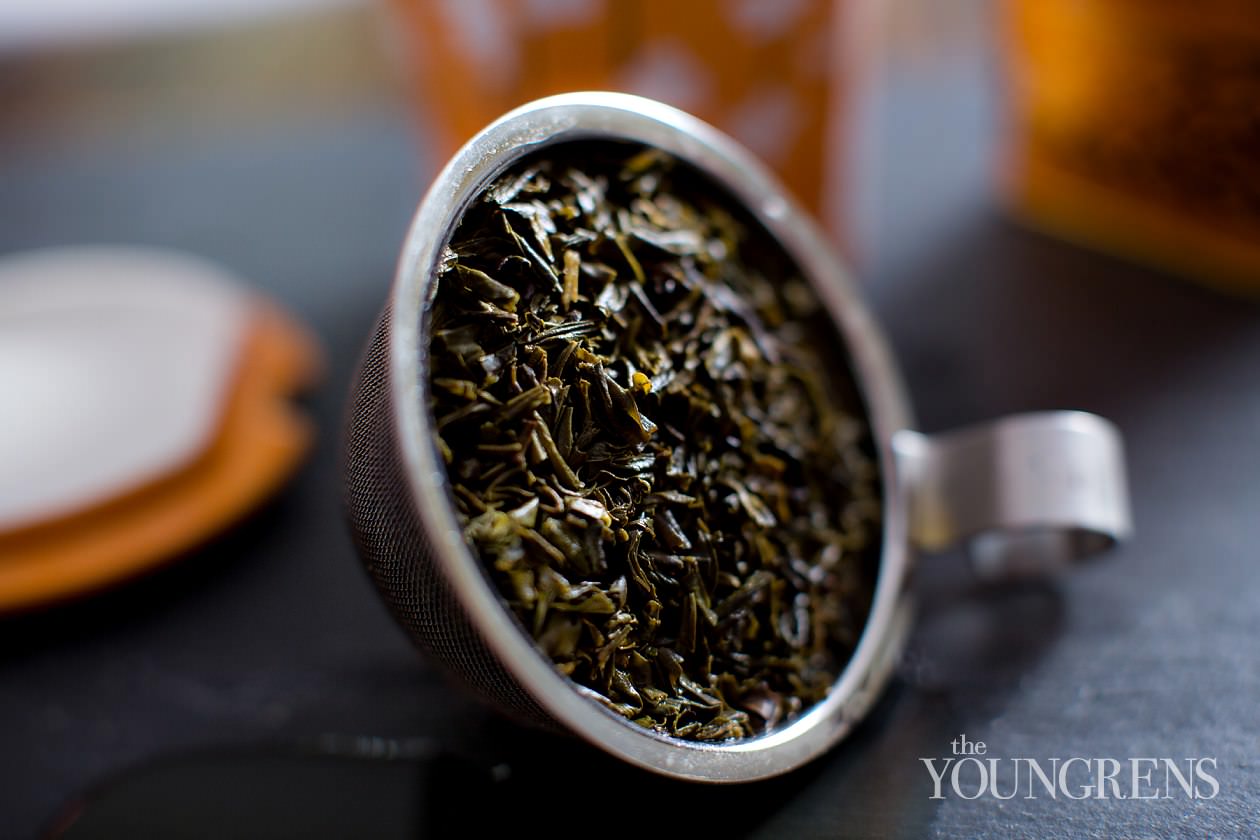 Blend the tea, chipotles, ice, vinegar, and salt in a blender, then pour the marinade over the salmon in a resealable plastic bag.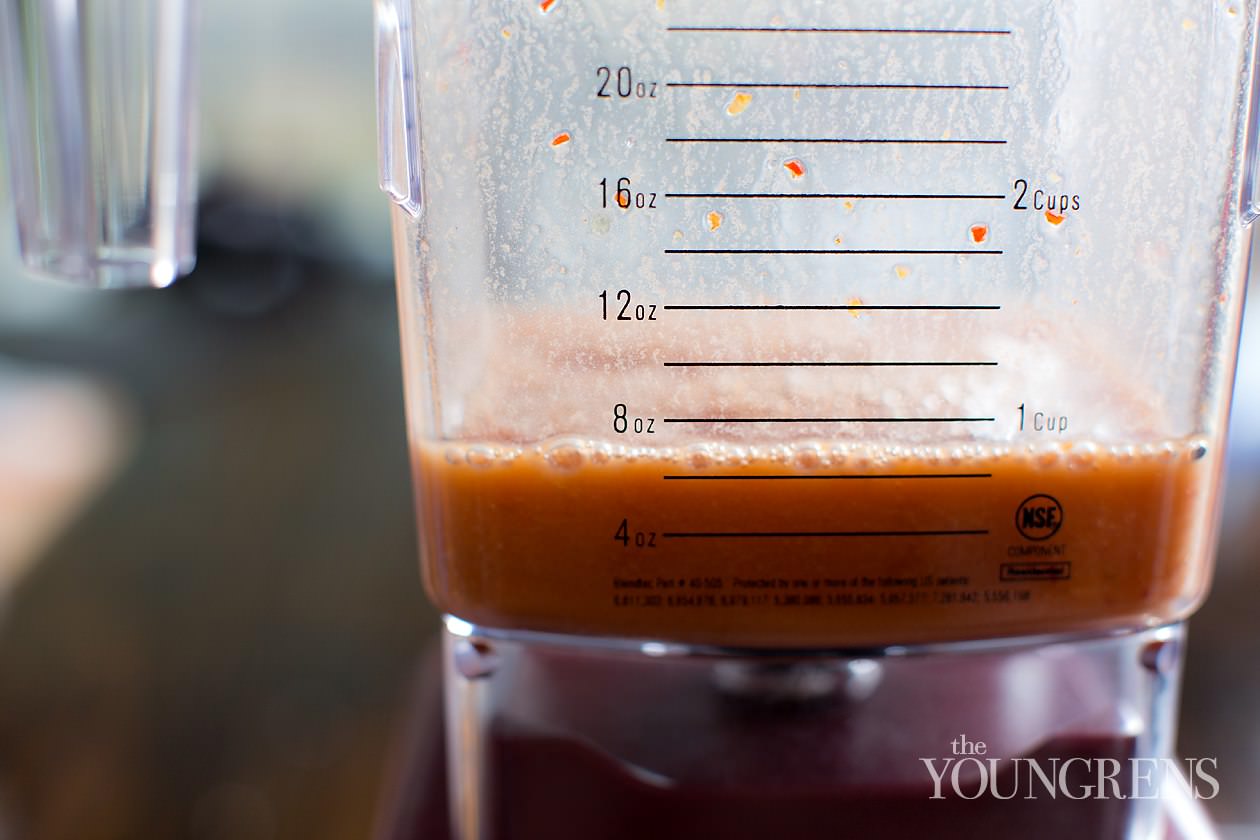 Once the planks and marinade have sat long enough, heat up your grill. For a gas grill like ours, only turn on the burners on one side. Once the grill is hot, place the cedar planks directly over the lit burners and let it sit until the planks begin to smoke and crackle a little. Then pull the salmon out of the marinade, place them on the plank skin side down, and then move the plank to the other side of the grill for indirect cooking. Cook until the fish is flaky, about 20-25 minutes.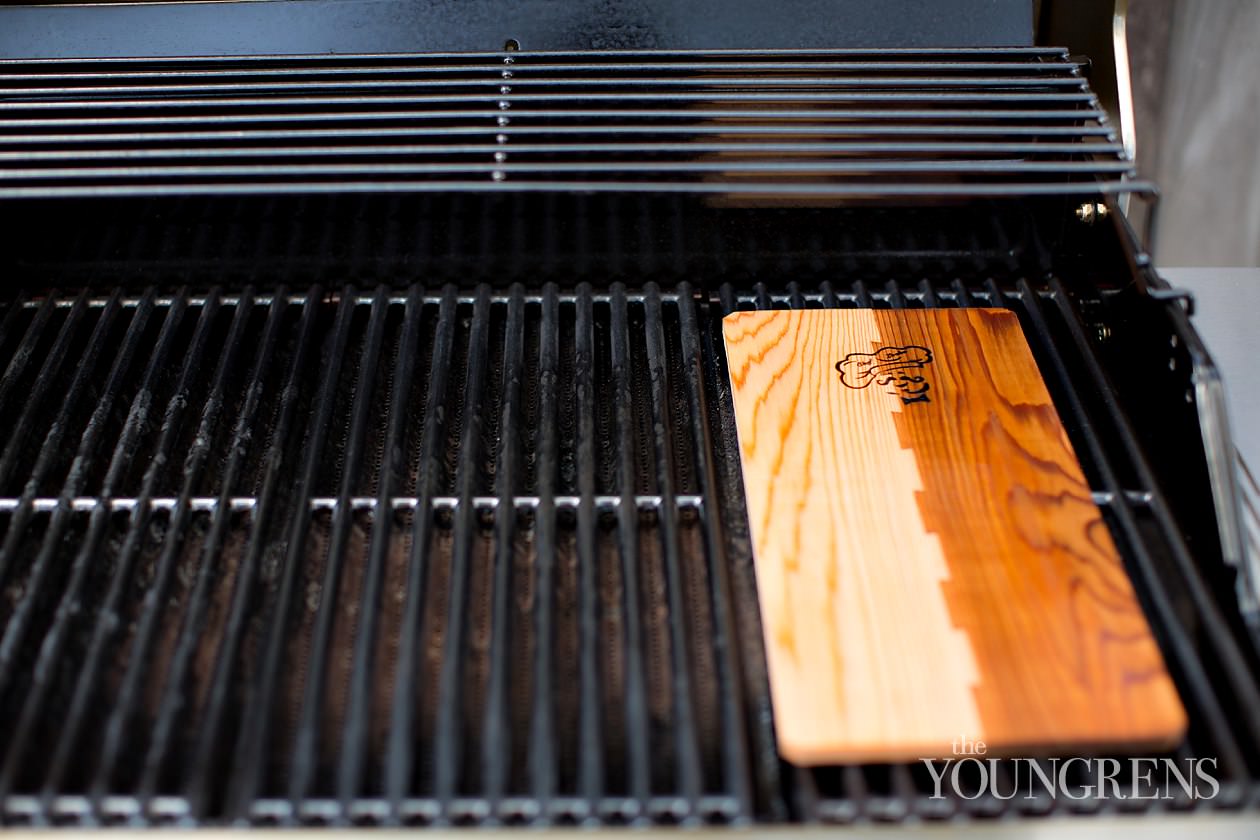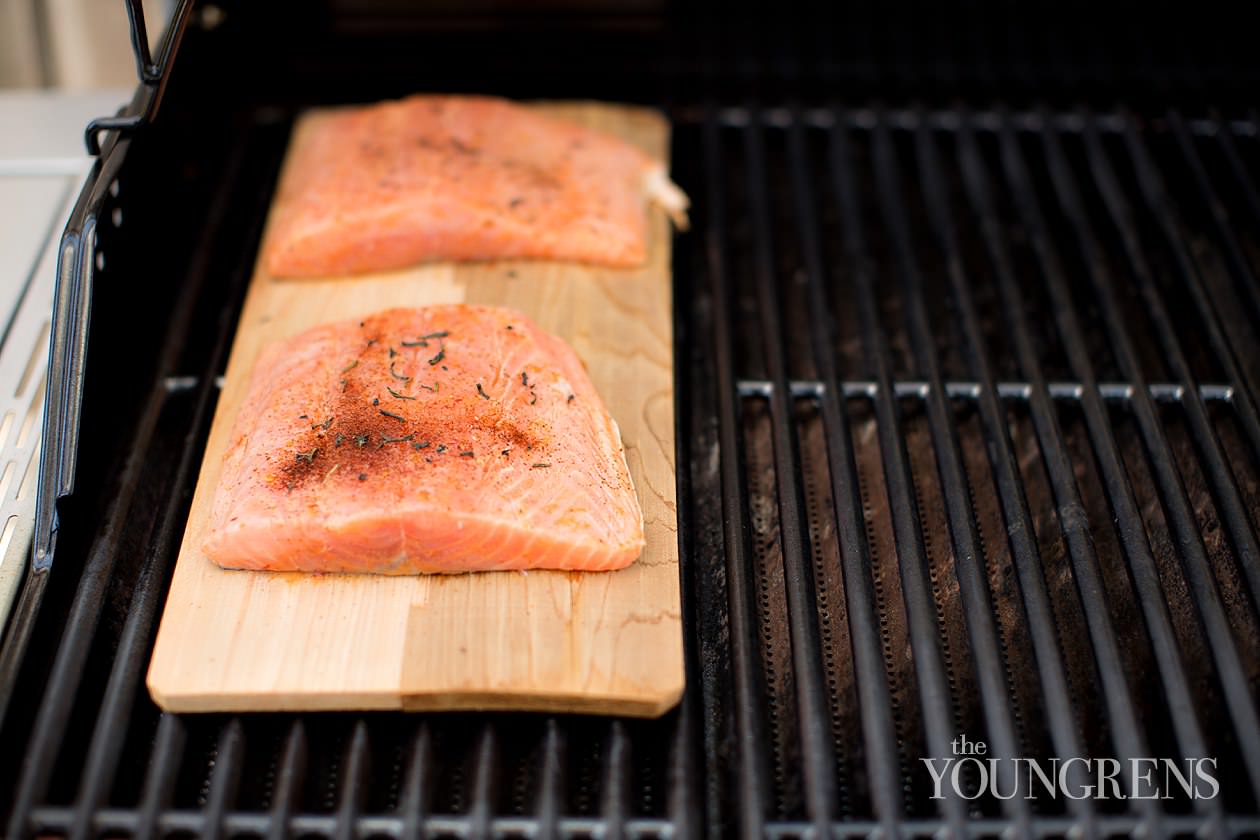 Or if you're like us and aren't familiar with cooking fish, use a thermometer… Fool proof!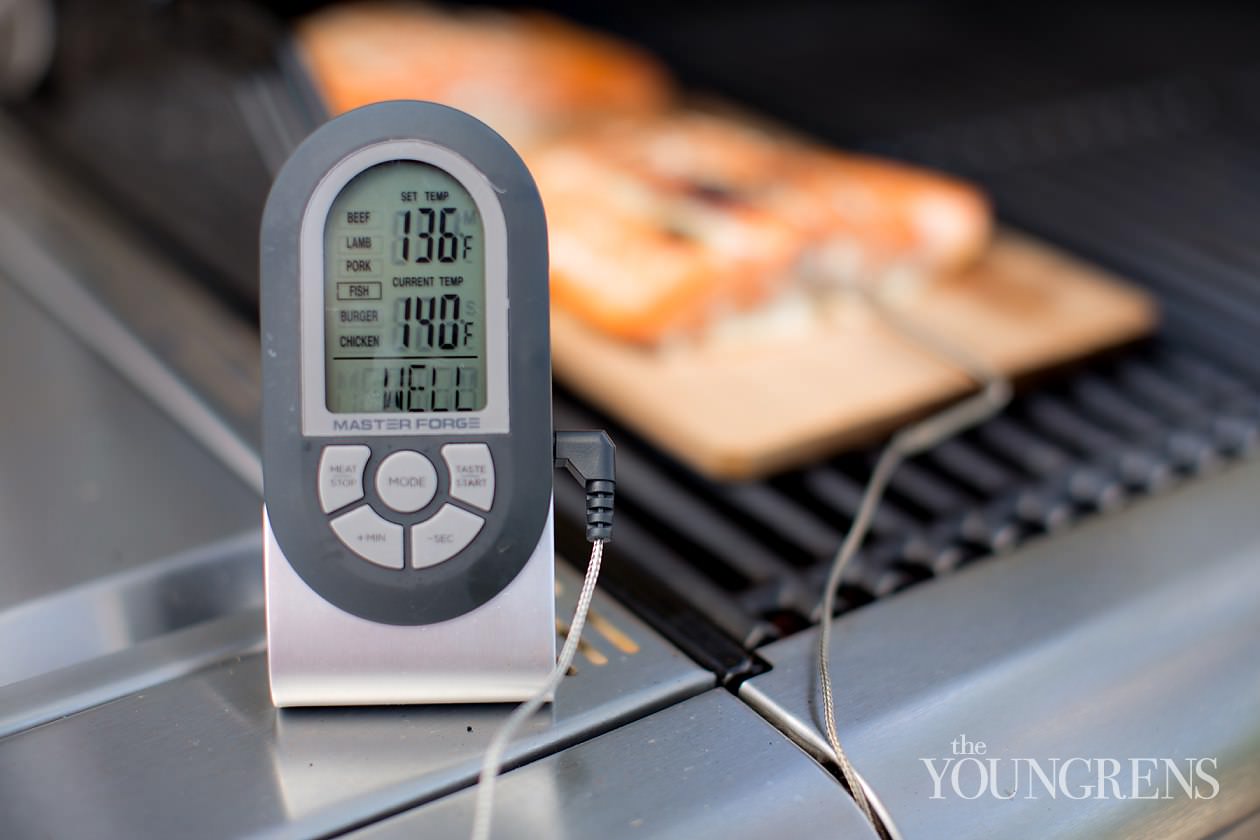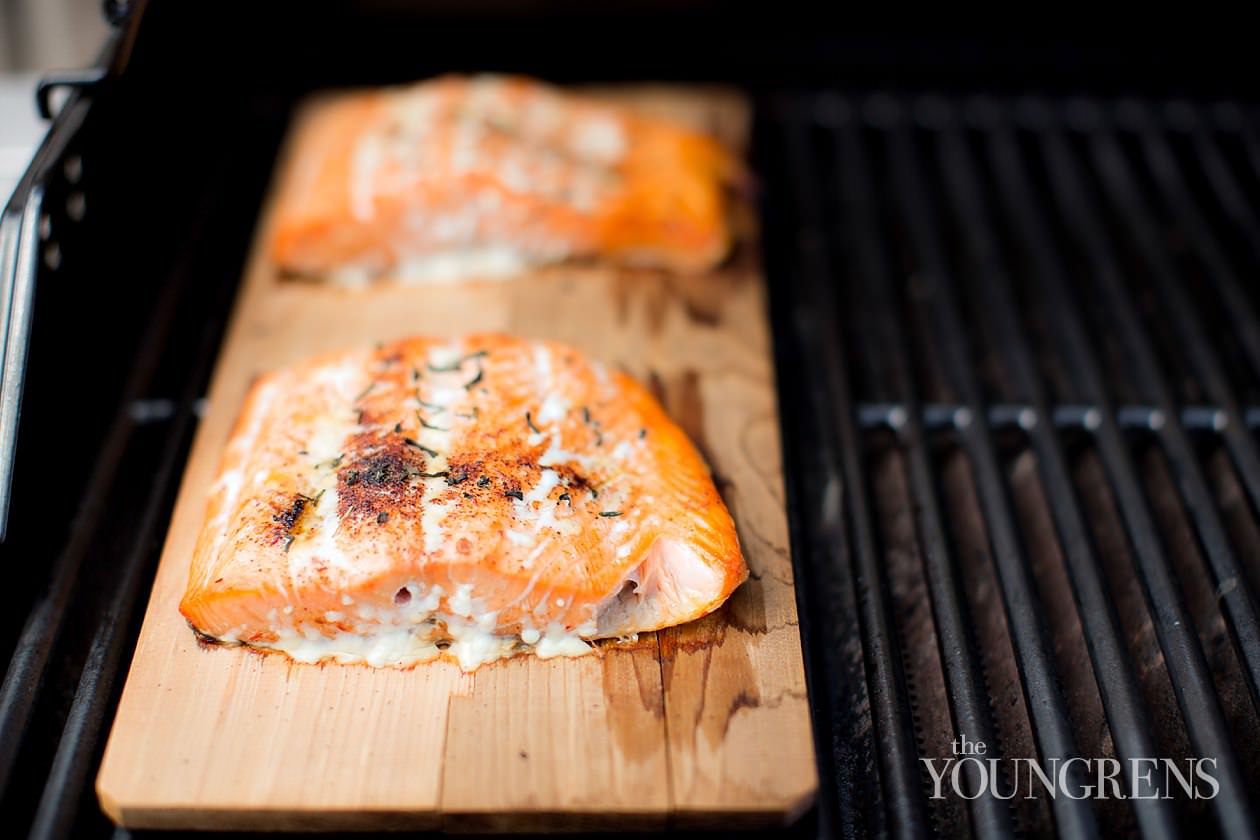 Once it's finished, sprinkle the fish with chives and honey, and eat it as an appetizer directly off the plank, or cut off pieces to serve.  The combination of light jasmine tea and smoky chipotles are da bomb. Yum!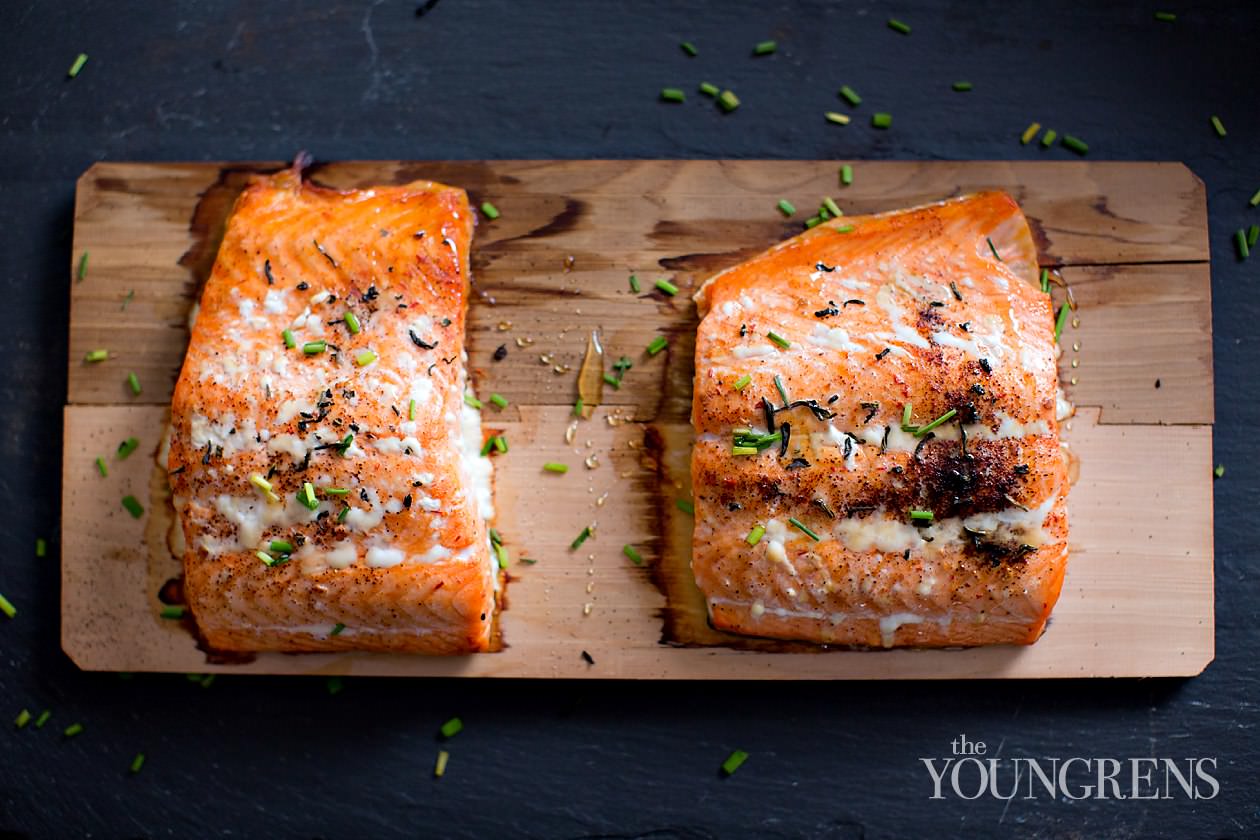 Tea Marinated Salmon
(View original recipe from Martha Stewart here)
1 cedar grilling plank

1/2 cup boiling water

1 tablespoon jasmine tea leaves

1 chipotle 

chile pepper

 in adobo sauce*

2 tablespoons cider vinegar

1/2 teaspoon kosher salt

1/2 cup ice cubes

1 1/2 pounds salmon fillet (skin on)

1/4 teaspoon chili powder

1/8 teaspoon jasmine tea leaves, coarsely crushed

Chives (optional)

Honey (optional)
Directions:
1. Soak plank in enough water to cover for at least 1 hour before grilling; drain.
2. In a small bowl combine boiling water and 1 tablespoon tea leaves. Let steep for 5 minutes. Pour tea mixture through a fine mesh sieve into a blender. Add chipotle pepper, vinegar, salt, and ice cubes. Cover and blend until smooth.
3. Place salmon in a resealable plastic bag set in a shallow dish. Pour tea mixture from blender over fish in bag. Seal bag and marinate in the refrigerator for 30 to 45 minutes, turning bag occasionally.
4. For a charcoal grill, arrange medium-hot coals around edge of grill. Place the plank on the grill rack directly over the coals for 5 minutes or until plank smokes and crackles. Remove salmon from marinade, discarding marinade. Place salmon, skin side down, on plank. Sprinkle salmon with chili powder and 1/8 teaspoon tea leaves. Place plank in center of grill rack. Cover and grill for 20 to 24 minutes or until fish begins to flake easily when tested with a fork. (For gas grill, preheat grill. Reduce heat to medium. Adjust heat for indirect cooking. Place plank on grill rack over heat for 5 minutes or until smoking and crackling. Place salmon on plank. Place plank over unlit side of grill and grill as above.)
5. To serve, sprinkle with chives and drizzle with honey, if desired.
Hugs,
Erin