Tres Leches Bread Pudding
Awwwww yes... Easter. The day of chocolate shaped bunnies, deviled eggs, the official launch of the little summer dress, the only day I'll ever wear white gloves, and the end of lent. Oh the end of lent.Ok, so I've rarely observed lent, but I'm slowly hearing the excited groans of those around me that are longing for their neglected shots of espresso, french fries, chocolate bars, and donuts - they're getting louder and more insistent as the end of lent draws near. So I realize this post will not help those dessert hunger pangs over the next week, but drop this little ditty into your crockpot the night before Easter and wake up to heavens opening up over Easter brunch. You'll thank me after its devoured.This is a super easy crockpot bread pudding that is moist, sweet, and nutty. I love the Cinnamon Sugar Sauce that is drizzled over the top - when it's topped off with the sauce and a dollop of homemade whipped cream, this centerpiece of brunch is a true winner!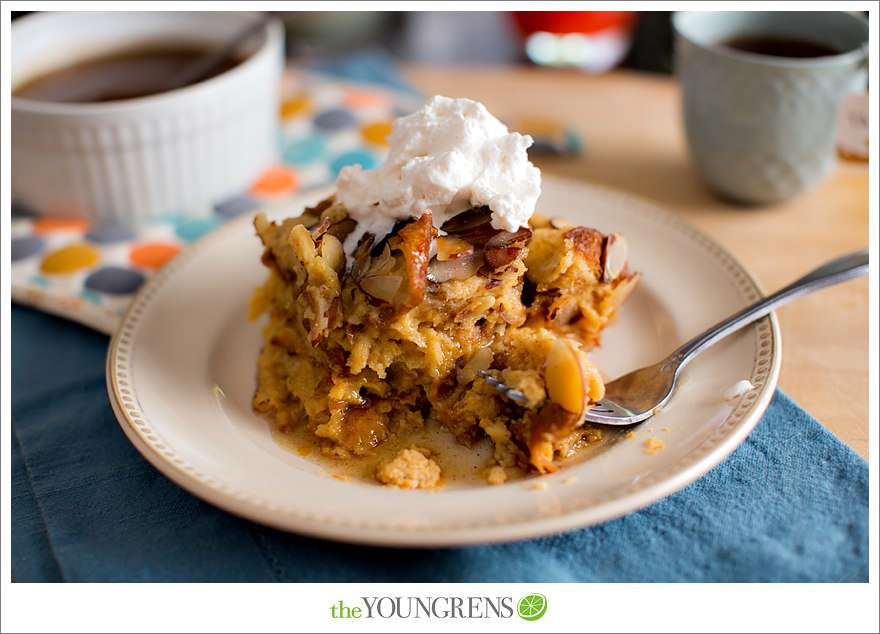 You'll pull out of your baking pantry all of the essentials - and a good amount of creams - for this delicious dish.
And don't forget the sauce - the Cinnamon Sugar sauce will take some buttermilk, corn syrup, and a dash of baking soda.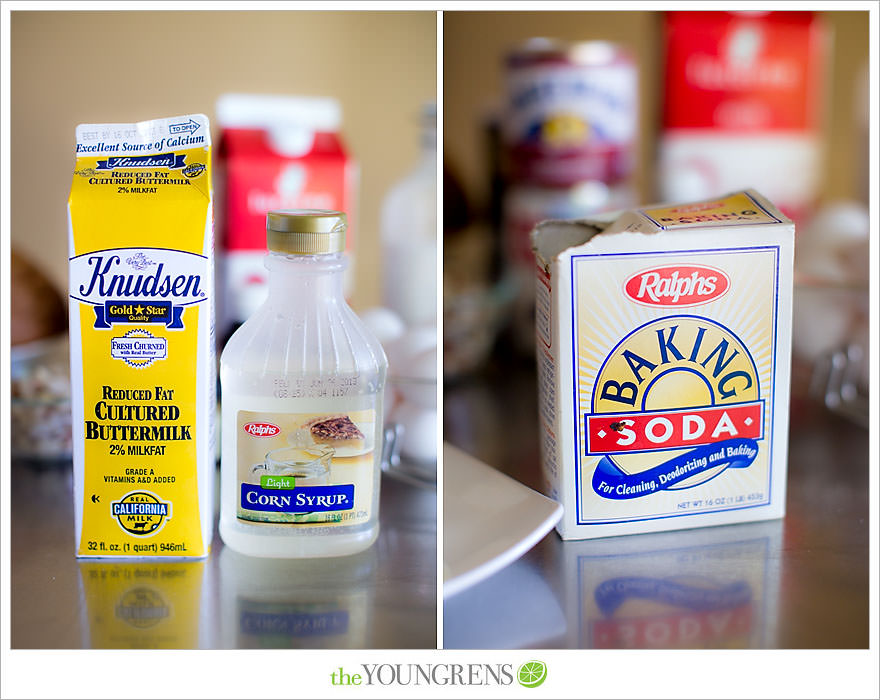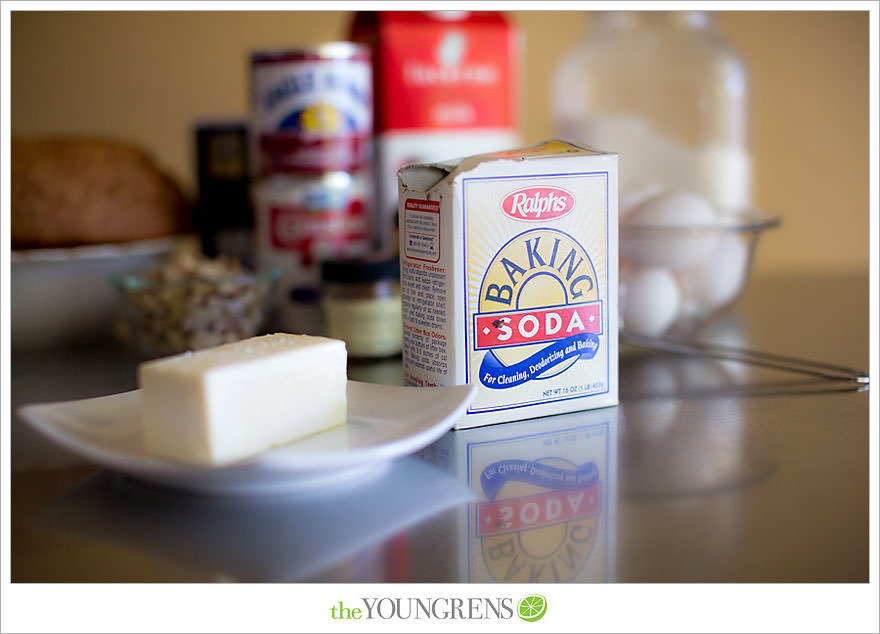 You'll start by toasting your almonds for a minute or two in the broiler on a baking sheet.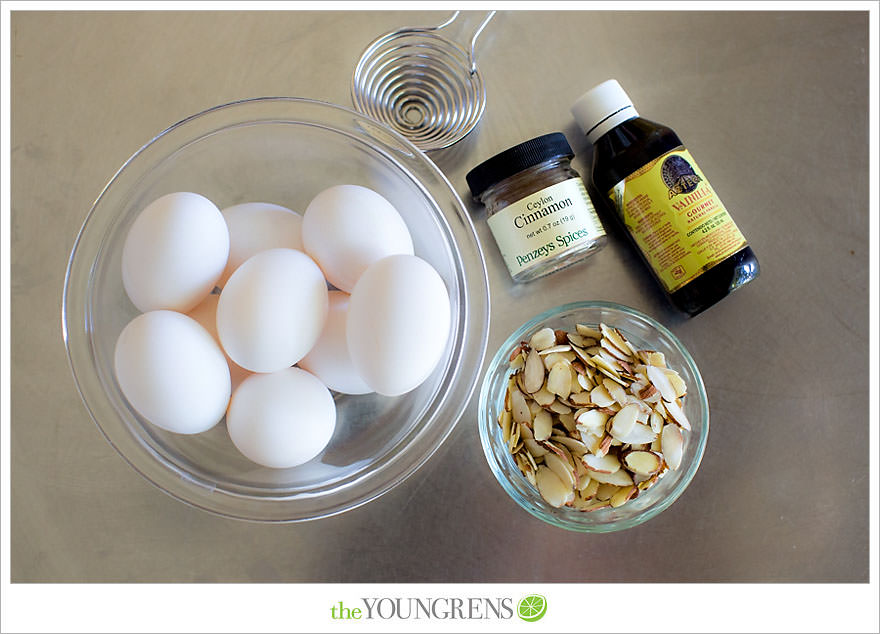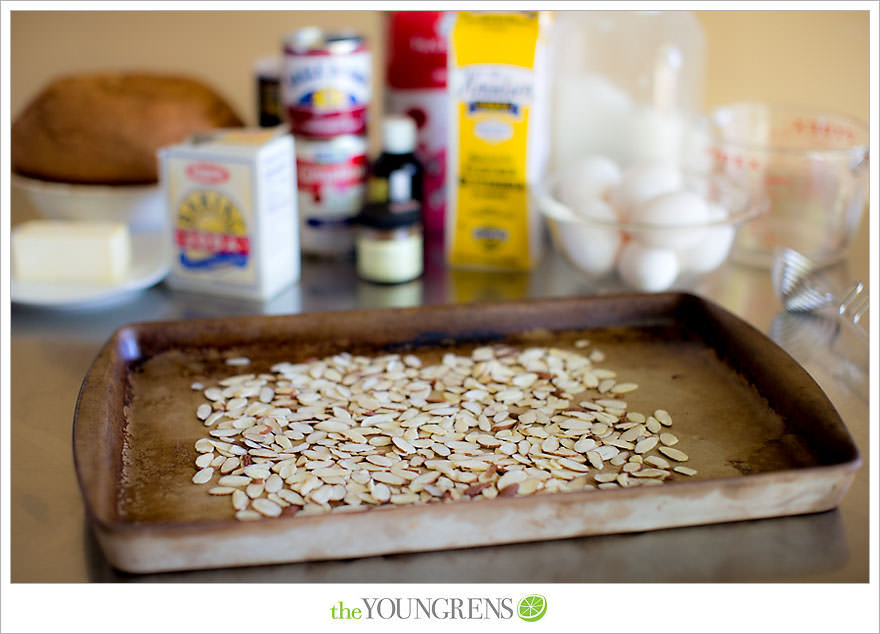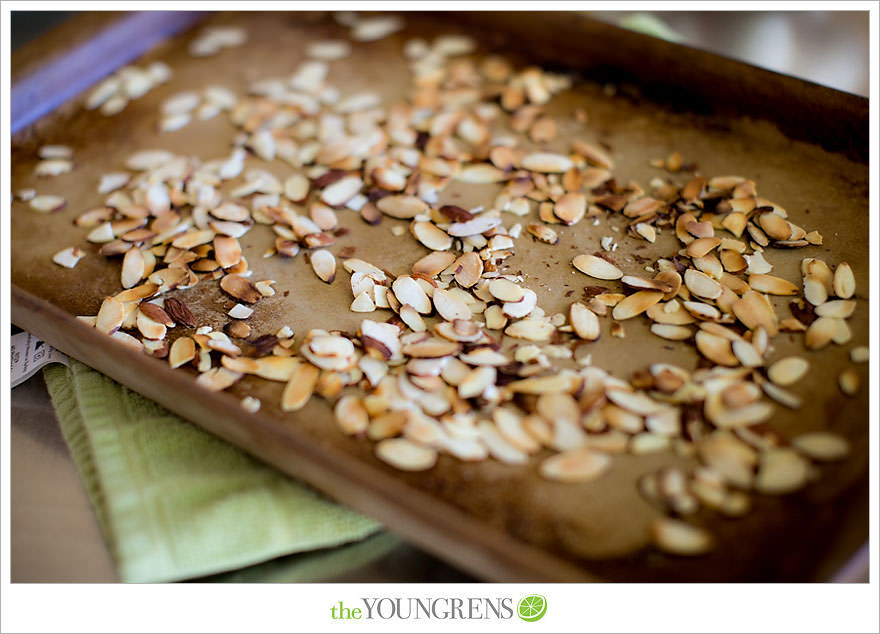 Then cut up your bread into one inch chunks. I couldn't find challah bread, so I actually used some Hawaiian sweet bread, which tasted pretty wonderful with this mixture. Definitely let your bread go stale for the best results.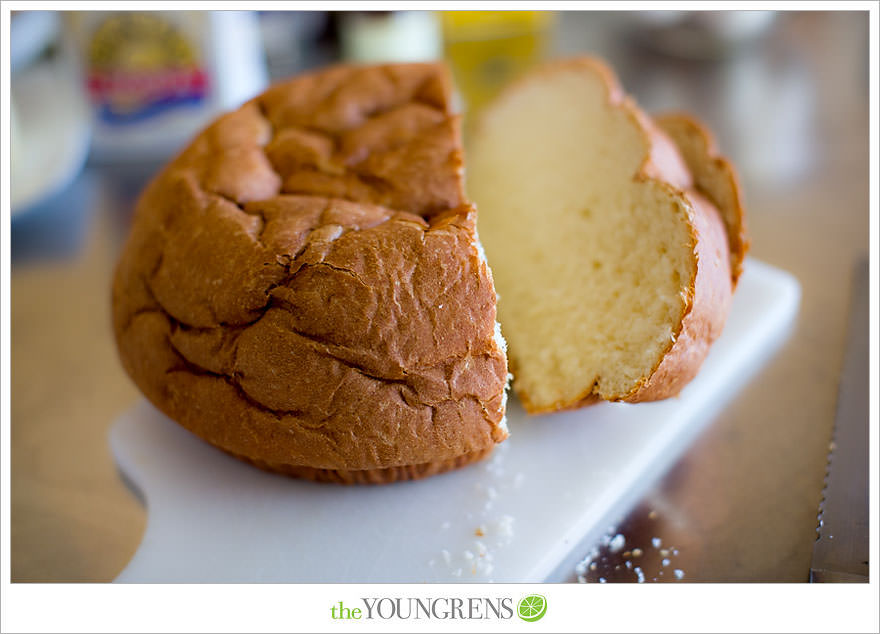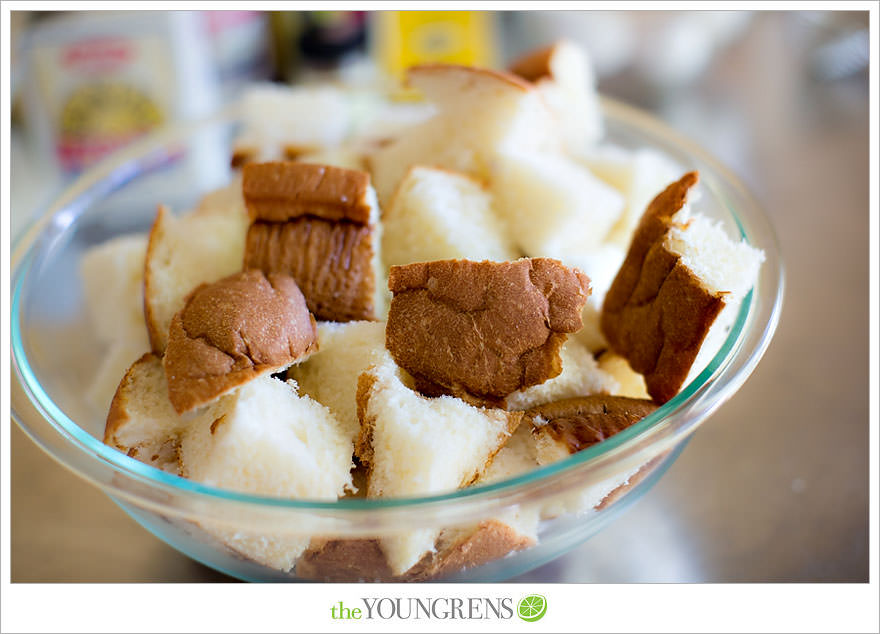 Then you'll mix together your wet ingredients, including your tres leches - whole milk, sweetened condensed milk, evaporated milk, sugar, vanilla, cinnamon, salt, and egg yolks.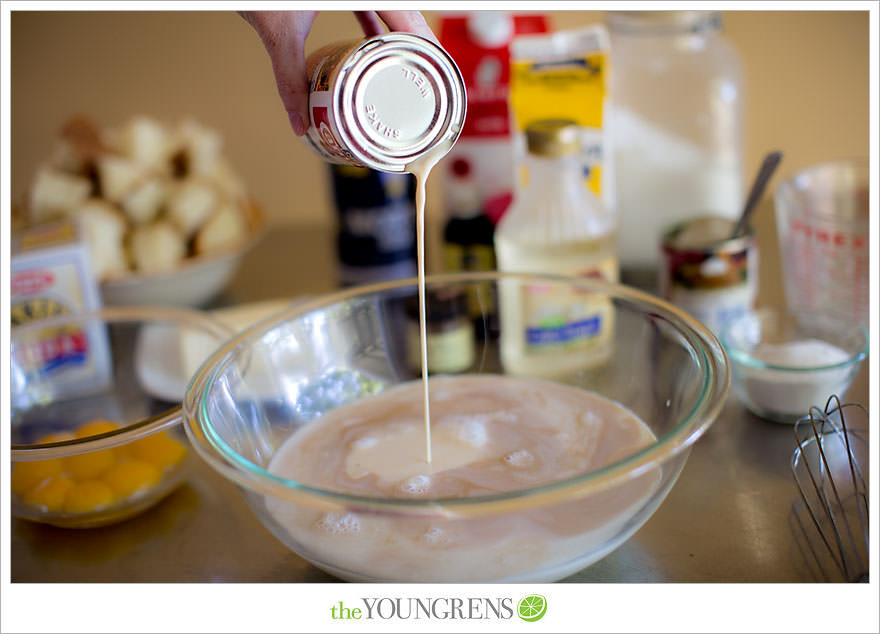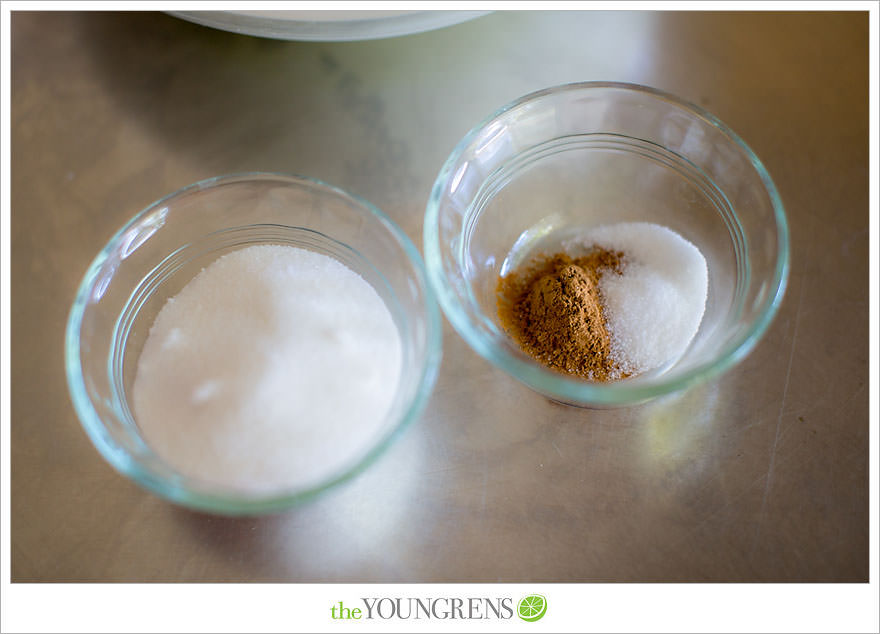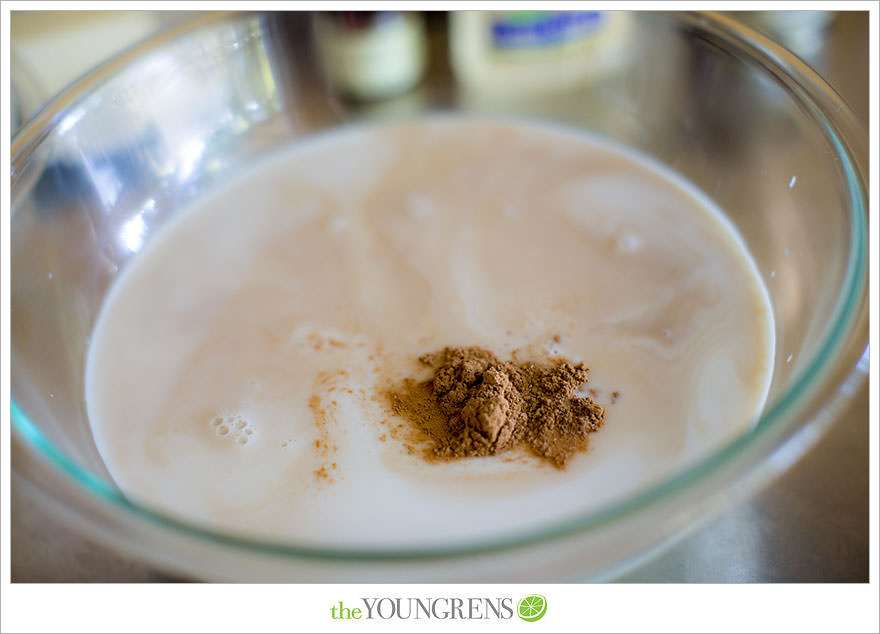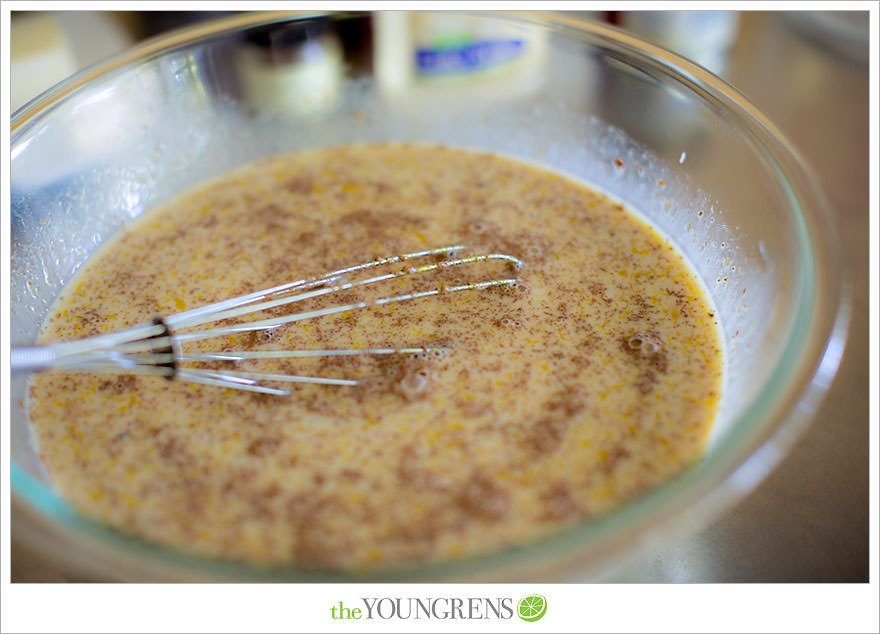 Then dump in your bread and almonds (which will be done by now) and mix it together until the bread is completely coated.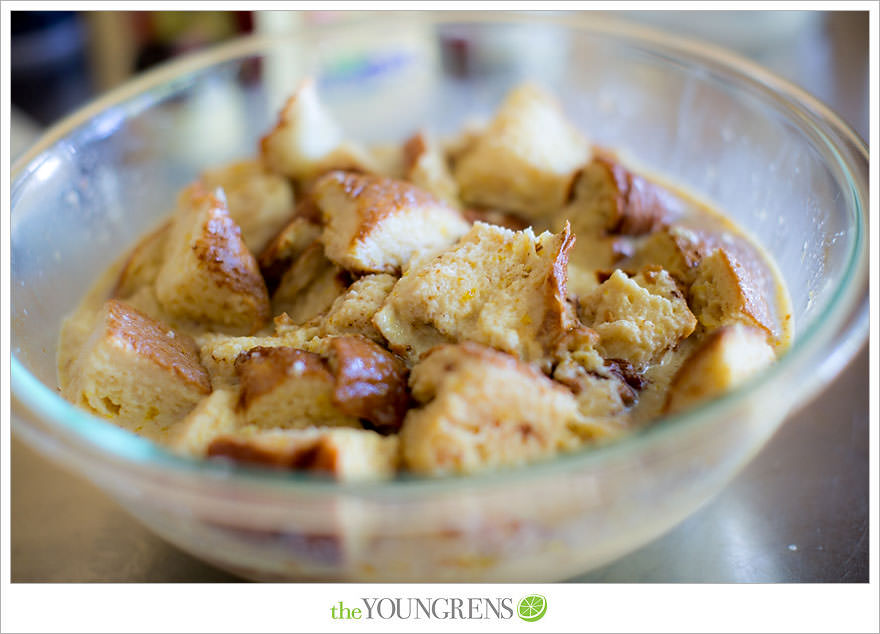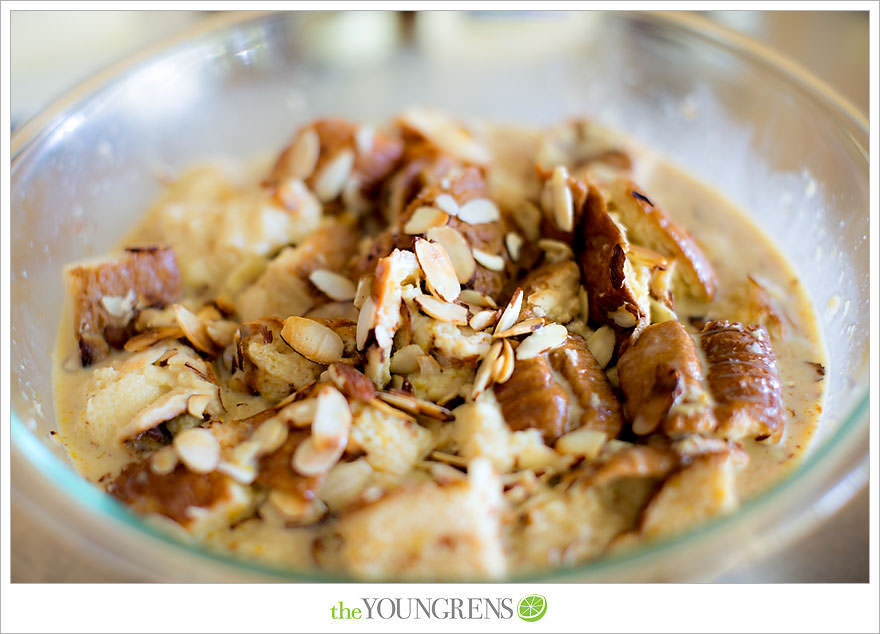 Spray the inside of a slow cooker with non-stick spray, and the recipe suggests coating the inside with aluminum foil for easy removal and clean up. I didn't this time, but I definitely would try it in the future. There was some 'stickage' that happened for sure!Dump in the bread mixture, cover, and cook on low for about four hours. It's done cooking when the center of bread pudding is set.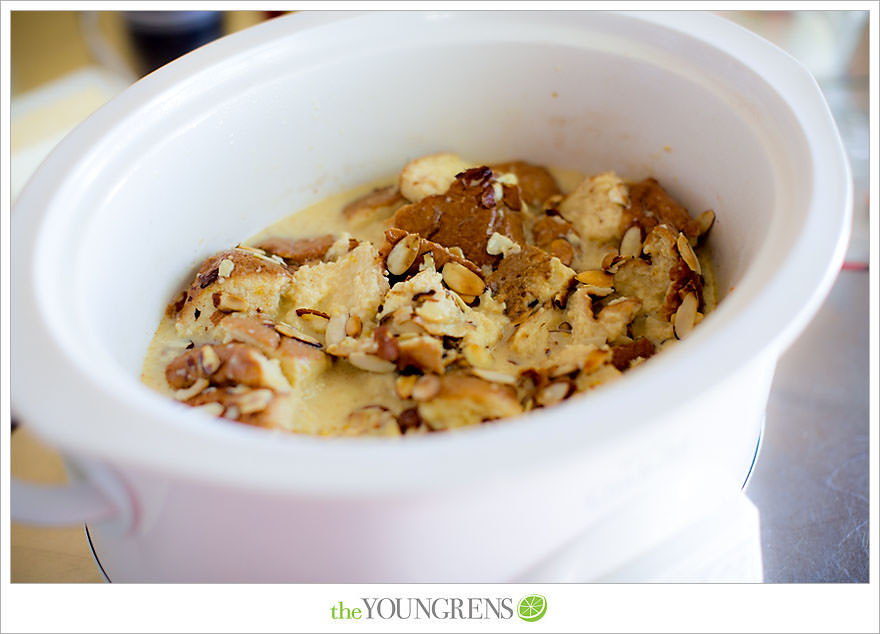 When the bread pudding is finished, take off the lid and let it cool while you make your Cinnamon Sugar Sauce. Combine all of the sauce ingredients in a  saucepan except for the baking soda. Bring to a boil.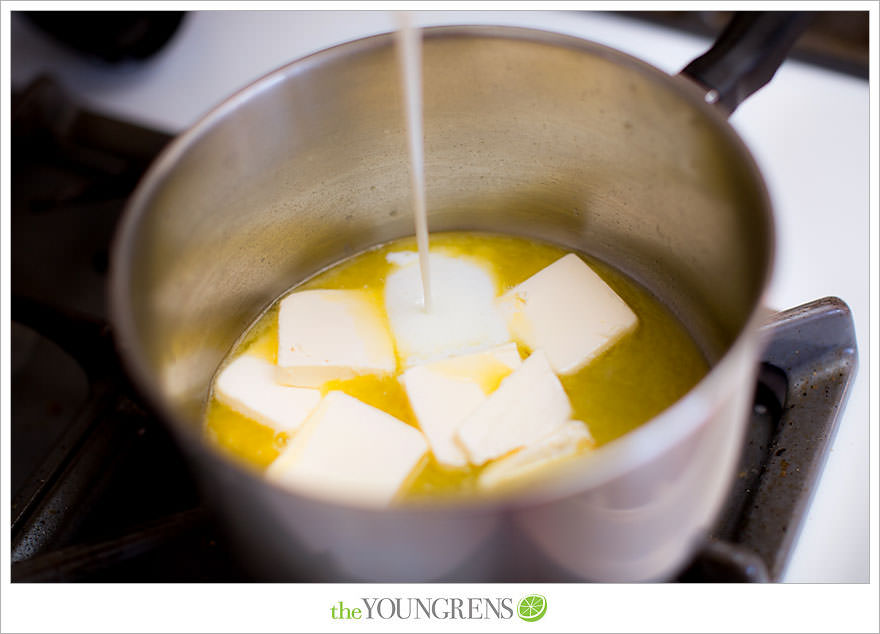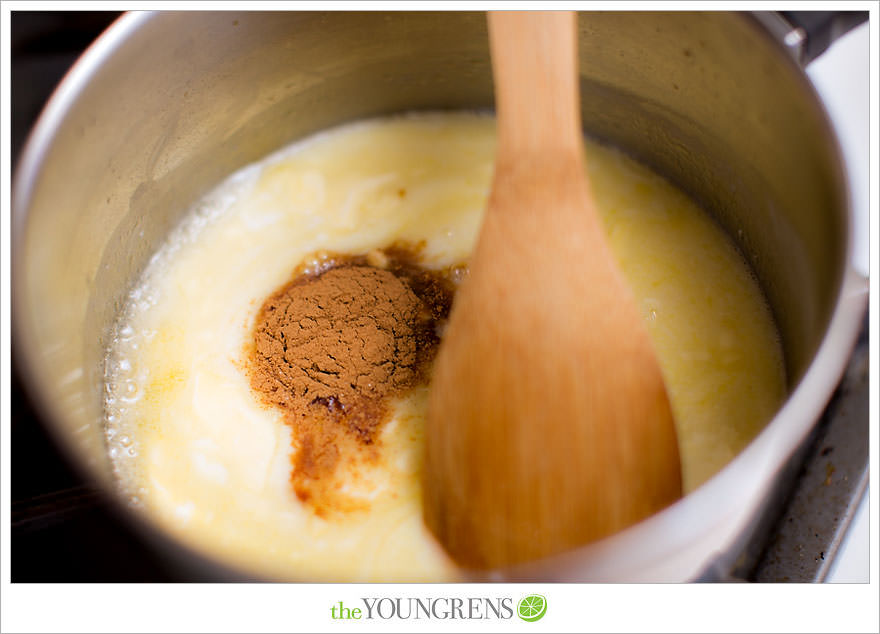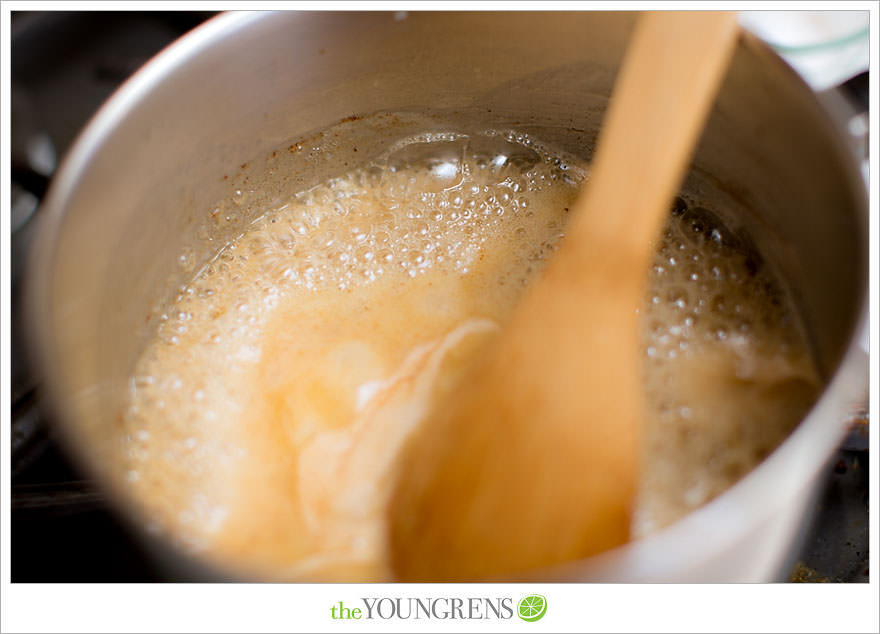 Remove the saucepan from heat, and slowly add the baking soda. The sauce will get bubbly, but keep stirring because this will make it thicken as the sauce cools off.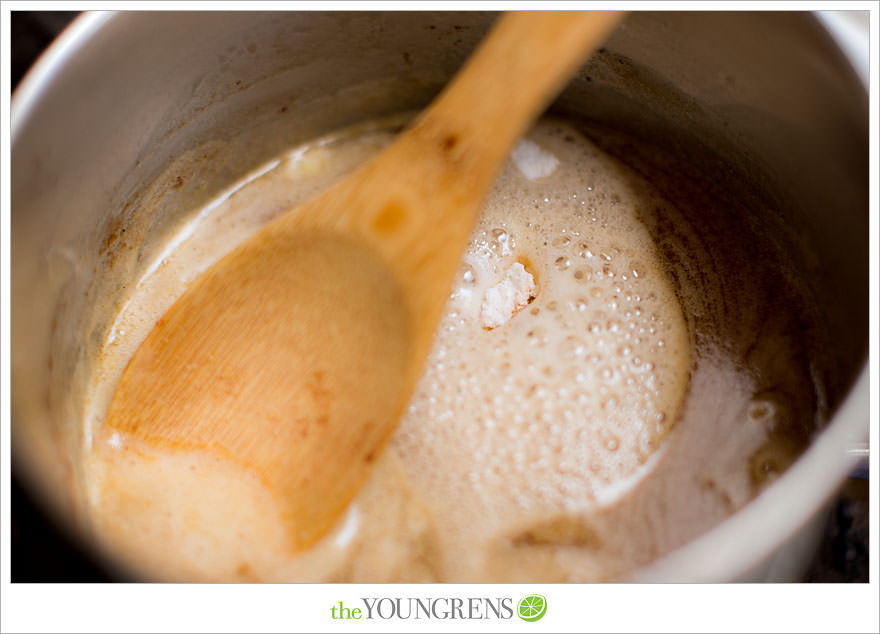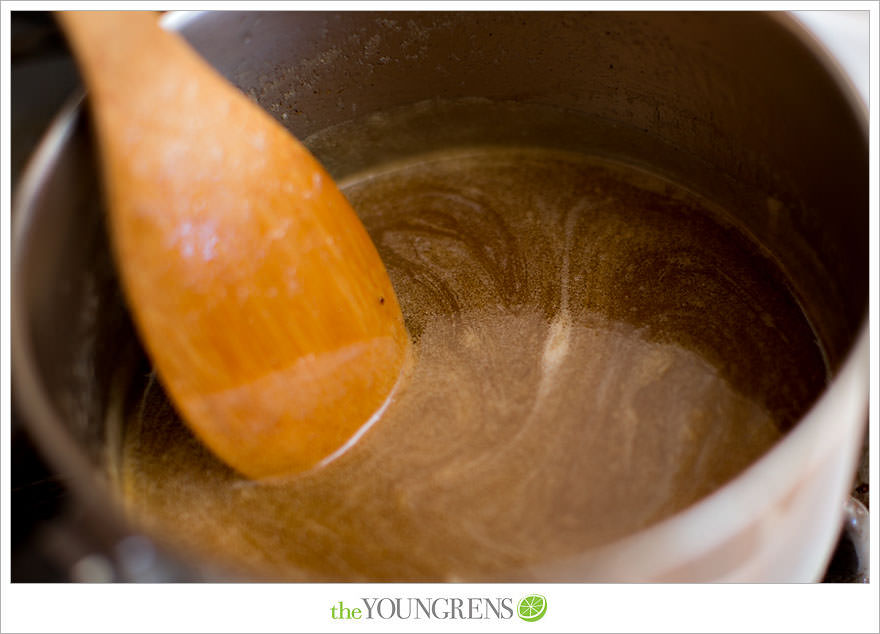 Cut your bread pudding into portions, drizzle with the sauce and top with whipped cream to serve.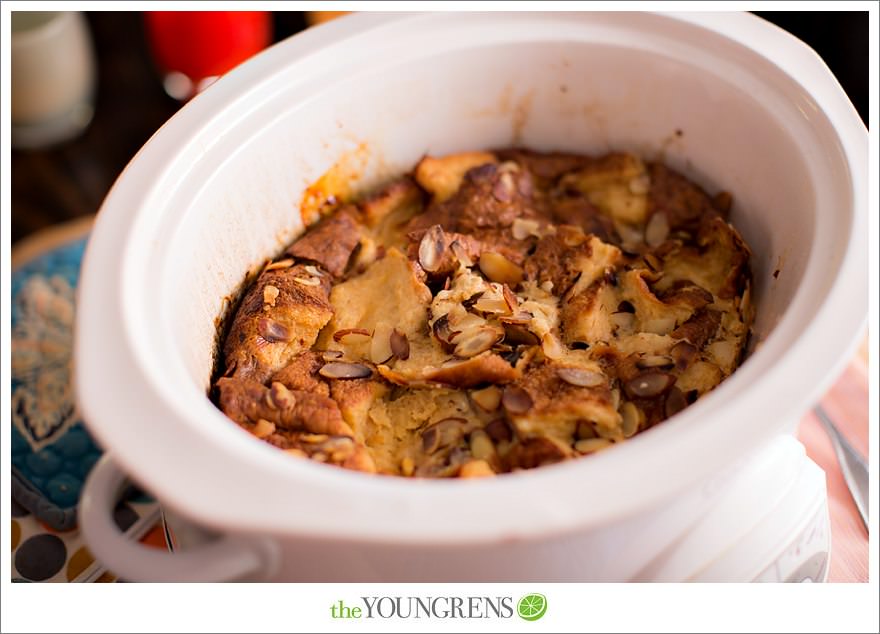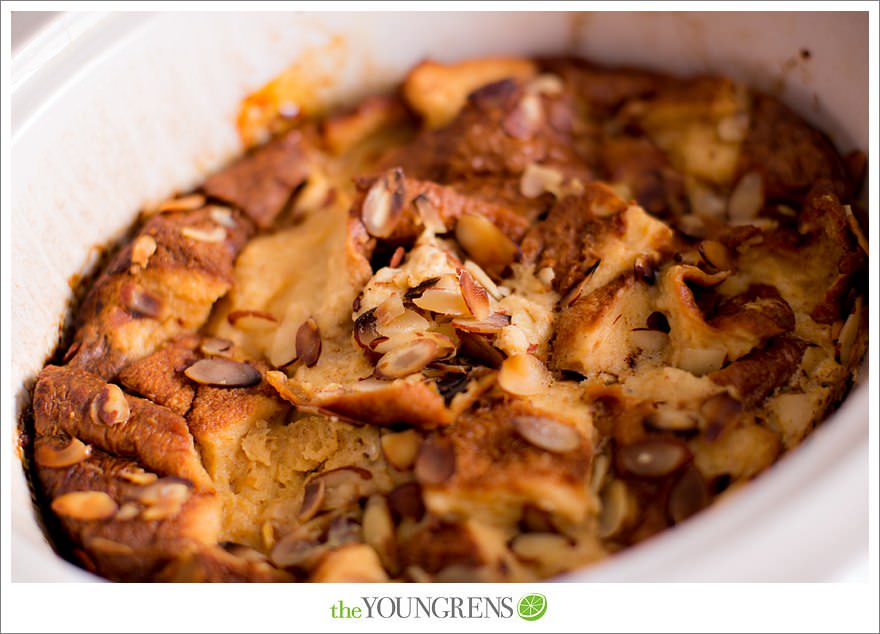 I love this dish and how simple it is to make. Any slow cooked dessert is a winner in my book!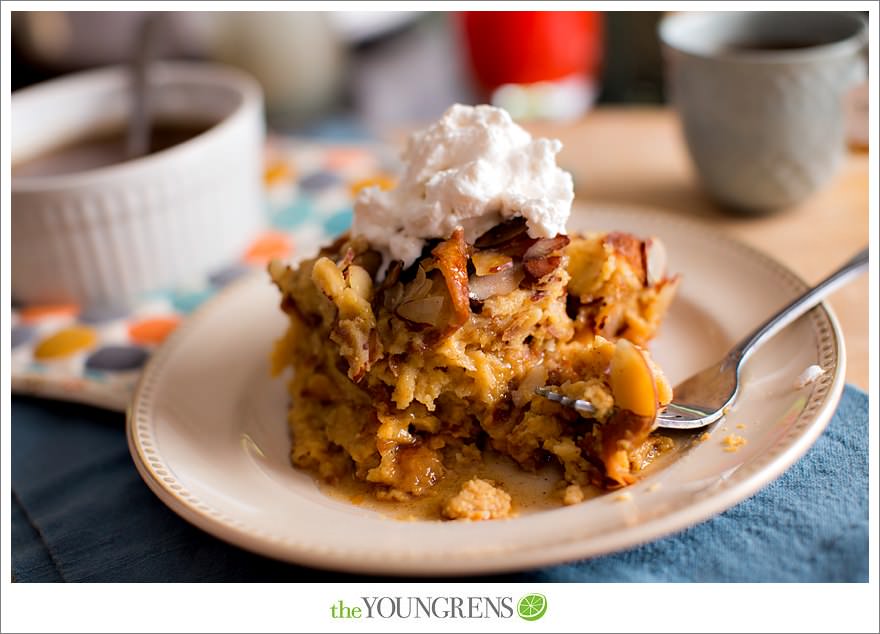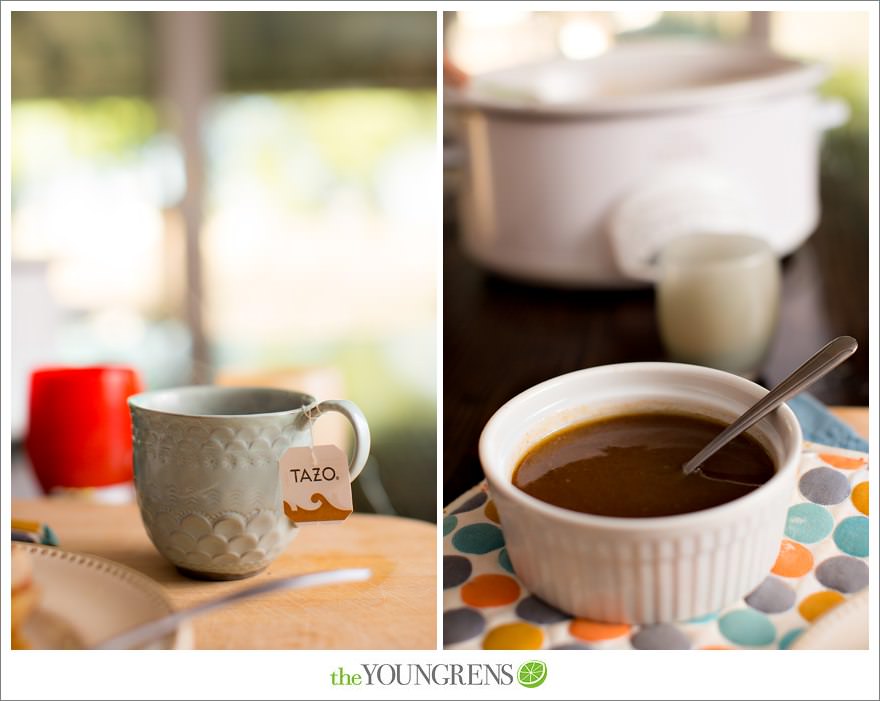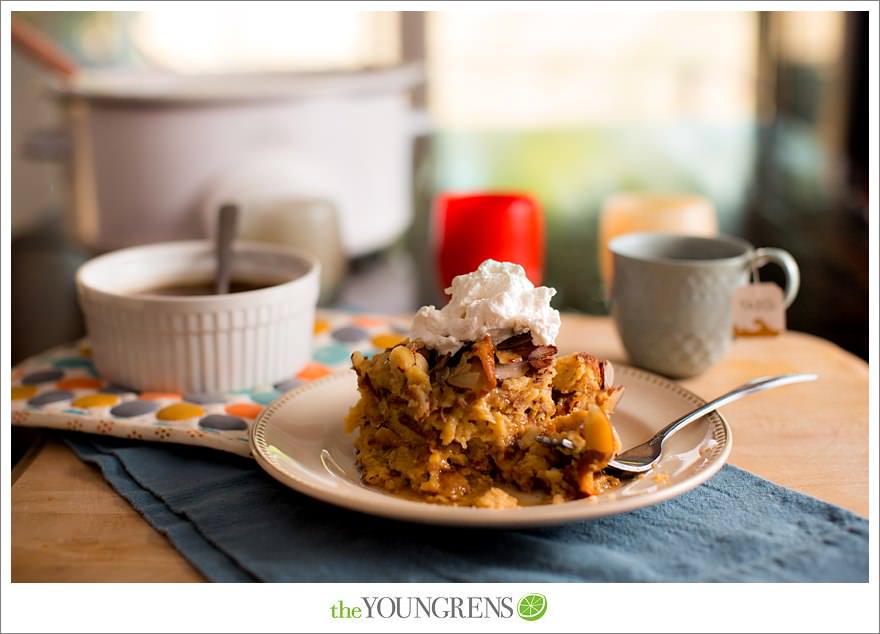 Tres Leches Bread Pudding
(view original recipe from Cooking Channel TV)
Nonstick spray
2 1/4 cups whole milk
1 (14-ounce) can sweetened condensed milk
1 (12-ounce) can evaporated milk
1/2 cup sugar
1 tablespoon vanilla extract
1 teaspoon ground cinnamon
1 teaspoon kosher salt
9 large egg yolks
1 loaf challah bread, cut or torn into 1-inch pieces (stale is best)
3/4 cup slivered almonds, toasted
Cinnamon Sugar Sauce, recipe follows
Freshly whipped cream, for serving
Cinnamon Sugar Sauce
3/4 cup sugar
8 tablespoons (1 stick) unsalted butter
1/2 cup buttermilk
1 tablespoon light corn syrup
1 teaspoon vanilla extract
1/2 teaspoon ground cinnamon
Pinch salt
1 teaspoon baking soda
Directions:
Coat the insert of a slow cooker with nonstick spray. Line the insert with aluminum foil for easy removal, letting some foil overhand for handles.
Meanwhile, in a large mixing bowl, whisk together the whole milk, sweetened condensed milk, evaporated milk, sugar, vanilla, cinnamon, salt and egg yolks. Toss in the cubed bread and the almonds and mix to coat all the bread.
Add the mixture to the slow cooker, cover and cook on low until the center of the bread pudding is set, about 4 hours. Remove the lid and cool. Use the foil handles to lift the bread pudding from the slow cooker. Drizzle individual servings with Cinnamon Sugar Sauce and top with freshly whipped cream.
In a heavy-bottomed saucepan, combine the sugar, butter, buttermilk, corn syrup, vanilla and cinnamon and salt and bring to a boil over medium-high heat. Remove from the heat and slowly add the baking soda. At first the sauce will bubble up, just keep stirring. Sauce will thicken as it cools.
Hugs,Erin
OUR FAVORITE WEDDINGS
the portfolio
Loving our work? Check out our favorite weddings we've ever photographed
VIEW HERE
OUR MOST HELPFUL WEDDING PLANNING TIPS, STRAIGHT FROM THE EXPERTS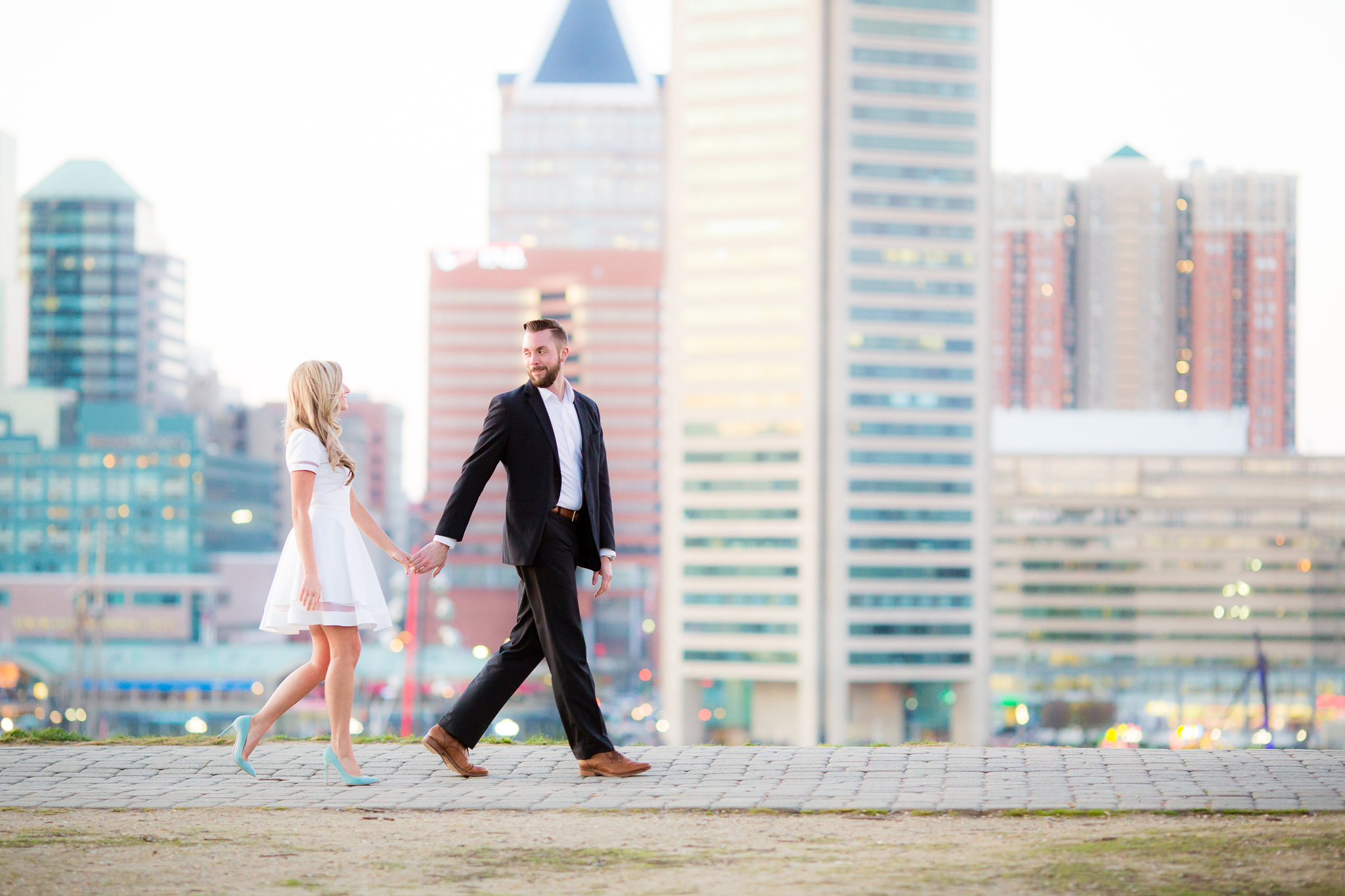 Our Formula for the Perfect Engagement Outfit
Picking the perfect outfit for a photo session can be one of the most difficult experiences BUT it doesn't have to be. I've seen enough outfits that work and don't work that I've cracked the ultimate code for our couples...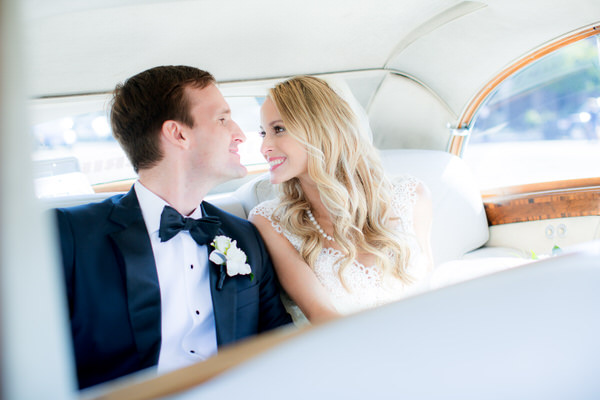 Our Stress-Free Wedding Day Timeline
There's nothing better than a stress-free wedding day when everything runs smoothly, your guests have the time of their lives, and you soak in the day with your sweetie. Though it sounds too good to be true, you can...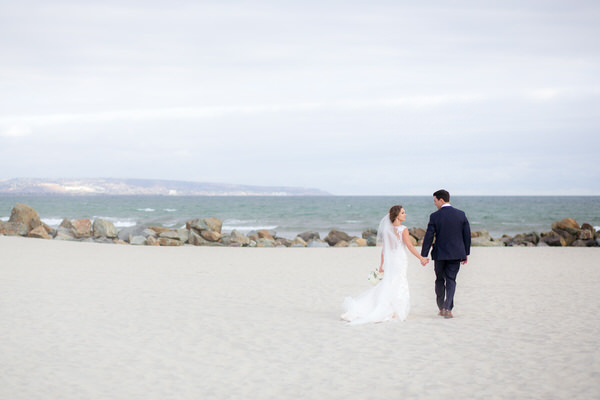 10 Foolproof Tips to Get Gorgeous Wedding Photos
It's the #1 question brides ask: What can I do to get the most amazing photos on my wedding day?
Having been through the in's and out's of countless weddings, I have loads of tips to share, so let's...
We're Jeff and Erin Youngren, a hubby and wifey team that photographs amazing couples and their incredible weddings. Hopeless romantics, BFF's, and mama + daddy to James, we're obsessed with traveling, podcasts, Oreos (Erin) and whiskey (Jeff).