Top ten reasons I love Scooters
1. They save a ton of gas so I feel really smart in that I'm-totally-better-than-your-ridiculous-smart-car sort of way.
2.We can zip by a hybrid-Prius at the gas station and yell "Go green, jerks!"
Actually, those are the only reasons I need.
I just feel so much cooler when I'm on a scooter. Like I'm a total hipster. I've never been a hipster before, so I'm not quite sure what exactly it means to be a hipster, but I'm confident that I AM one while I'm on my scooter. Before I got married I was a sheltered white girl from Idaho trying not to get run over on the freeway in my Ford Escort Wagon.
And now that I'm married, I live in the suburbs with a cat. 'Nuf said.
But now that we have scooters, I feel like I have something so cool to show off in front my hipster friends when they invite us to a sweet new cocktail lounge or local dive bar in their up-and-coming beach-y neighborhood. For those few minutes, I can slide up to the curb on my scooter, slowly pull off my bubble helmet, dramatically shake out my hair with rays of sunshine beaming through my waving brunette locks and greet them with, "Man guys, scooting can get so crazy – the cool ocean air and zipping around traffic isn't all it's cracked up to be. You know?"
I feel so stinkin' cool it's obnoxious.
But I do have to wait until they turn their backs to lift the thing up on it's center stand 'cuz I have to leverage my entire body weight to get it to move and I look like a twelve year old trying to move a tractor. In fact, when I'm riding along and a strong side wind hits, I look like a tiny paper football being flicked around on the road. These scooter thingys were not made for women…
But every time I get to walk into a Starbucks with my helmet dangling over my arm, I relish the side looks. The not-so-discreet glances from the high school kids in line next to me. Normally I get those looks cuz I have a booger in my nose or something, but now it's actually because I'm cool. Like I've finally earned the Badge of Coolness for Suburbia. At least that's what I tell myself.
I totally realize that when I hop on my scooter, toss my scarf around my neck and ride off into the sunset with an espresso in one hand, I'm actually retreating back into our reasonable townhome in a safe, gated community with matching garages so that I can pull on sweats, warm up leftovers, and watch Neil Patrick Harris on So You Think You Can Dance. But for those few moments of scooting around town, I feel like da bomb. Diggity.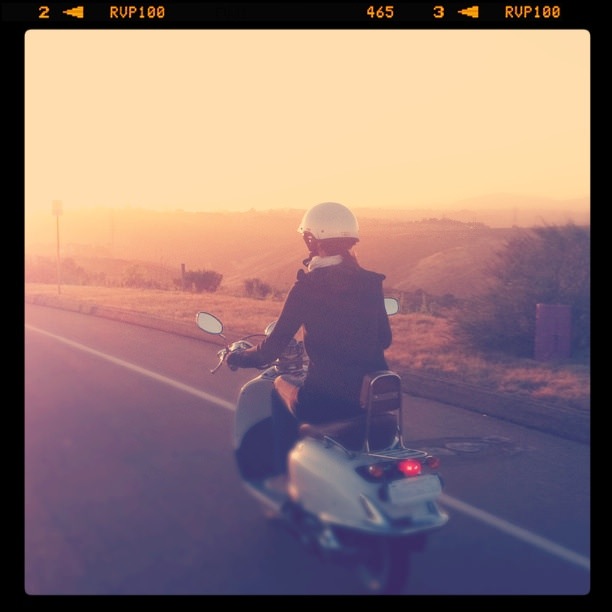 Hugs,
Erin