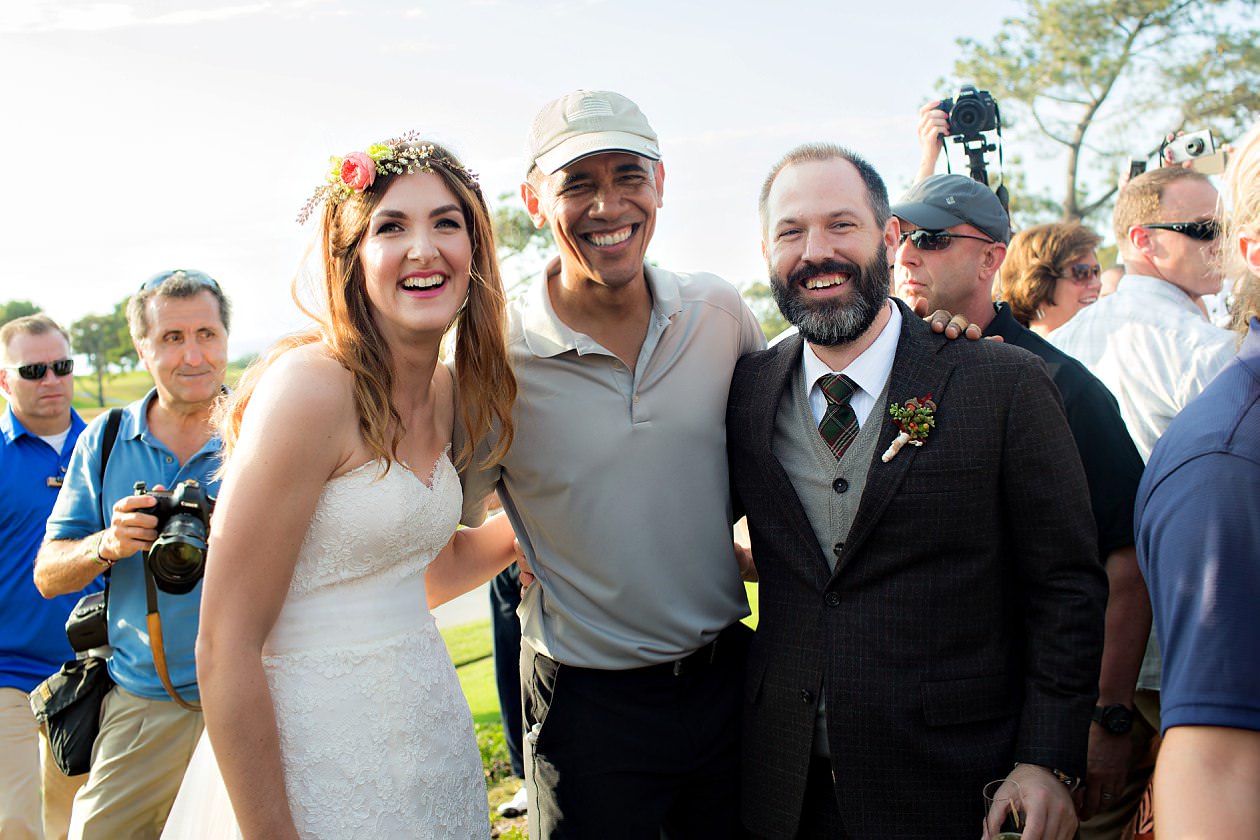 The Day We Met the President |The Lodge at Torrey Pines Wedding
This was Jeff as we crawled into bed last night: "I definitely didn't wake up this morning thinking THAT was going to happen today!" 
As I flipped off the light to try to fall asleep (epic fail) my right hand was definitely still shaking from the handshake that I never thought I would ever receive, but have DREAMED about my whole life – especially from this one particular person. But not only did I shake his hand, a dream came true when I took a photo of him looking straight into my camera…
Brian and Stephanie chose the gorgeous boutique hotel, The Lodge at Torrey Pines, here in San Diego for their wedding because all of their friends and family would get the chance to have the perfect San Diego getaway. This hotel overlooks the world famous Torrey Pines golf course, situated right on the water, and many celebrities and golfers have graced the greens here. I've seen Phil Mickelson and Tiger Woods walk the course and many friends have recounted their #celebrityencounters here.
But for serious people – does anything compare to this???? #therightanswerisno
When Jeff and I were driving up to the wedding that morning, Jeff casually mentioned that the President was staying at Rancho Valencia, another resort in San Diego that we love to photograph, and we joked that Brian and Stephanie should have chosen THAT as their wedding venue instead. (Oh how I laugh now, my friends…)
When we arrived at The Lodge, we quickly found out that the President was playing a round of golf just outside. I nodded and smiled thinking, 'Keep it cool Youngren. Just keep shooting your wedding. This is as close as you'll get to the leader of the free world.'
Brian and Stephanie were SO EXCITED that he was there. We laughed and joked all morning, and tried to get a peek of him through the curtains, feeling honored just to be at the same location, not expecting anything more than that. It was nice to see the leader of our country take some time to rest in a place that we all adore.
When the ceremony time came, the fabulous Kelly Aull of Mint Weddings learned that the President was finishing up his game soon at the 18th hole, which happens to fall right in front of the ceremony site – as in, right behind the altar. Whaaaaa???
We might get to see him!!! I thought. (Cue INSANE internal happy dance but staying chillin' on the outside.) Between Kelly, The Lodge (you're the best Molly!), and Brian and Stephanie, we all decided to wait on the ceremony so that he could play through. As secret service agents filed in and secured the area (totally cool if you ask me – Jeff told the secret service agent that we were wearing matching ear pieces), the President and his party came riding up on golf carts (now I'm freakin' out on the inside, but still supes chill on the outside).
Everyone in the crowd sat hushed in iPhone-ready silence as the golf carts came to a stop, and the Presidential party started getting out to play. Then President Obama raised his hand and greeted the crowd with a giant smile, breaking the silence. We all cheered. (Internal freakin' out is now quickly becoming external).
(Keep following the story below with the images…)
Jeff was with Brian and Stephanie, who were tucked away in their suite in the hotel with their families in preparation for the ceremony. They couldn't go out on their balcony, so they pressed against the window, watching everything unfold below.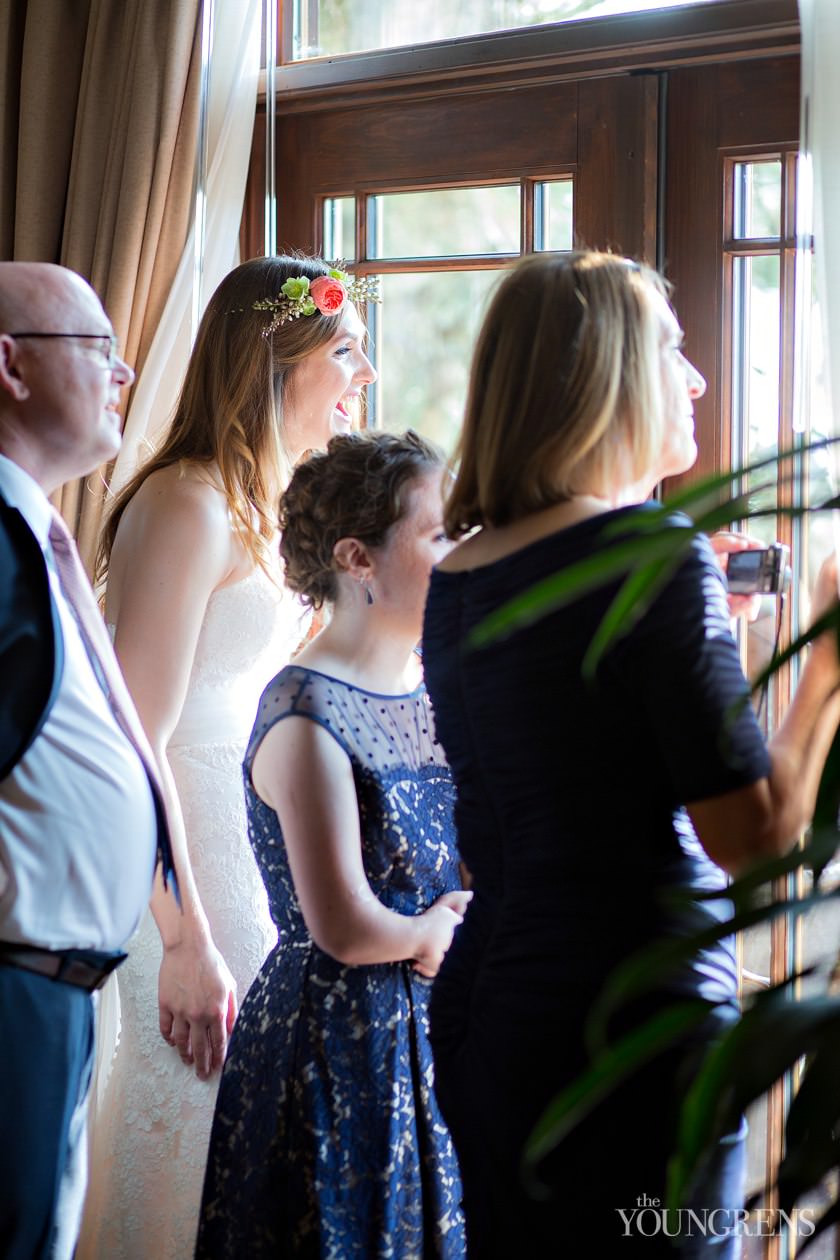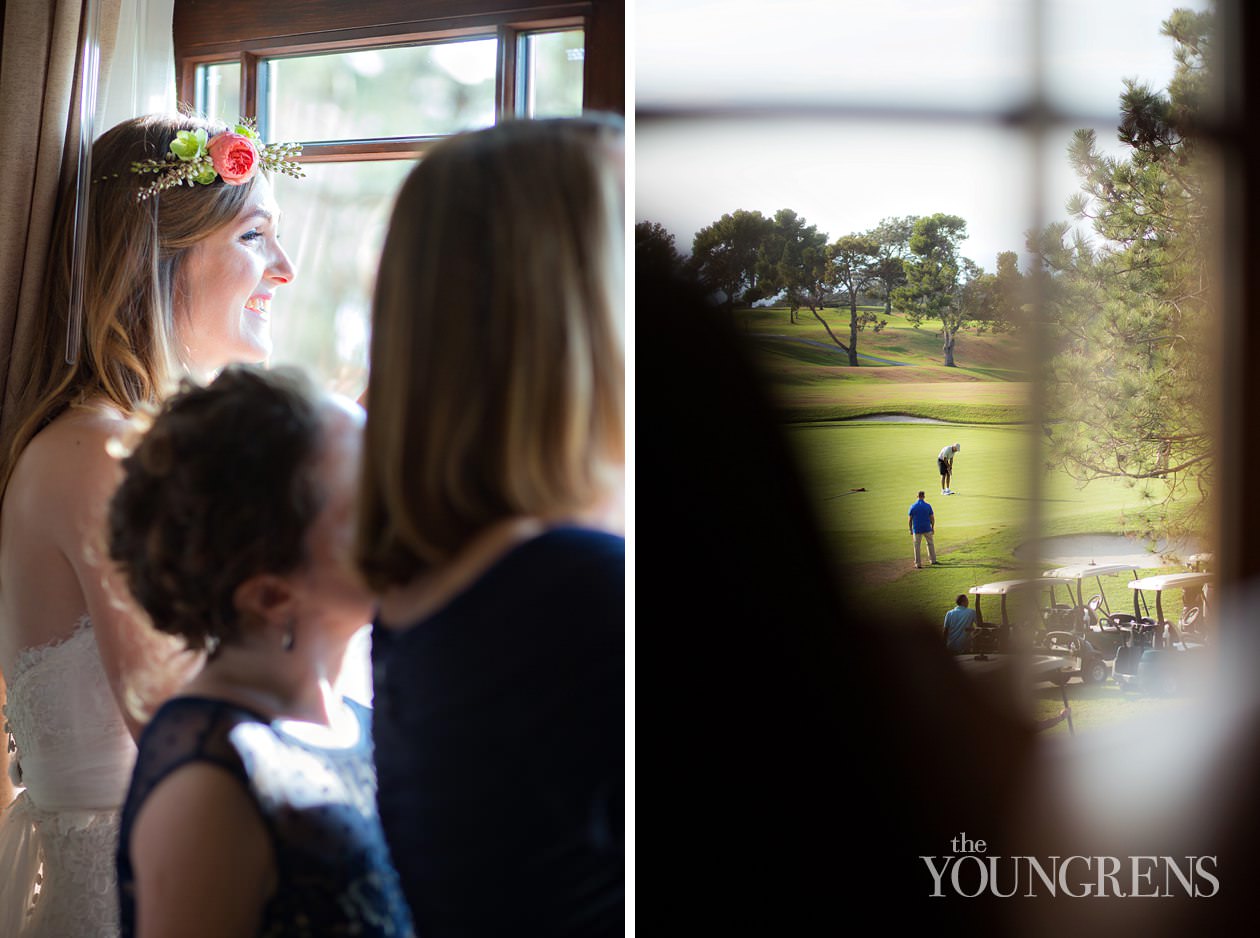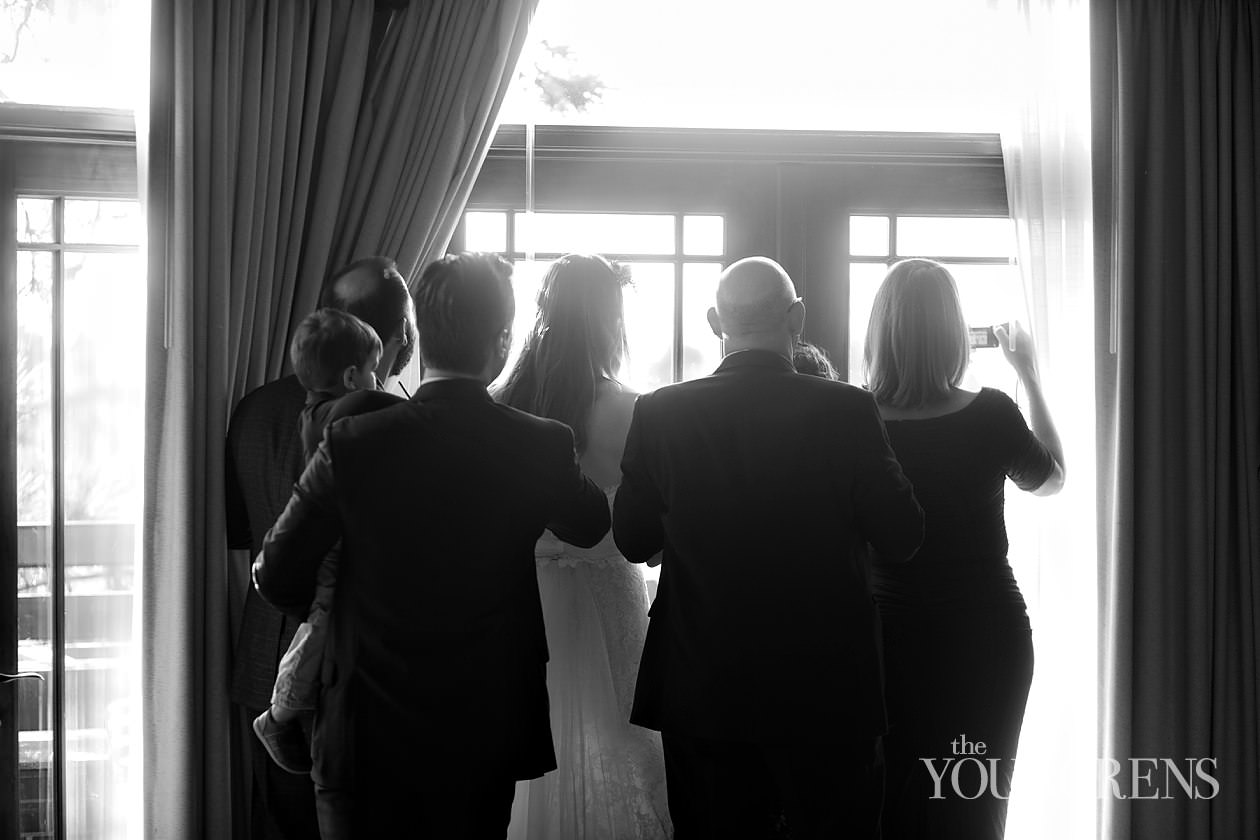 Meanwhile, I'm down at the ceremony site where President Obama (#pause: I can't tell you how crazy it is to write about this…), set up his shot and we watched everyone play the hole and finish the game.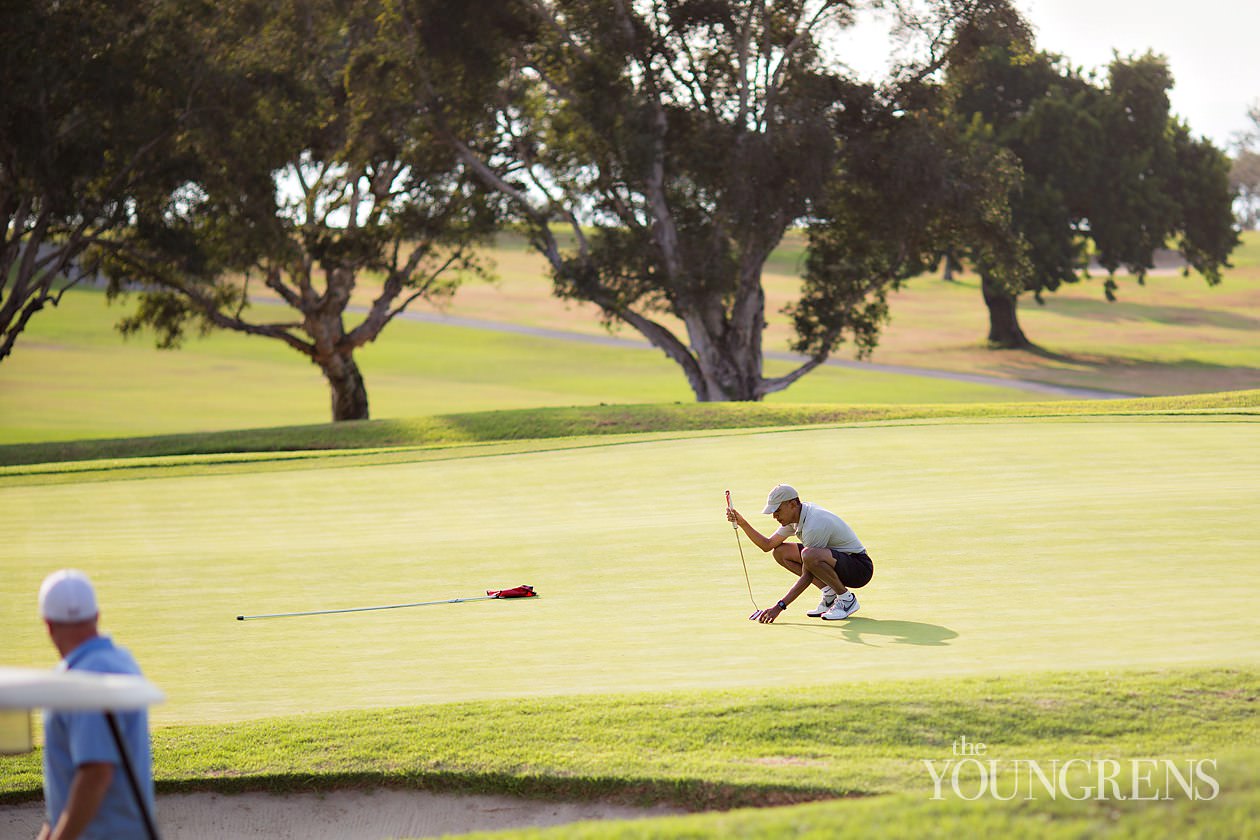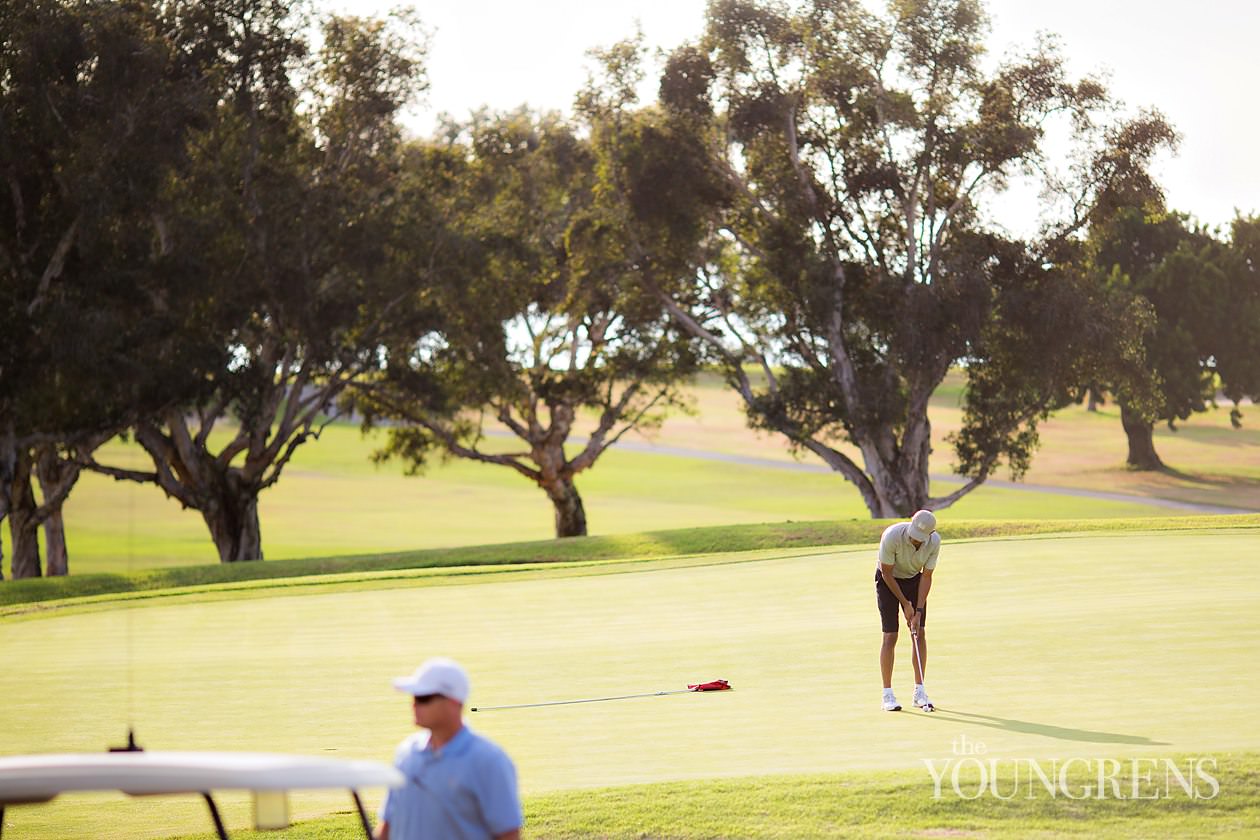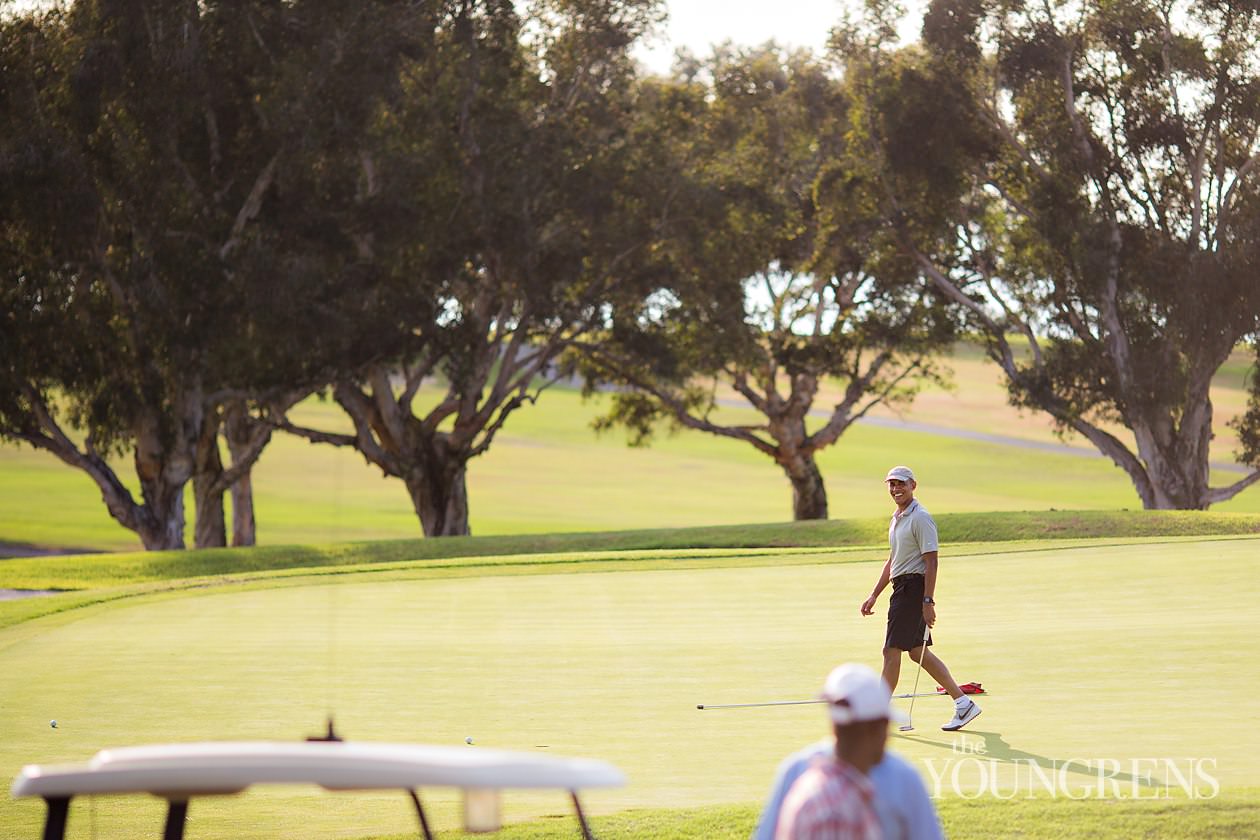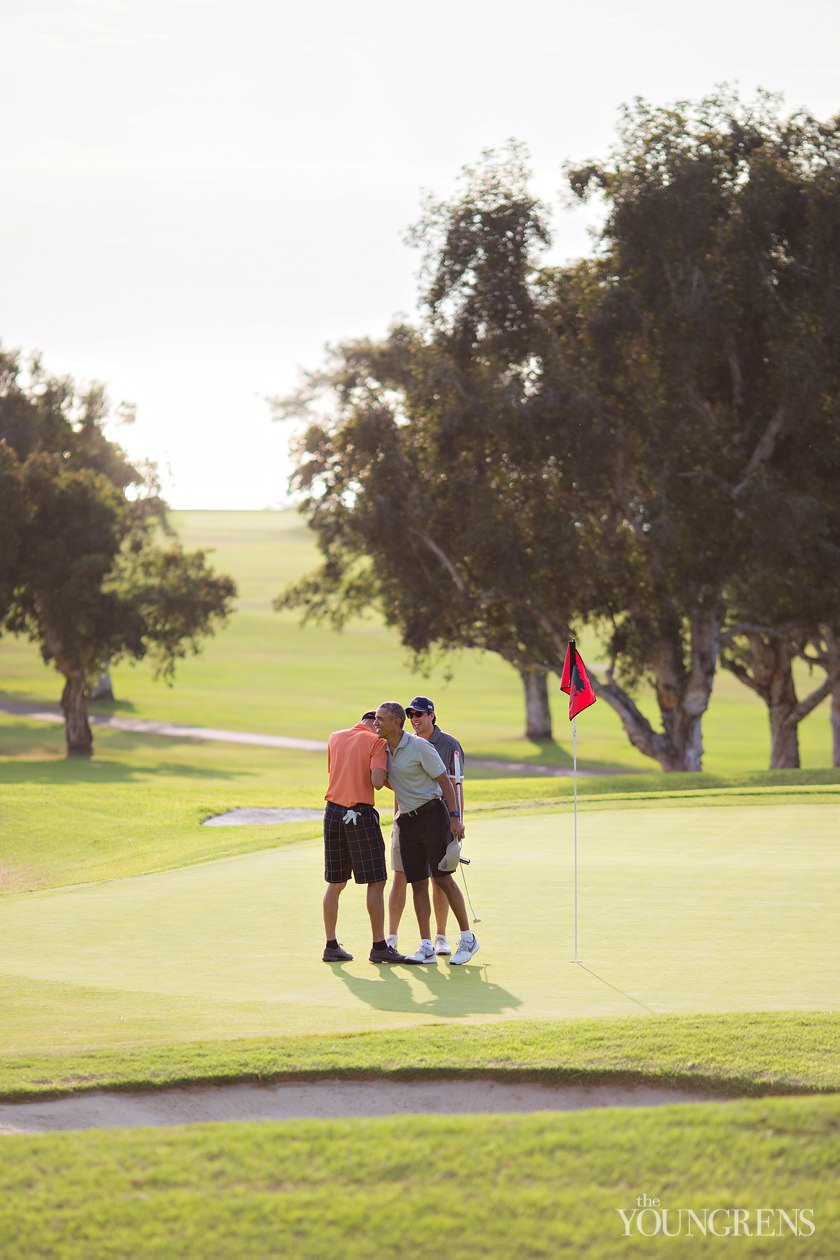 He was casual and gracious, smiling the whole time as he addressed the crowd.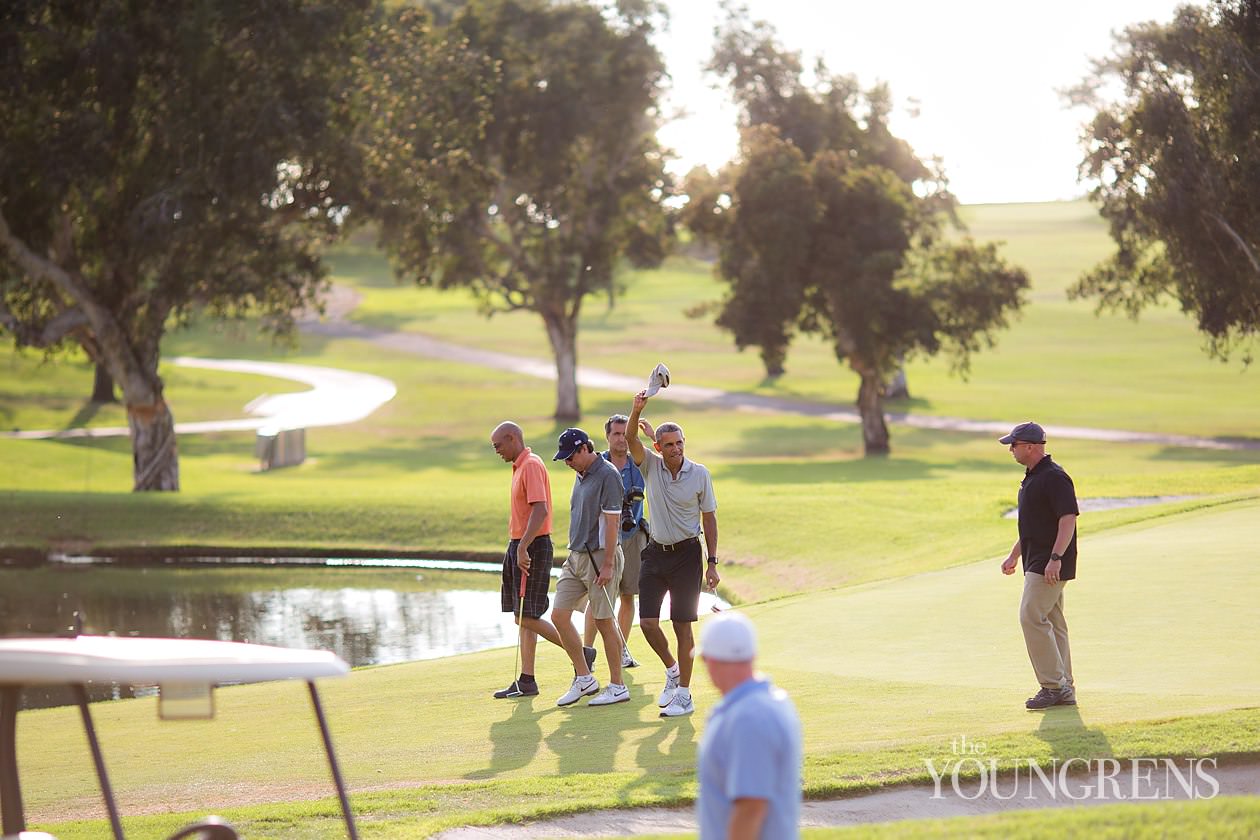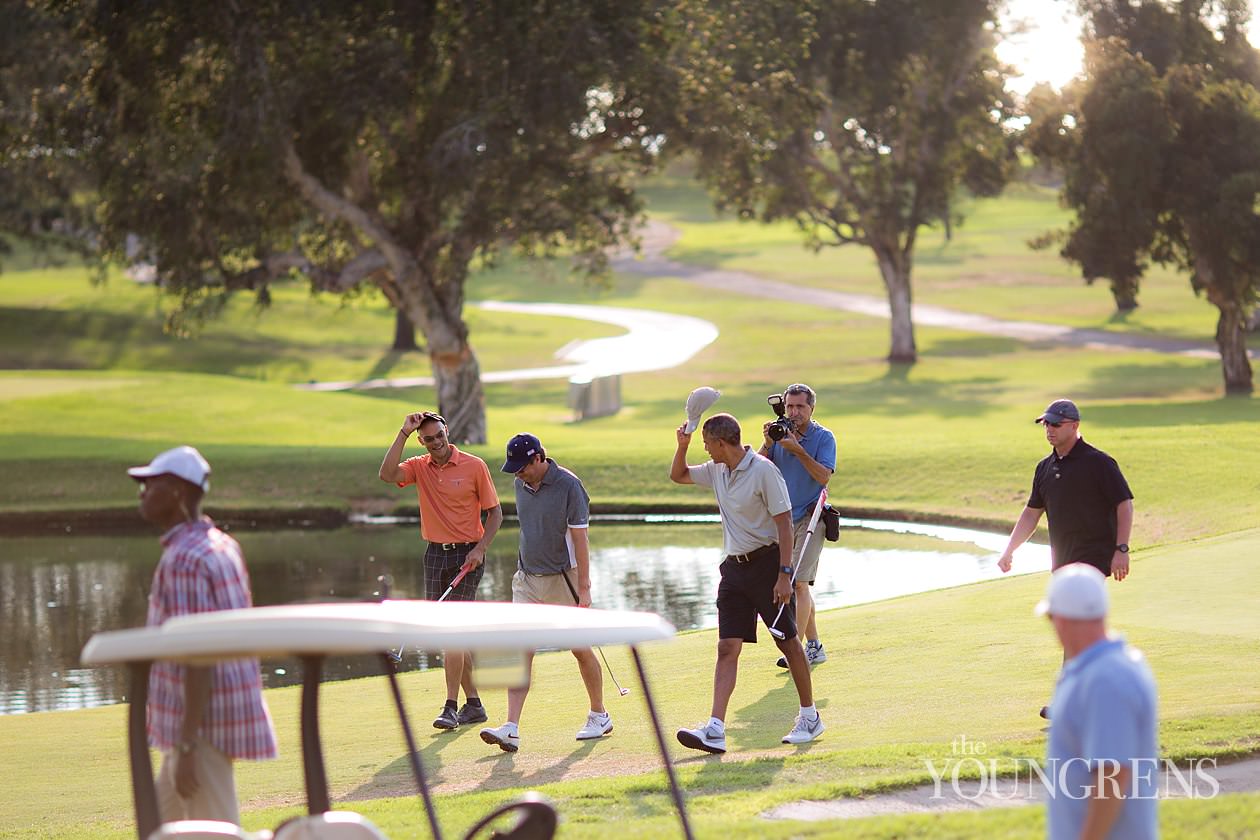 Side Note: Then I saw Pete Souza, White House photographer and official Youngren idol, behind Mr. Obama. You, my friend, are my hero. It is our DREAM to be a White House photographer, and I would have just as big of a crazy fan-girl moment (almost) with meeting you as I would with the President of the United States. Thank you for your service and your talent, Pete!! You inspire many people, especially us!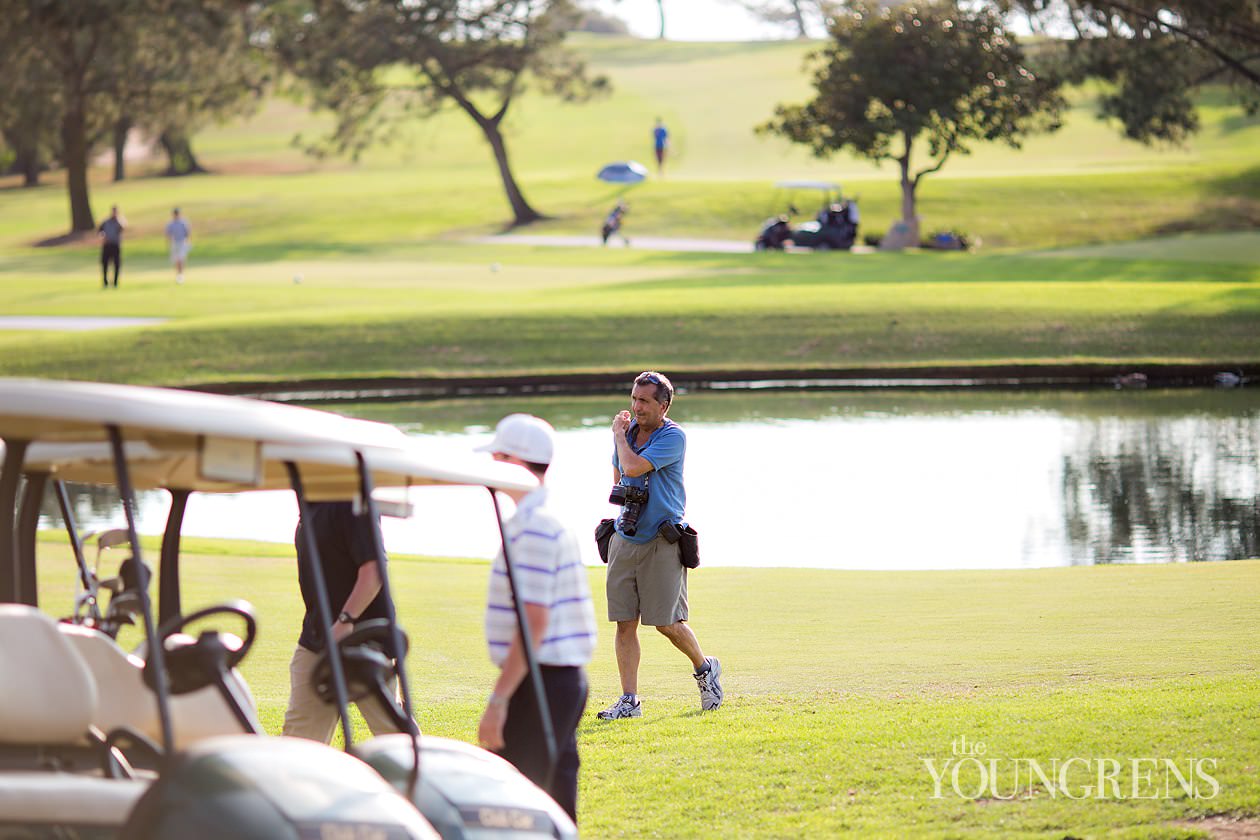 Back to the main story: President Obama then surprised everybody and came to shake everyone's hands. My internal fan-girl freak out had suddenly become completely external at this point, and (still on my 135mm lens), I started following him along the crowd.
Suddenly, I realized that I didn't want to be caught behind the camera and completely miss a life moment – I HAD to shake this man's hand. So I grabbed myself a spot in the line, and the President reached out his hand – to ME. In disbelief, I shook it with my best hand shake that I had been practicing for years and stammered, "It is such an honor to meet you Mr. President."
He has a GREAT handshake.
As he moved down the line, I could barely believe what had just happened.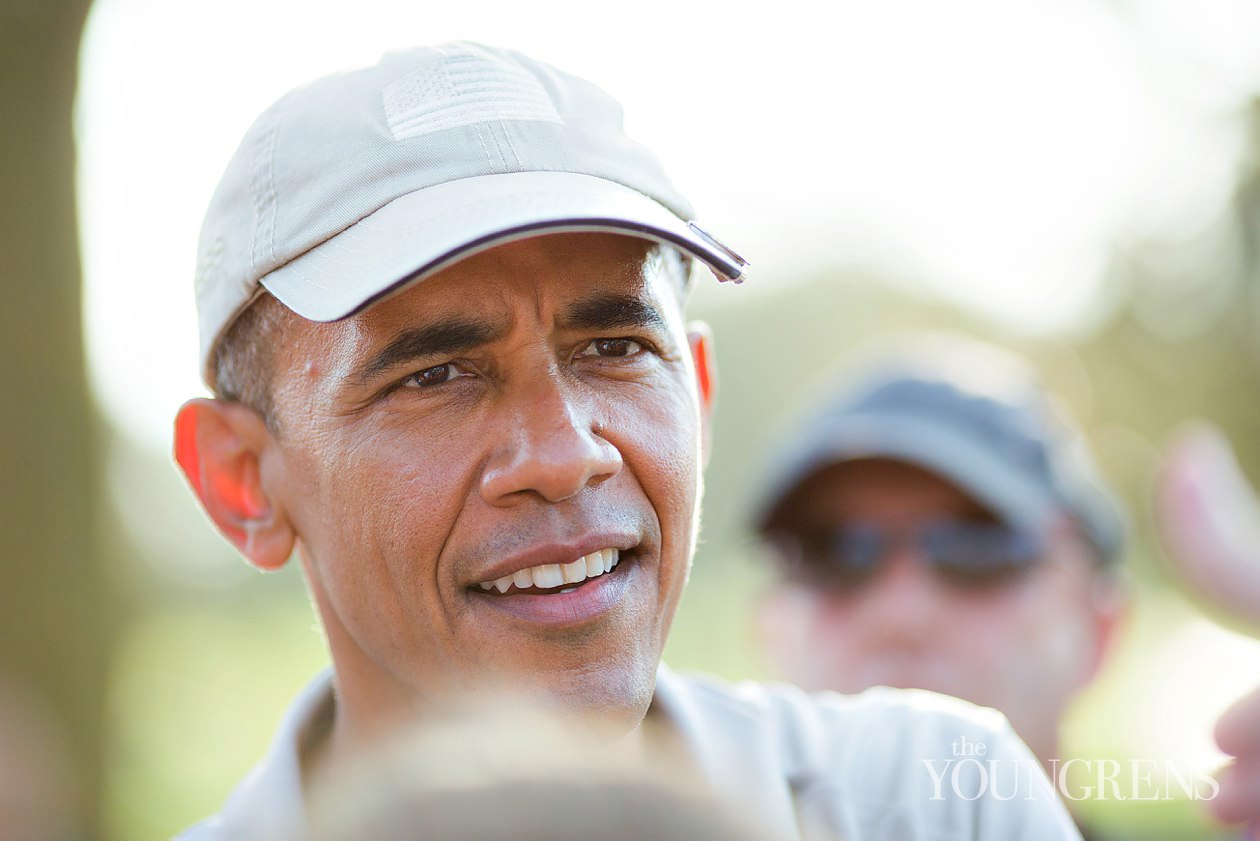 BUT THEN. Jeff came over the radio in my earpiece and yelled, "We're coming down with Brian and Stephanie!! Hold him if you can!!" (As if I have the power to hold a presidential party. What was happening??)
Immediately, I switched lenses and starting asking secret service agents as they shoved down the line, "Can we please get a photo with the couple??? Can we please get a photo with the couple???"
I yelled back into my earpiece, "You need to hurry or he'll be gone!"
Brian and Stephanie burst from the hotel, Stephanie sprinting in her navy blue Nina heels and Monique Lhullier gown, their friends and family bust into cheers at seeing them, and this is what happened.
President Obama, you are my hero for taking a moment to make this a day when a beautiful couple not only got to marry the love of their lives but have the moment of their lives. Thank you – beyond words. Thank you!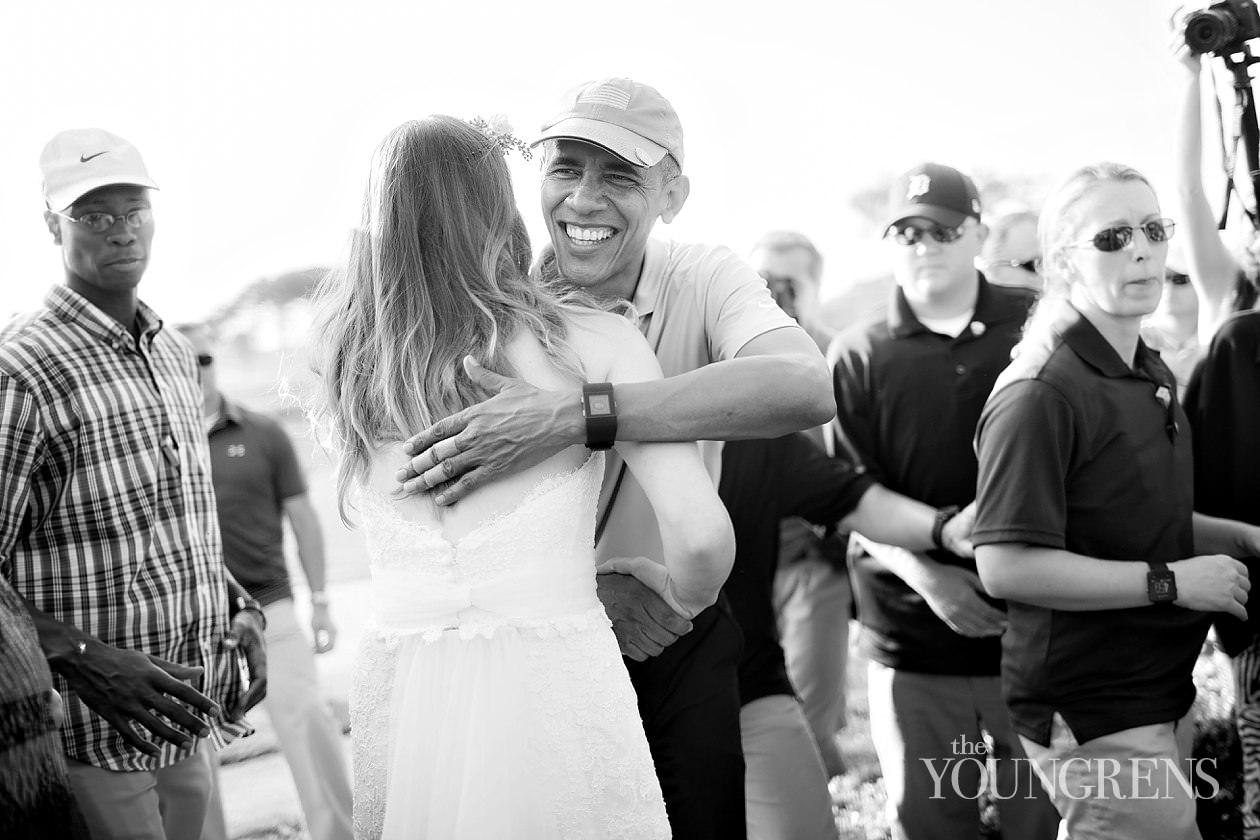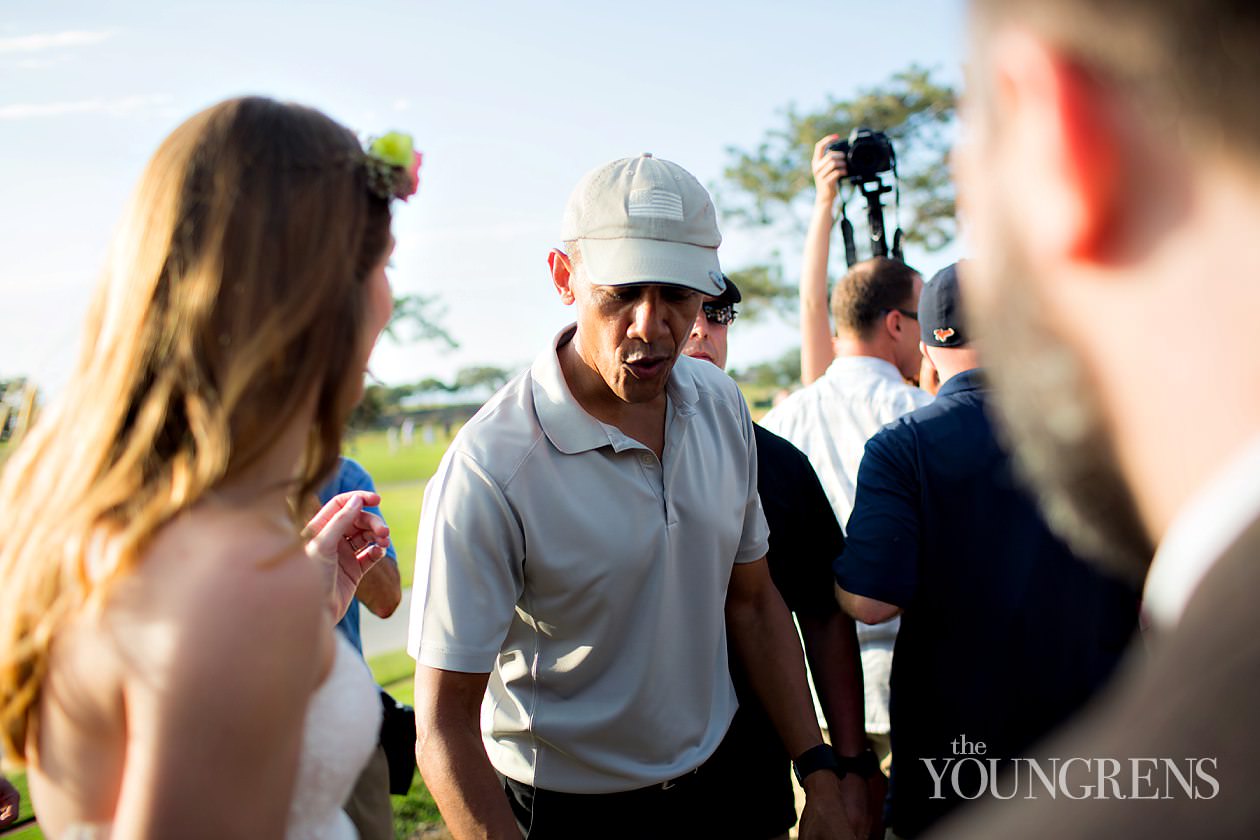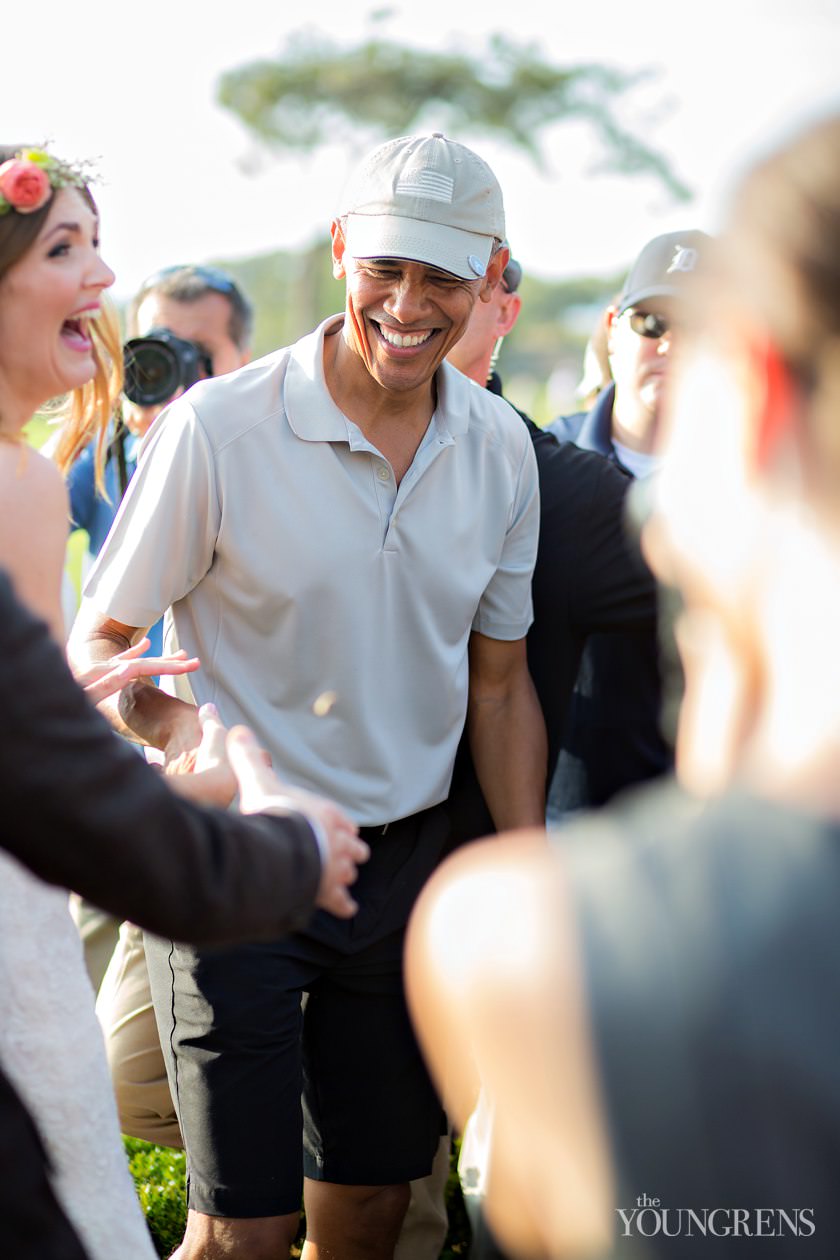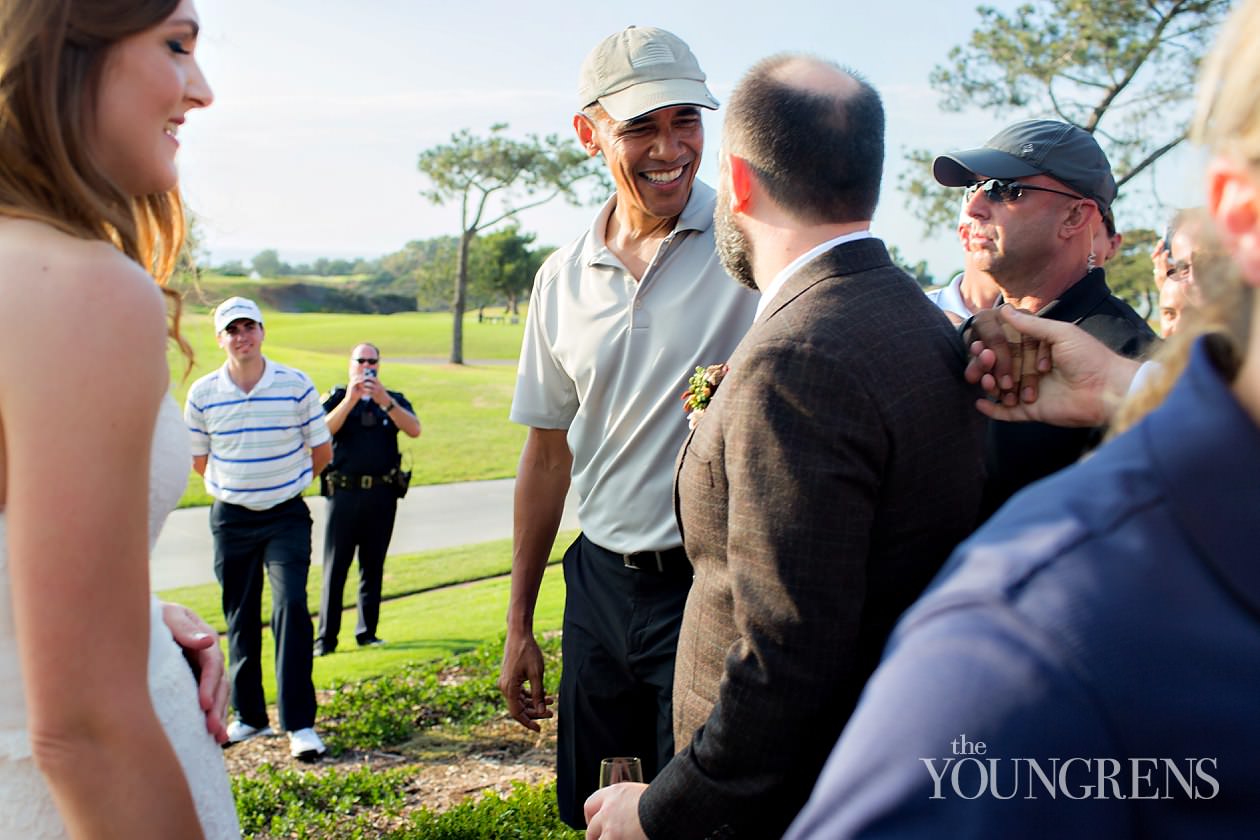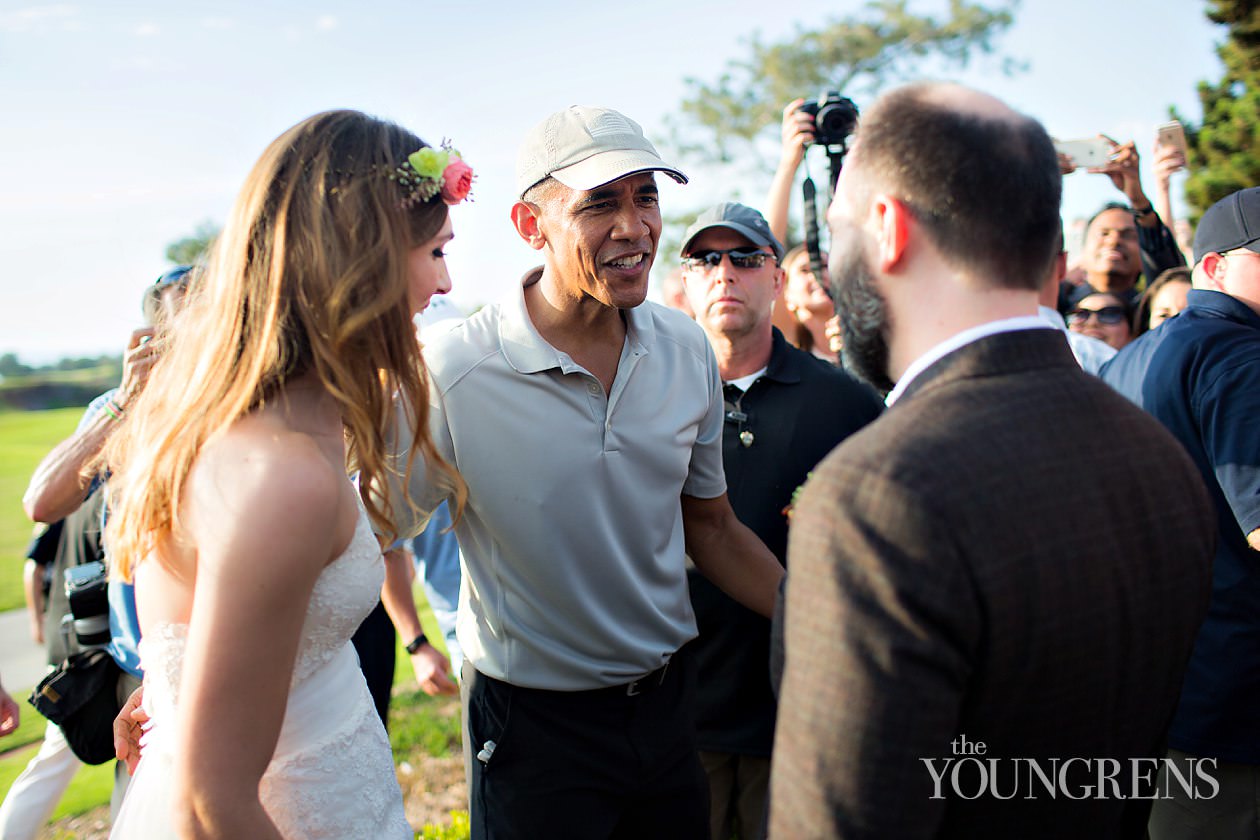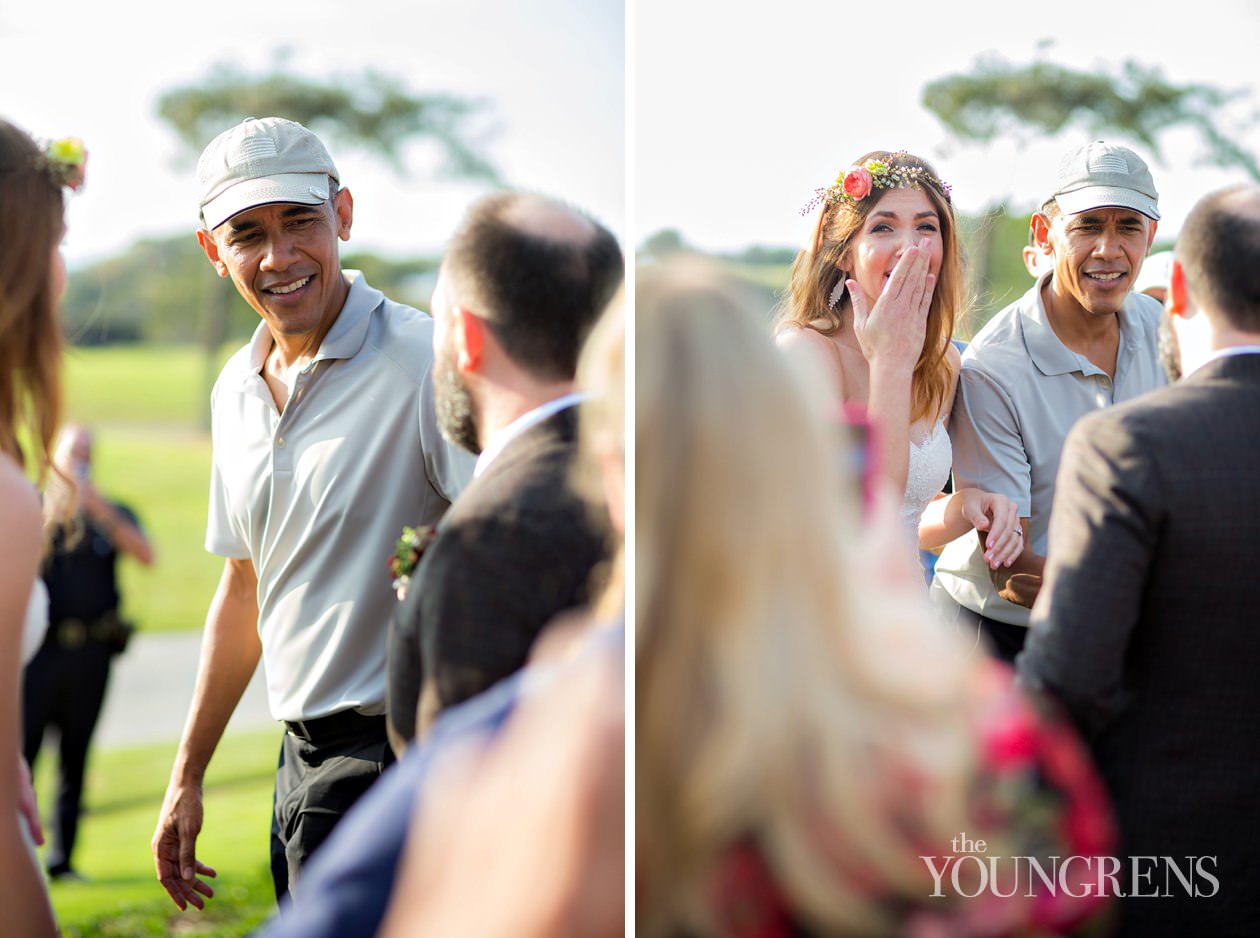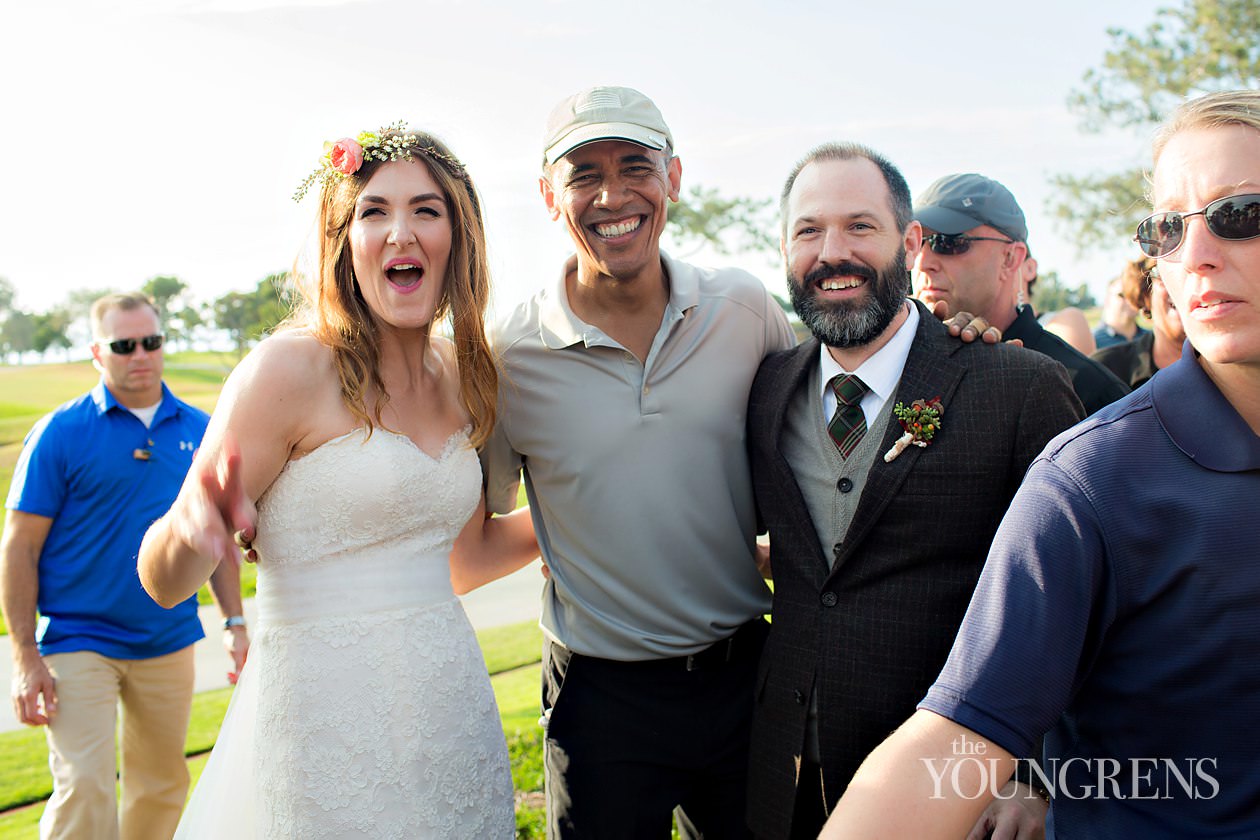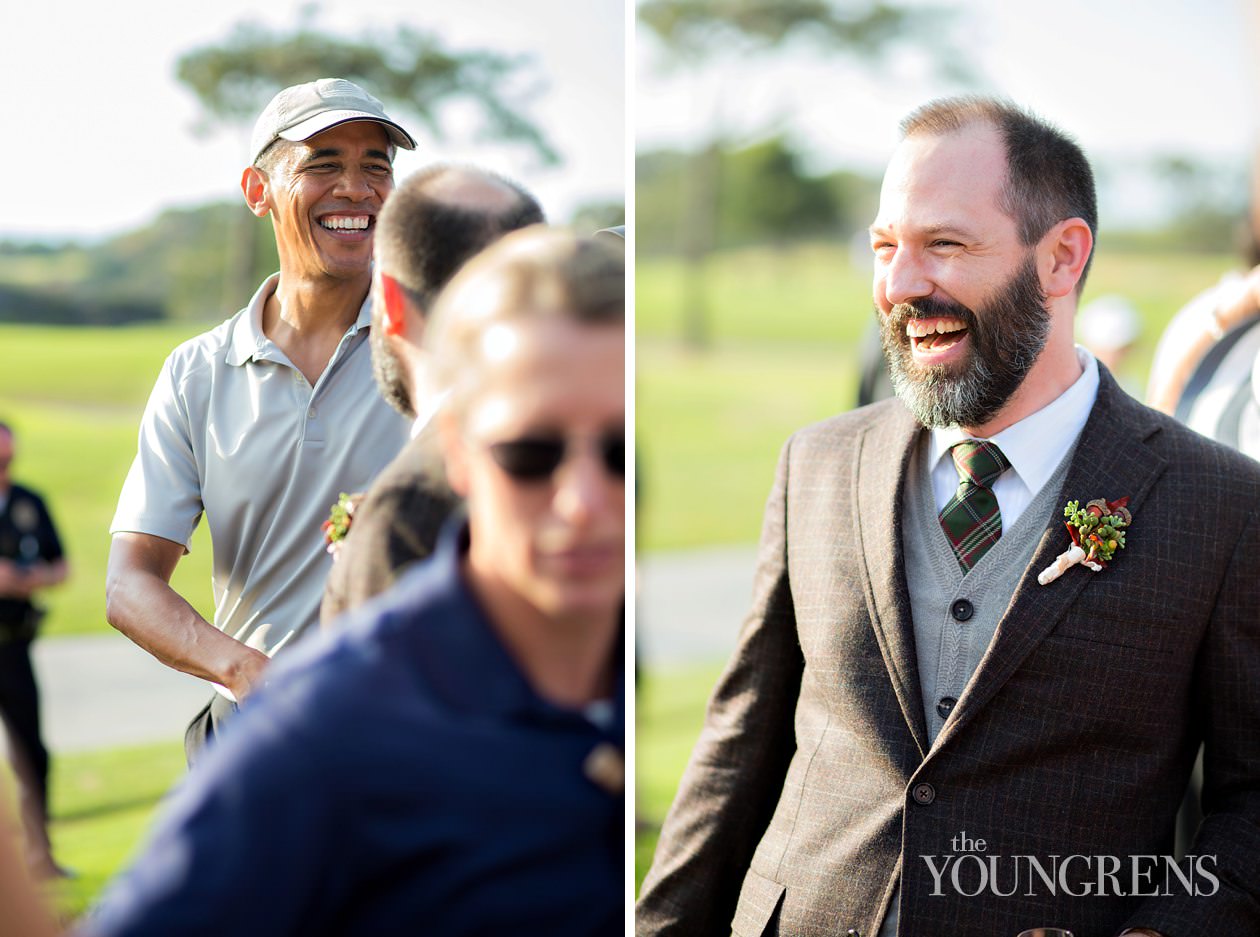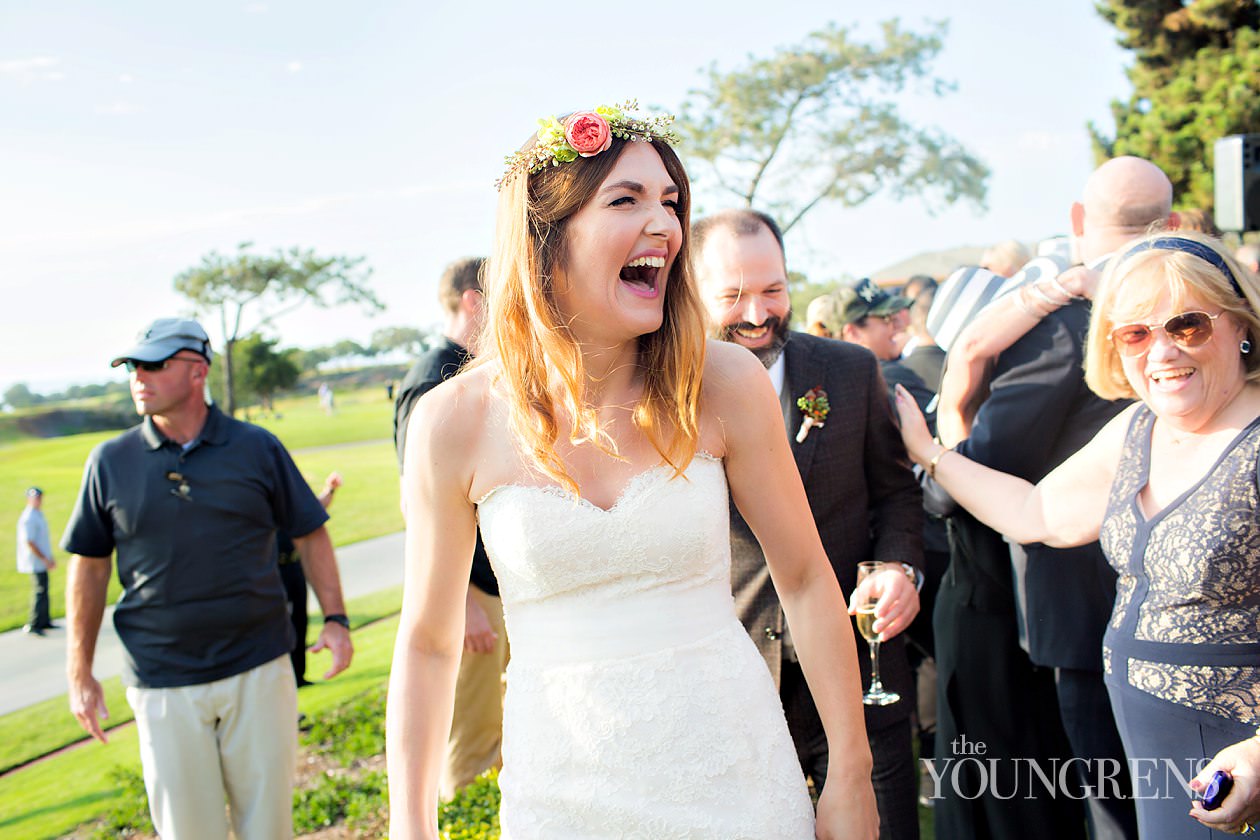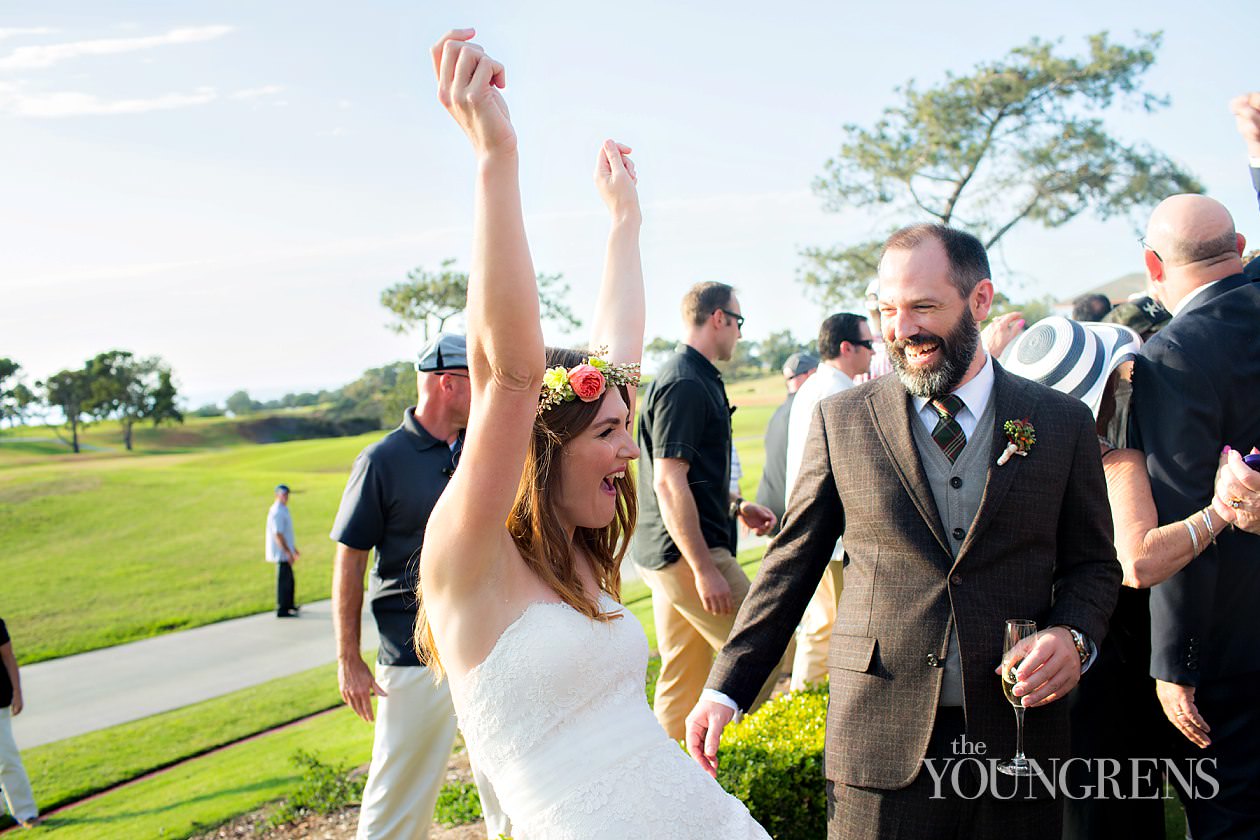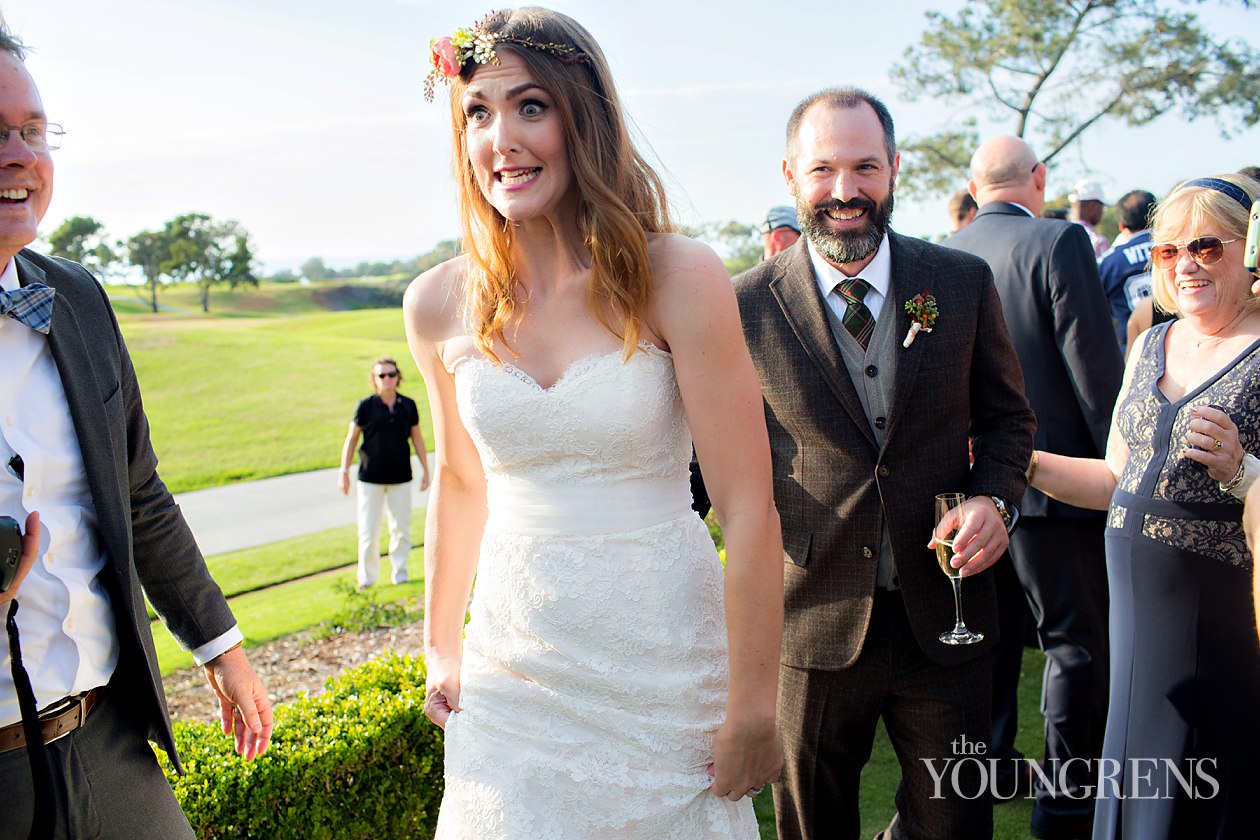 President Obama was kind and wonderful. When he shook Brian and Stephanie's hands, he apologized for delaying the ceremony and then shared some advice with Brian (who is also from Chicago).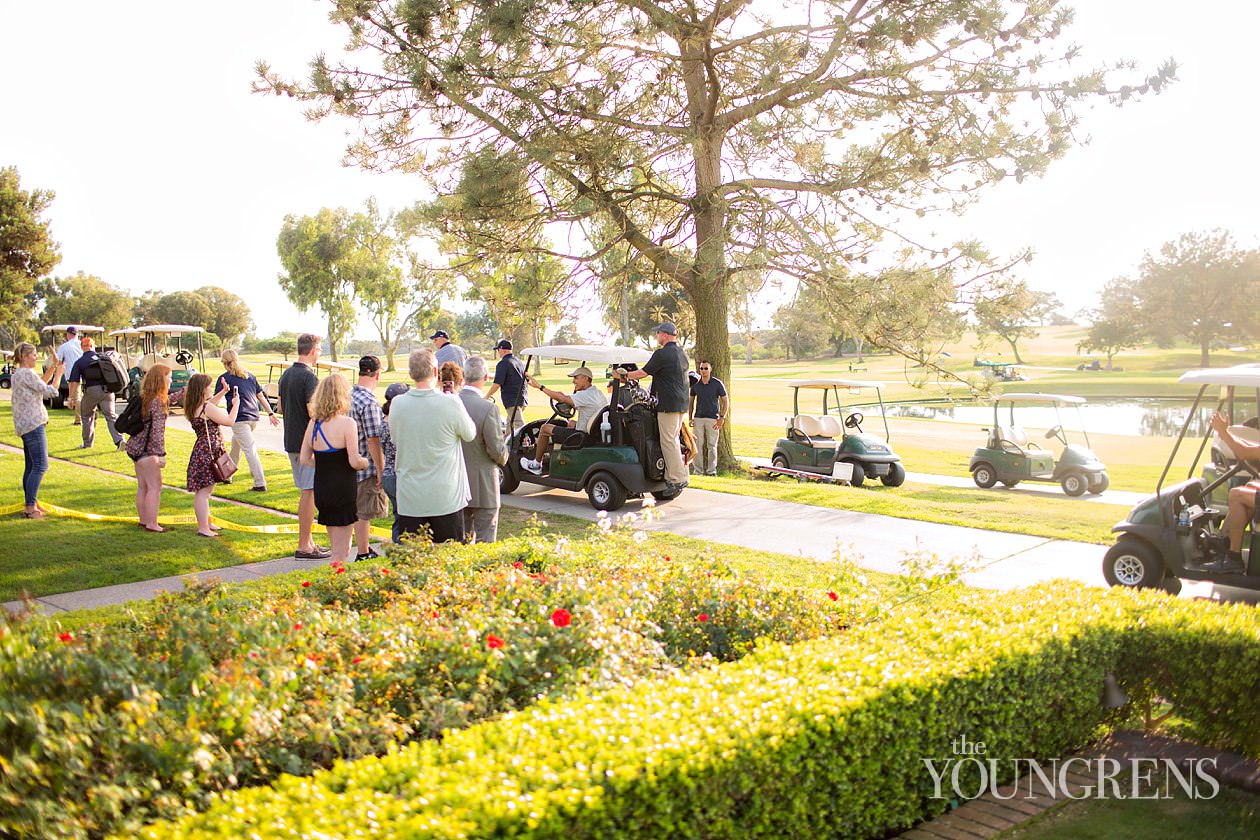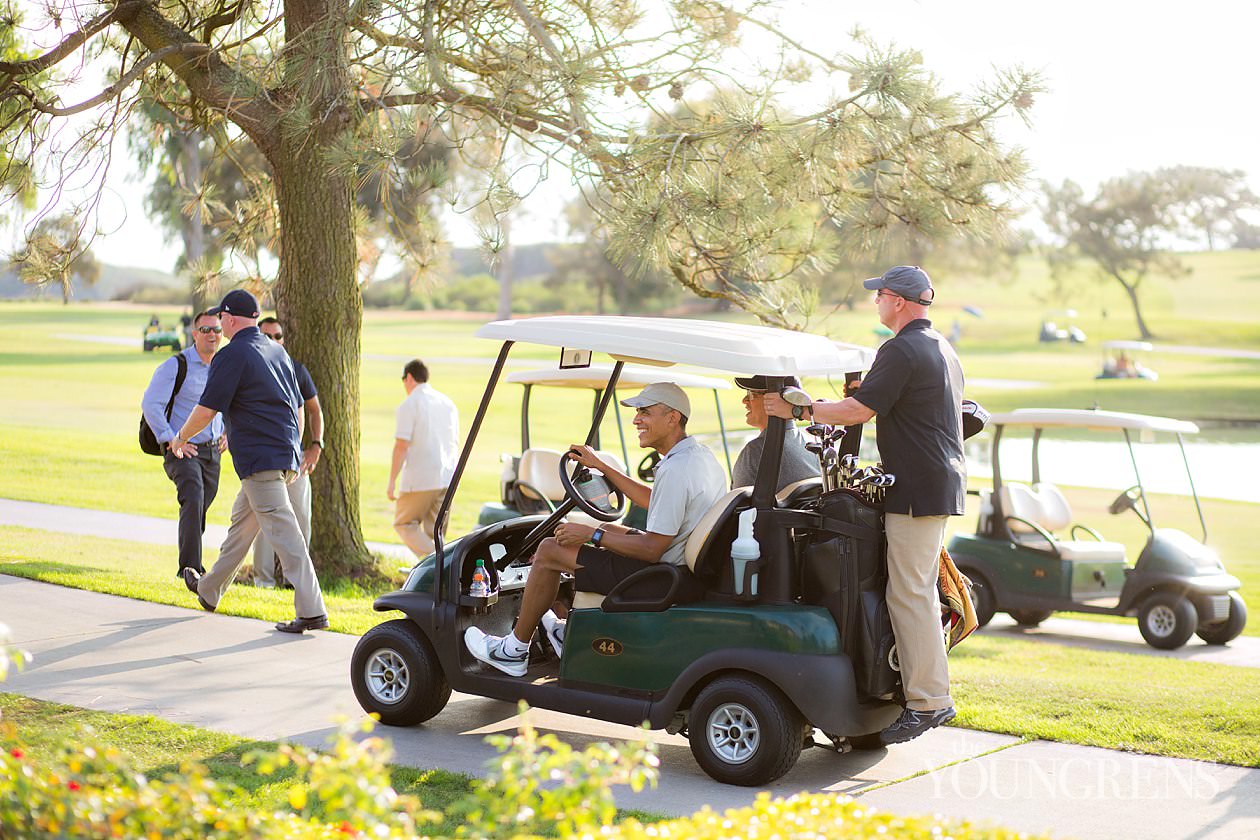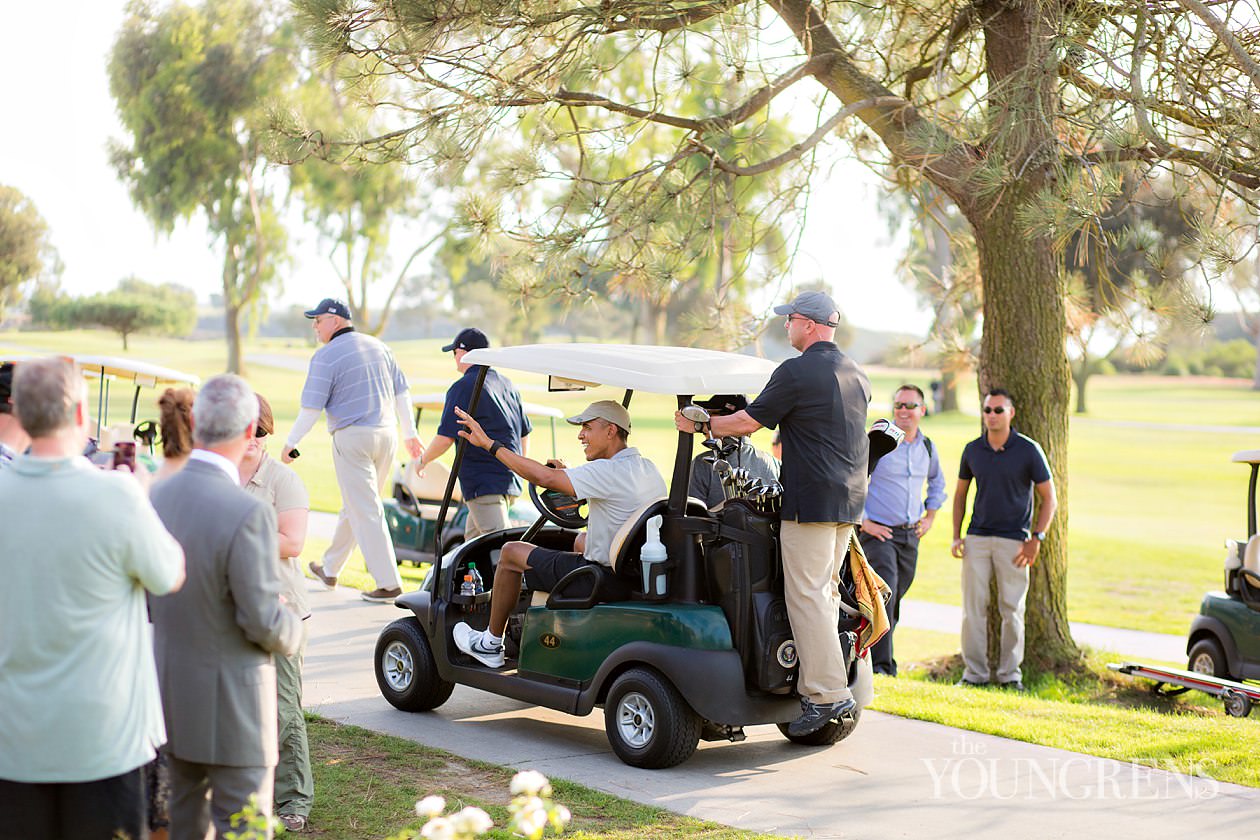 The rest of the day was joyful and beautiful. Nothing about this presidential drop-in negatively impacted the day. In fact, the mood became so fun, laid back, and celebratory, that it was one of the most joyful weddings we've ever been at – ever. We easily made up the timeline with the cocktail hour, we were able to get better sunset photos, and in the end, things didn't run late at all. It was a life moment that none of us will ever forget.
President Obama (because I write a message to all of our couples, why not write one to POTUS?) – Thank you for showing us that you are a three-dimensional human. Thank you for taking time to rest in the midst of the unbelievable responsibility that you shoulder every single day, and thank you for being so gracious as to come shake hands on your day of rest. This small act was a joy and an honor.
Hugs,
Erin
---
Wedding Photography : The Youngrens | Ceremony Location : The Lodge at Torrey Pines | Reception Location : The Lodge at Torrey Pines | Event Coordinator : Mint Weddings | Floral Design : Adorations Botanical Artistry | Cake : Michele Coulon Dessertier | Dress : Monique Lhullier | Shoes : Nina | Make-Up : JH Artistry | DJ : Vario Productions | Wedding Videography : SJ Videography |
---
OUR FAVORITE WEDDINGS
the portfolio
Loving our work? Check out our favorite weddings we've ever photographed
VIEW HERE
OUR MOST HELPFUL WEDDING PLANNING TIPS, STRAIGHT FROM THE EXPERTS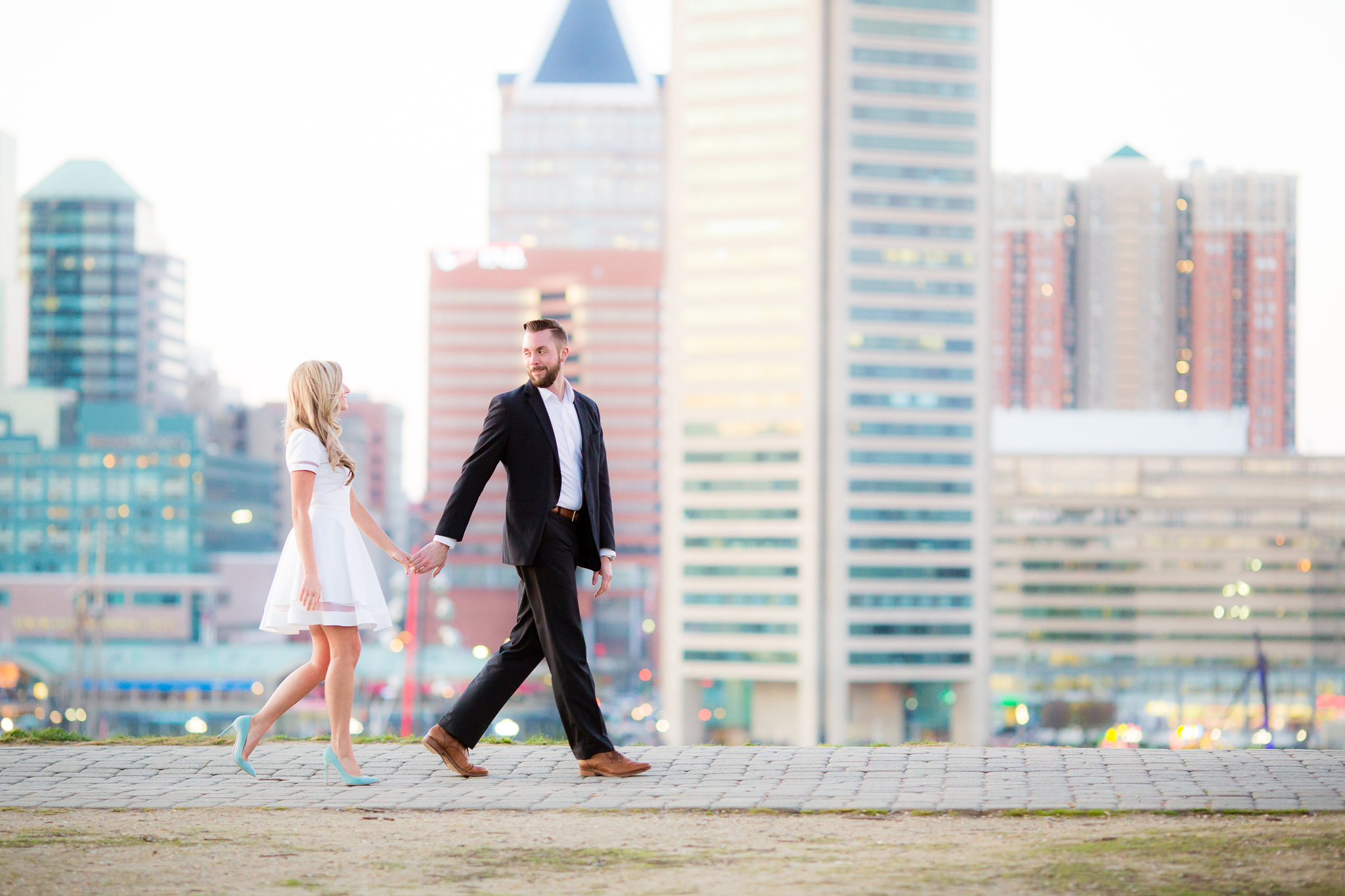 Our Formula for the Perfect Engagement Outfit
Picking the perfect outfit for a photo session can be one of the most difficult experiences BUT it doesn't have to be. I've seen enough outfits that work and don't work that I've cracked the ultimate code for our couples...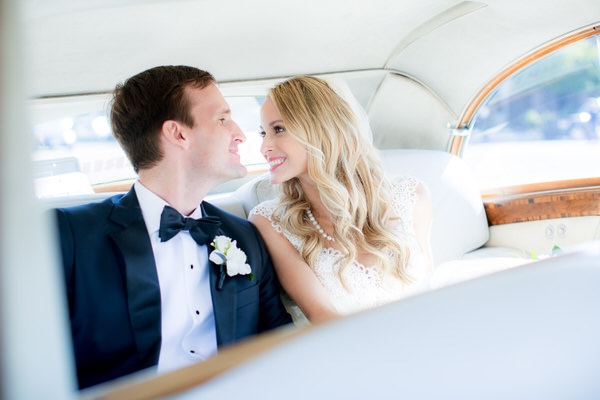 Our Stress-Free Wedding Day Timeline
There's nothing better than a stress-free wedding day when everything runs smoothly, your guests have the time of their lives, and you soak in the day with your sweetie. Though it sounds too good to be true, you can...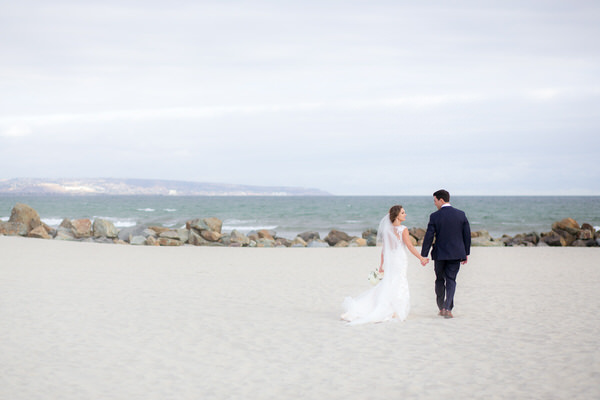 10 Foolproof Tips to Get Gorgeous Wedding Photos
It's the #1 question brides ask: What can I do to get the most amazing photos on my wedding day?
Having been through the in's and out's of countless weddings, I have loads of tips to share, so let's...
We're Jeff and Erin Youngren, a hubby and wifey team that photographs amazing couples and their incredible weddings. Hopeless romantics, BFF's, and mama + daddy to James, we're obsessed with traveling, podcasts, Oreos (Erin) and whiskey (Jeff).
This error message is only visible to WordPress admins
There has been a problem with your Instagram Feed.