Jeff and I are in San Francisco this week to hang out with some of our amazing couples for their engagement sessions, and being able to spend some time in one of our favorite cities reminds me just how much we love to travel.
And since we do our fair share of traveling, one of our favorite travel accessories that we just can't live without is our noise cancelling headphones. Jeff has the Bose Quiet Comfort and I have a pair of Sony MDR-NC60. Both are great, but I would say that the Bose are totally worth the investment. Both headphones do a great job at canceling noise, but the Bose set has a superior sound quality. However, the Sony's are one-third the price of the Bose… and Jeff's dad – the international corporate business guy who flies 150,000 miles per year – he swears by the Sony's. So there you have it.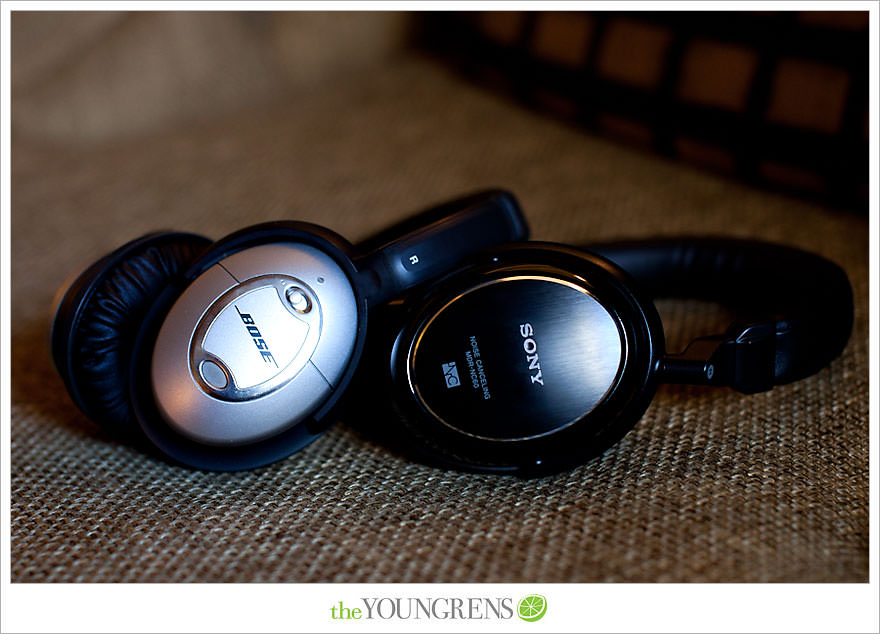 These headphones are absolutely amazing. They cancel out all ambient noise, so they make flights so much more comfortable. We didn't realize just how exhausting the noise of an aircraft could be until we started using these headphones and felt so much more refreshed after plane rides.
Besides, I'm super partial to big cushy headphones like these because I remember that the most popular girl in school had them in the fifth grade and they made her look like she was this super cool urban hipster that had just walked out of a recording studio in Hollywood instead of a blonde haired, freckled white girl that lived on a dairy farm in the middle of nowhere. Meanwhile, I was an awkward gangly pre-teen whose jeans were never long enough and wore those white Velcro tennis shoes from Payless that grandmothers wear for comfort.  Next to her strawberry blonde hair and smooth chocolately ways, I was a sponge cake with no flavor.
I had to get me some of those huge headphones. I needed flava.
So now when Jeff and I cozy on up for a flight, we get out our super cool enormous headphones along with all of the other totally gansta middle-aged businessmen that use them too, turn the bad boys on, and listen to the buzzing world around us go quiet. It's like riding on a cloud that's floating on a silent river in the middle of a silent forest. And I just feel completely legit.
But then we get out our iPad and start playing Angry Birds together, and we get waaaaay too excited about it and start high-fiving our pig demolishing victories in our silent mime worlds and we don't look so gansta anymore.
It's pretty awesome.
Hugs,
Erin