Its BAAAAA-AAAACK! After a *brief* hiatus, Recipe Sunday is back in full swing here on the bloggy blog, and I've got such a crazy assortment of recipes in the bag. You may have heard through Twitter and Facebook that Jeff and I took cooking classes on our trips to Cambodia and Thailand, and the rumor is true… we totally did. And we cooked the beans out of those classes. And we photographed the beans out of them too! I think our cooking teachers will forever know us as "the Americans with the huge cameras that kept burning things."
We took our first cooking class at Le Tigre de Papier hotel and restaurant in Siem Reap, Cambodia, and it was a blast! We each got to choose an appetizer and a meal off of their menu, so this week I'm going to feature Jeff's appetizer, spring rolls! This recipe is so much easier than I expected, and it was seriously yummy.
As always, the full recipe will be listed at the bottom of this post, so skip the images if you're looking for the nitty gritty details.
First, the ingredients. For our traditional Khmer-style (Cambodian) spring rolls, we used chicken, fresh basil, bean sprouts, carrot, cucumber, green beans, garlic, and spring roll shells.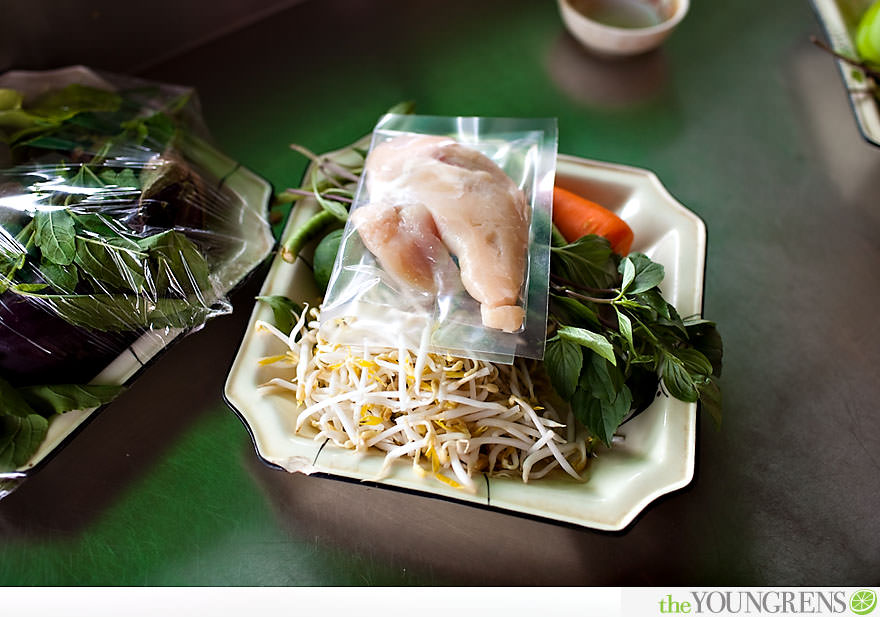 Next, don your chef's cap and get your veggie peelers ready for your very first Khmer cooking class, a la Youngren.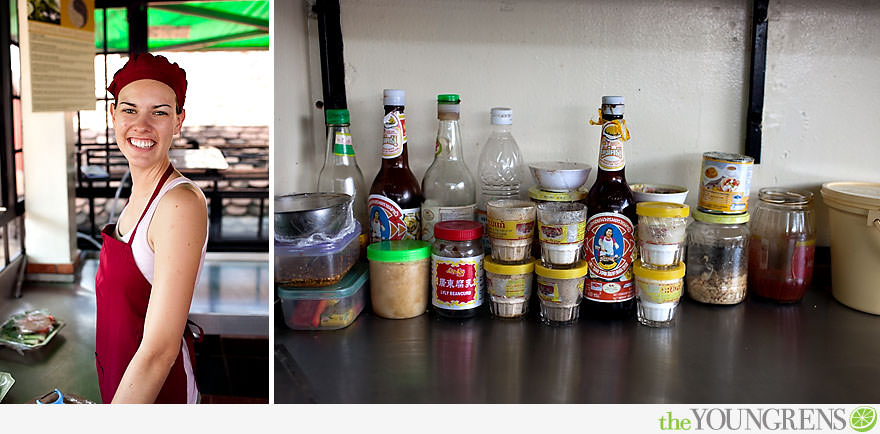 Is Jeff ready?? Ready!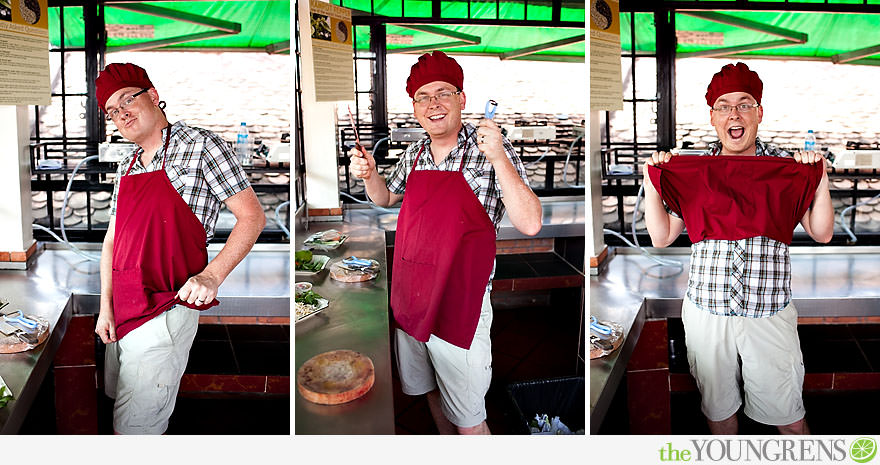 Alright, enough shenanigans and on to business. Snip the ends of the green beans and grate some carrot. Our cooking teacher, Nara, had these really cool ridged graters that I loved, and I need to find them here in the US. I may just be blind, but has anyone ever seen these before?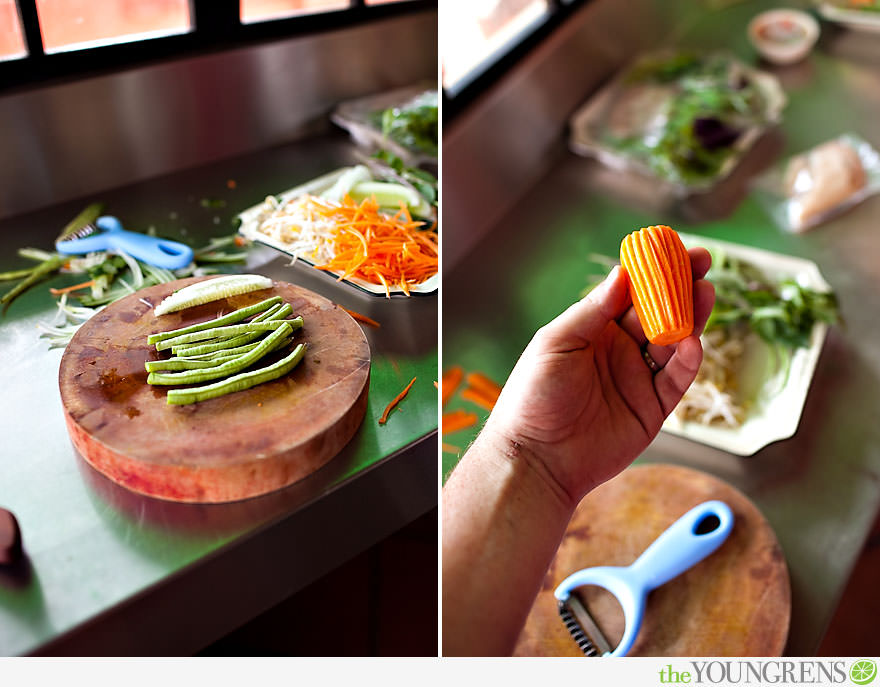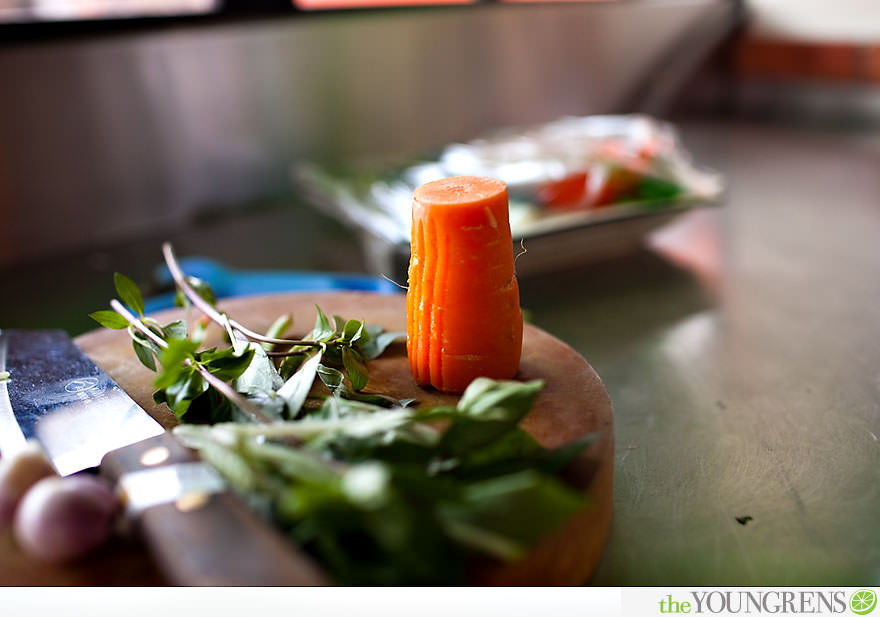 Next, slice up your chicken into tiny bite-sized pieces.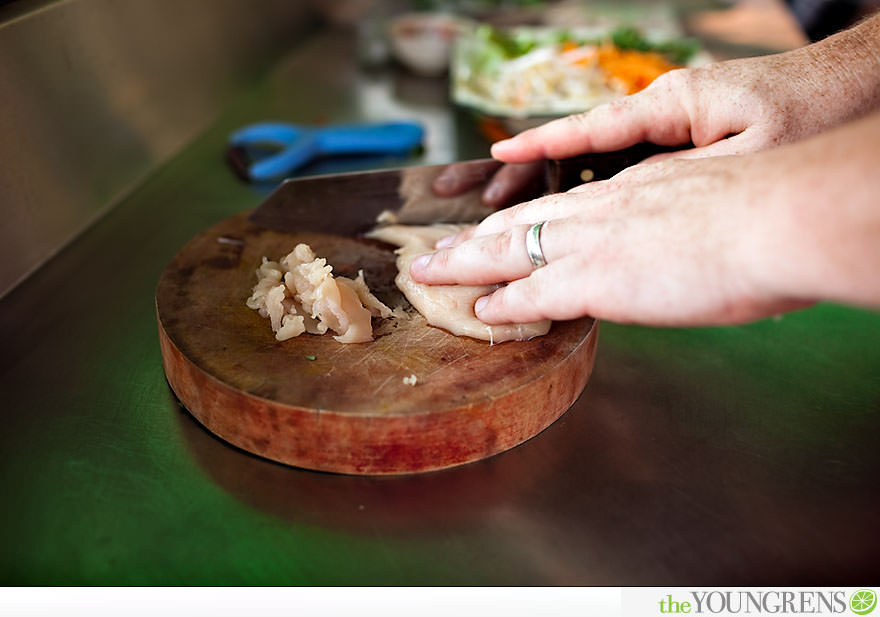 Tear off some basil leaves, slice a cucumber into long, thin slices, and you're all set to cook!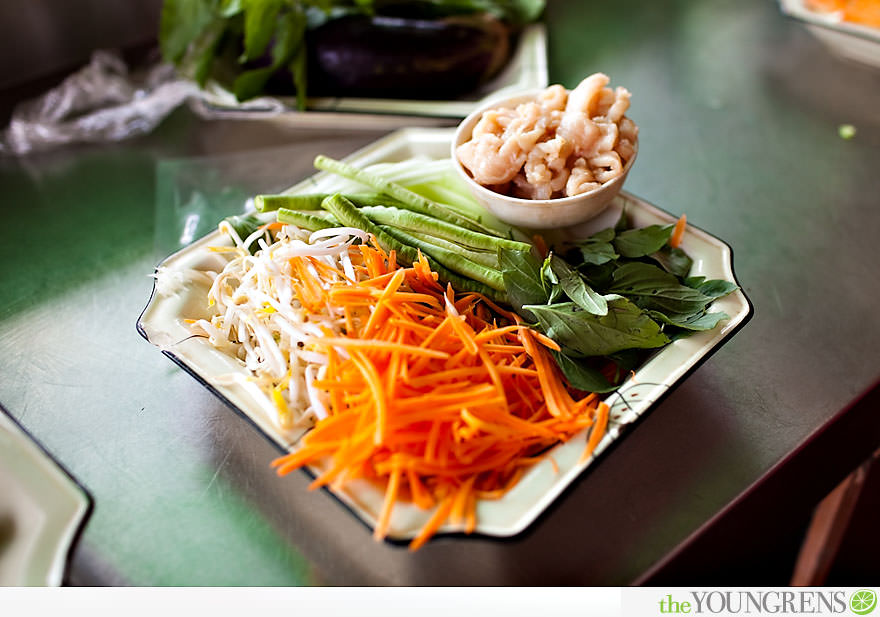 You only need to lightly cook the veggies, so we used a wire tray thingy (I'm not so technical when it comes to these things). Lightly cook your cucumber and green beans, then set them aside.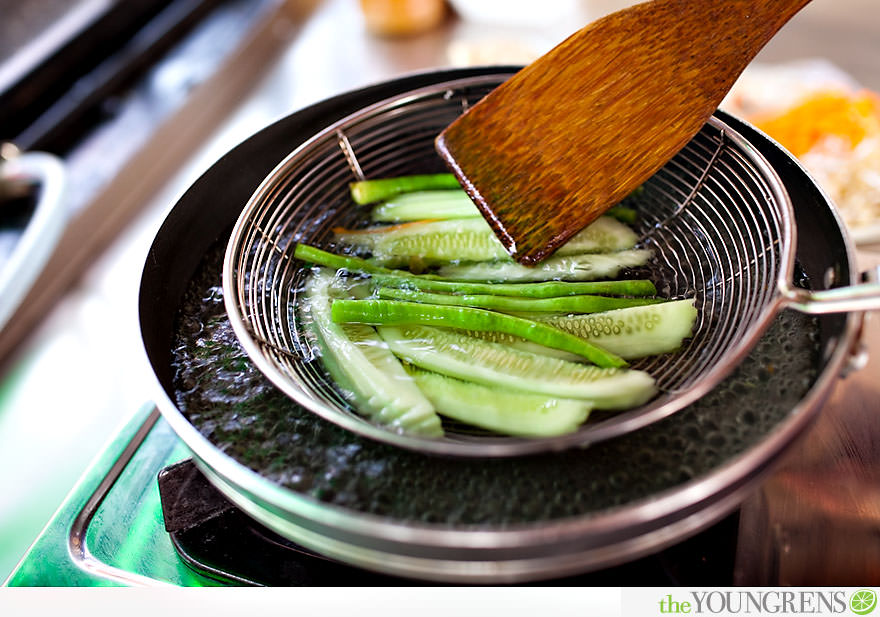 Next, add your bean sprouts and carrots. Then you'll cook your chicken separately with a tablespoon of garlic. Things were moving quickly, and we were making and photographing four dishes all at once, so we definitely missed a picture of the chicken!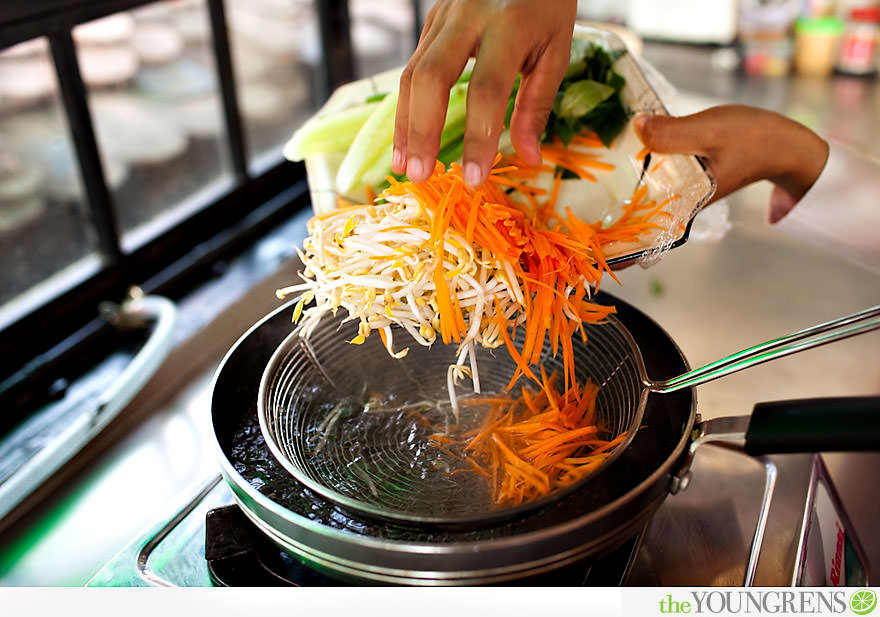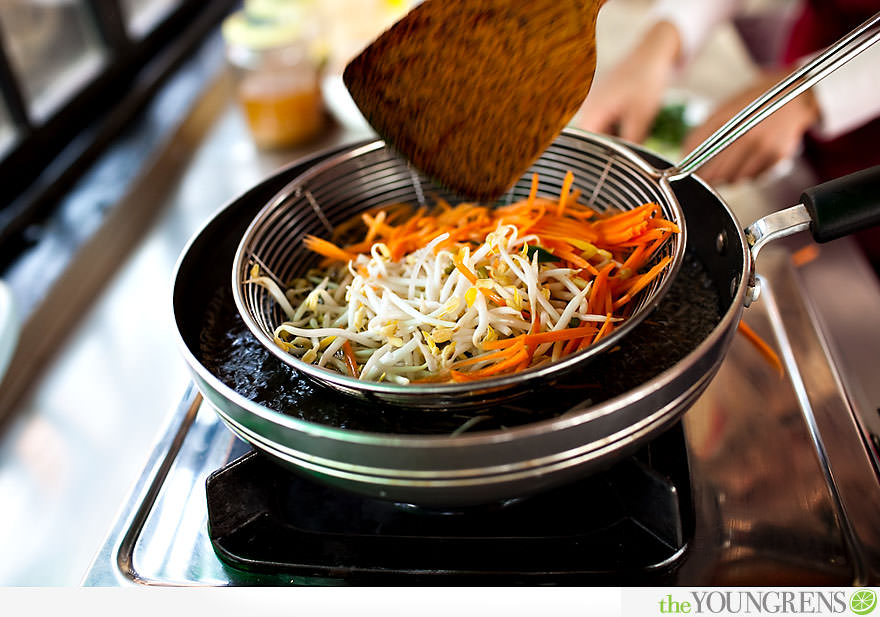 Once everything is cooked, organize your ingredients so they're easy to reach and use.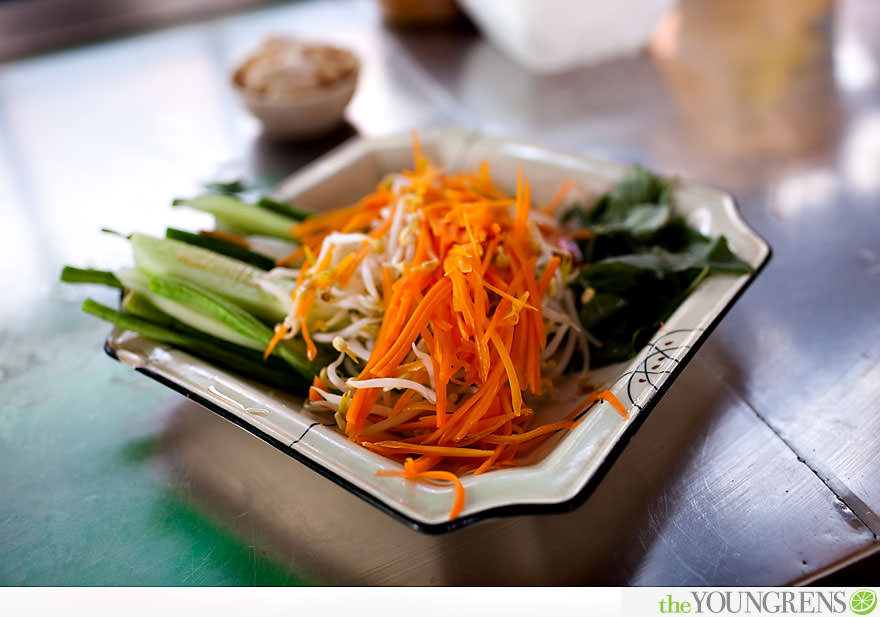 Nara was our teacher for the day and she was so fun to hang out with! She was also super patient with our intense need to photograph EVERYTHING, as well as our pretty inept kitchen skilz. She took her time in showing us how to roll a spring roll together. First, you need to dip both sides of your spring roll shell in water, then place it flat on a cutting board or counter and fold the left side in to make a straight edge (this will be the top of the roll). Lay down a piece of lettuce, then line up one slice of cucumber and one green bean on the side closest to you. You'll use these as support for the roll.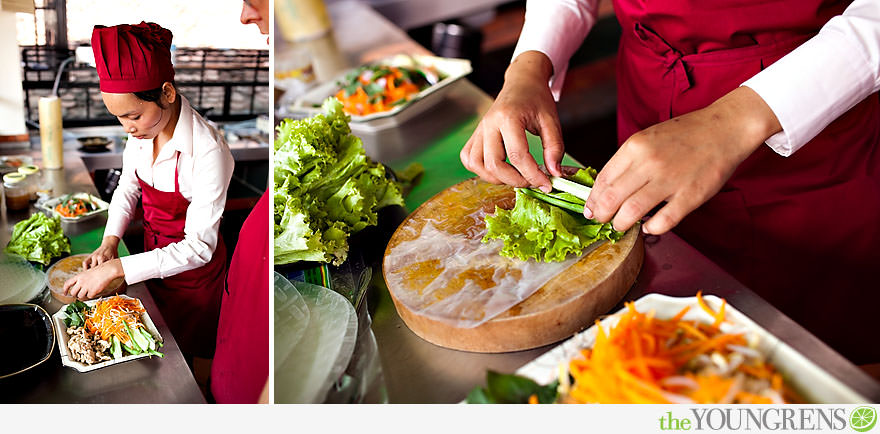 Then place a tiny bit of chicken, carrot, bean sprout, and a basil leaf along the cucumber and green bean support. Roll everything once or twice, then fold in right side over the ingredients, burrito style, and keep rolling. Make sure to tuck everything in tight. The paper will stick to itself once its all rolled together. You could also squirt a little lime or lemon juice inside if you so desire.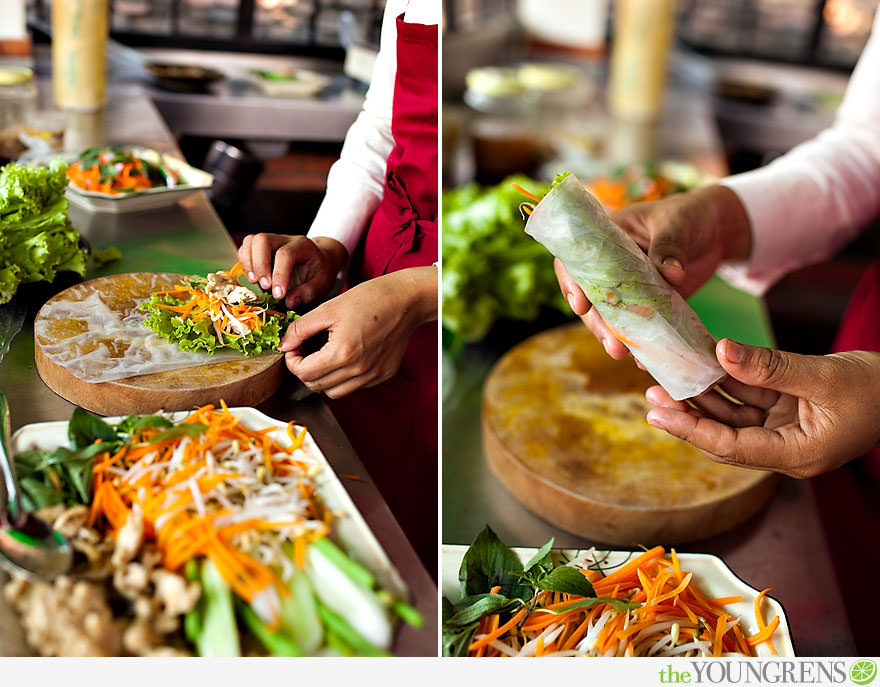 Nara helped us each roll one and then we did the rest! Yay!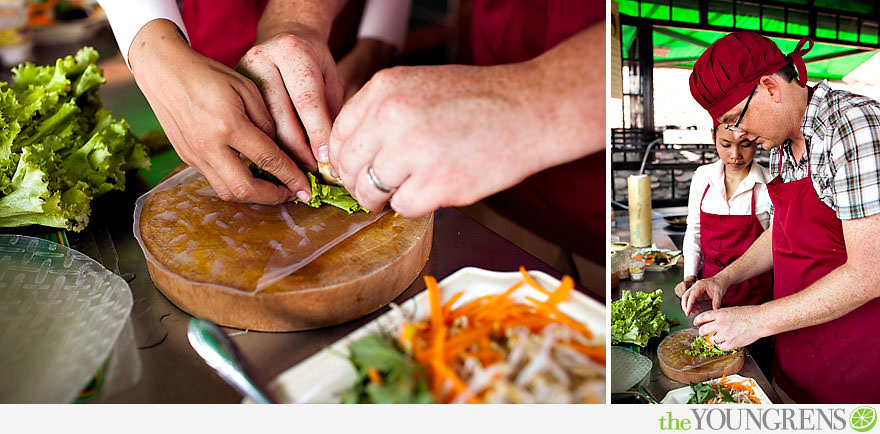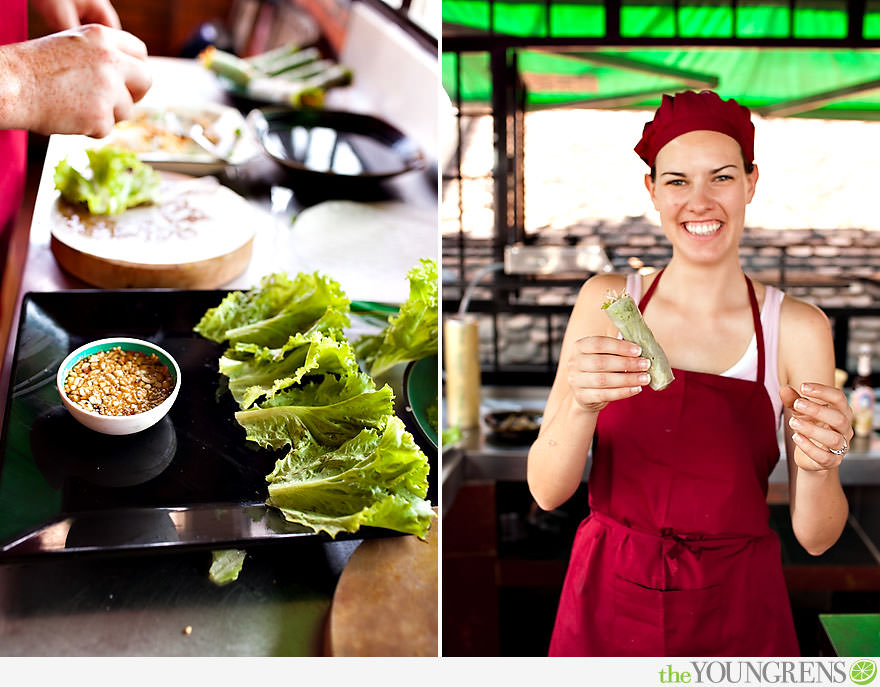 Ok, so a few of the rolls are a little loose and janky, but I loved the presentation! I can't wait to try these at home now! Oh, and I think that's some kind of peanut sauce that Nara threw together in two seconds flat. I was too excited about the fact that I rolled a spring roll to pay attention!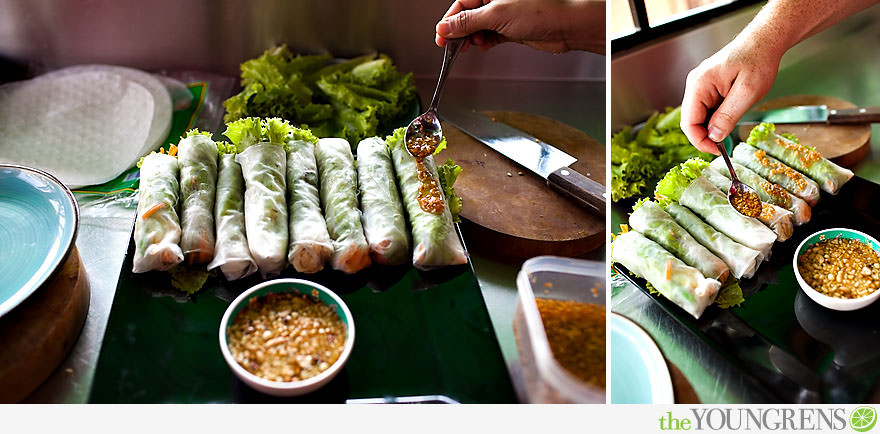 (amounts are approximate and depend on how many rolls you want to make)
One cucumber
One small handful green beans, washed and trimmed
6-8 large lettuce leaves
8-10 fresh basil leaves
1/4 cup bean sprouts
1/4 cup grated fresh carrot
One boneless skinless chicken breast, thawed and cut into bite-sized pieces
1 tbsp minced garlic
8-10 spring roll shells (aka rice wrappers)
Slice cucumber into long thin slices. Briefly cook cucumber and green beans in shallow boiling water for one to two minutes, until slightly soft but still crunchy. Set aside. Cook bean sprouts and carrot together until slightly cooked, then set aside as well. Saute chicken with garlic until thoroughly cooked and set aside.
Dip spring roll shells into water on both sides and lay flat. Fold left side of shell in to make a straight edge. Lay a piece of lettuce on the shell, and place one slice of cucumber and a green bean against side closest to you to use as support for the roll. Spoon some chicken, bean sprouts, carrot, and a basil leaf onto shell, roll once, then fold the right side over filling. Roll tightly.
Serve with Nara's special peanut sauce. 🙂
I hope you guys enjoy this new recipe! Let me know if anyone tries it – I'd love to know how it goes for everyone!