Good grief – our brand new dutch oven is AMAZING. Over the past week, everything I've made has come out like a dreeeeeeeeam. There's been layers of flavors that I never knew existed ("was that cinnamon in the chicken thighs??"). Today I made a butternut squash soup from a JAR, and decided to throw in leftover pork loin, old sweet potatoes, a few cans of chicken stock, and dried seasonings, and it tasted like manna from heaven.
I almost hate the thing because it makes our food taste so good. I think it's taunting me… "You could never be this good in the kitchen without me, you know. You need me now…"
Are these things melded together by magical kitchen gnomes with flavoring in their fingertips or something?? And can I get me one of those?
Please?
I should really try to eat my oatmeal out of my dutch oven. It would probably taste so good it'll make my skirt fly up. And a girl always needs something like that to start her day.
It was SO HARD to choose a winning recipe for our dutch oven recipe contest! Every recipe you guys submitted looks like it would totally rock my wanna-be-kitchen-goddess world. Chicken and dumplings? Spicy Dr. Pepper shredded pork? Oaxaca yellow mole? You guys really didn't want to make this easy on me did you? But sadly I had to choose only one. As much as I would love to make it rain with Sur La Table gift cards, my hubby would most likely disapprove with some mumbo-jumbo about "marketing budgets" or something…
So I chose our winner based on a type of meal that I surprisingly haven't posted on Recipe Sunday yet – a stew. Plus, a true Youngren can't pass up another recipe with Guinness involved. And the winner of a $25 gift from Sur La Table is (dum, dum dum)…
Leslie's Beef and Ale Stew from Jamie Oliver!! It's the perfect combination of slow-cooked goodness with a gourmet twist. I can't wait to try it out and feature it on a future Recipe Sunday!
Keep your eyes peeled folks… it's gonna be good. Congrats Leslie! I'll be in touch with your winnings!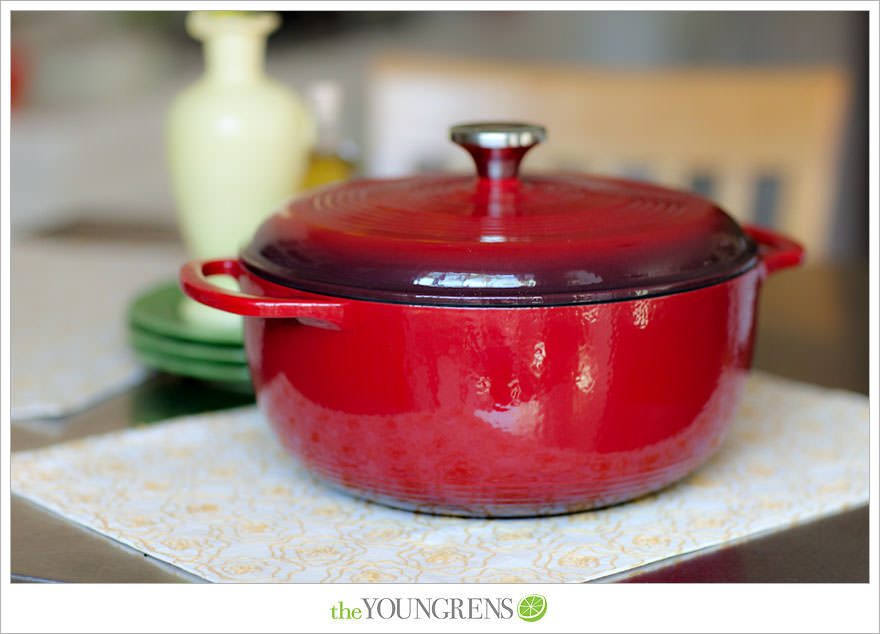 Hugs,
Erin