I was so tempted to burst into the staging room wearing all black (something drapey, sunglasses on, a gaggle of wan interns scurrying behind me). I would demand an espresso, pause dramatically, look the thinnest model up and down, then sigh in disgust and mutter under my breath, "I guess you will do."
The day I get to demand espressos at a photo shoot is the day I know I will have made it.
But I didn't. I tossed and turned in bed all night and was up WAAAY too early. I spent much too long on my hair and makeup – nervously fixing, teasing, spraying, and blushing. When I walked into the staging room, you may as well have slapped a dress on me 'cuz  I was as done up as the models. I almost made Jeff wear a suit to the shoot I was so nervous.
Me: "But you'll look so professional in your sport coat!"
Jeff: "No, I will look ridiculous. I'm wearing my Vans. They make my feet happy and my feet are nervous."
Happy feet always win.
So we definitely didn't come across as photo divas, that's for sure. It took everything we had to hide our nervous shaking hands during the first shutter clicks on the gown shoot for Exquisite Weddings Magazine last summer at Pelican Hill Resort. The wonderful team at the magazine commissioned us with the task of shooting 30 gowns over two-days with six different models – a daunting task if you think about it. Jeff and I would pick out the gowns with the producer, pair them with a model, and then each gown would be styled completely different by the stylist and hair/makeup team while we came up with 30 different incredible  image locations in every lighting scenario you could imagine – rain, fog, sun, and drizzle.
But once we started clicking our shutters – once we peered through our viewfinders and gripped our grimy, well-worn cameras – the 'new' didn't matter. We were just Jeff and Erin with a lovely bride in front of us.
And that's definitely not new.
We posted the final magazine spreads on our blog yesterday, and there's so much I could go into with this amazing and wonderful photo shoot, but I'll touch on the highlights. First, I LOVED our models! You ladies were a DREAM to work with. They took our vision of a sweet, lovely bride and brought them to a whole 'notha level.
Second, it was so fun styling and perfecting the images – with the weather being funky, there was plenty of fixing and pinning involved! The whole team was so fun – we would do anything it took to get a great shot.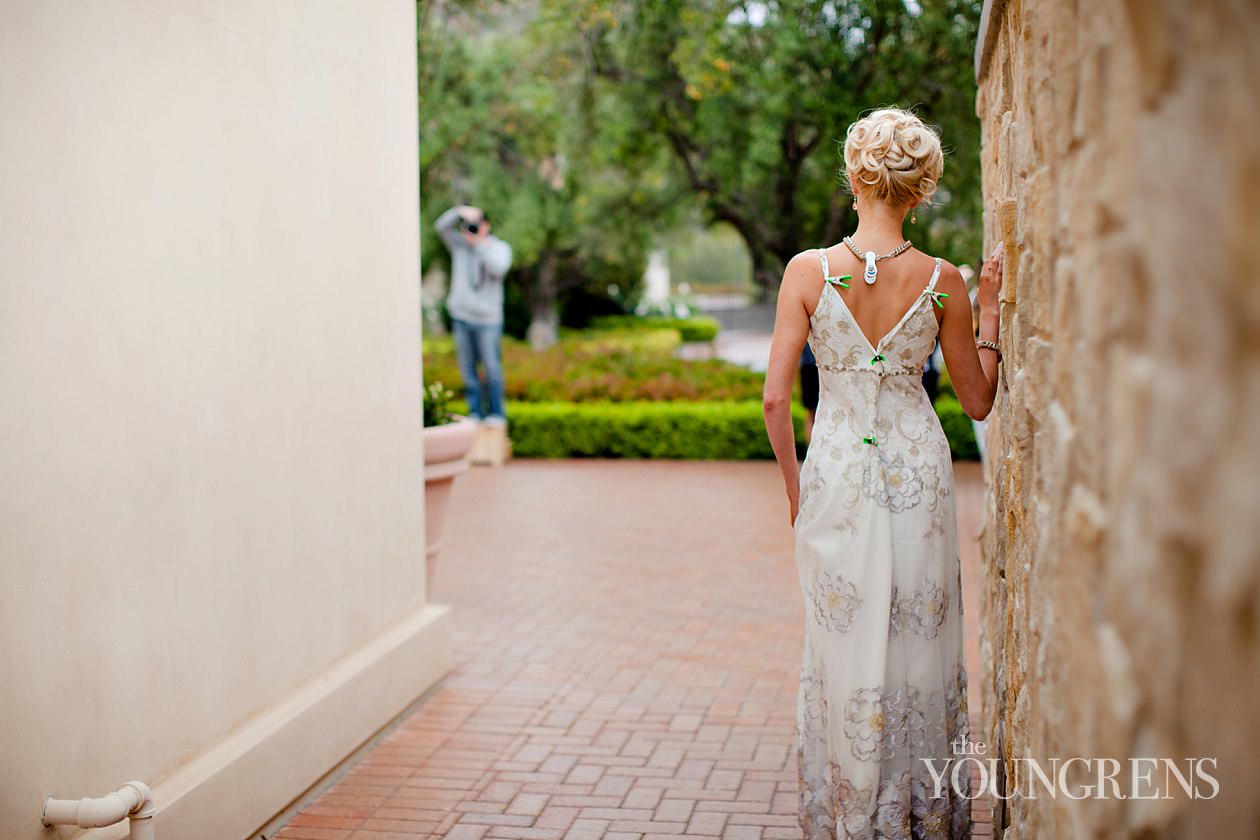 Jeff was always a sweetheart and gave the girls his sweater on the cold, rainy mornings and would step in to pin at a moment's notice.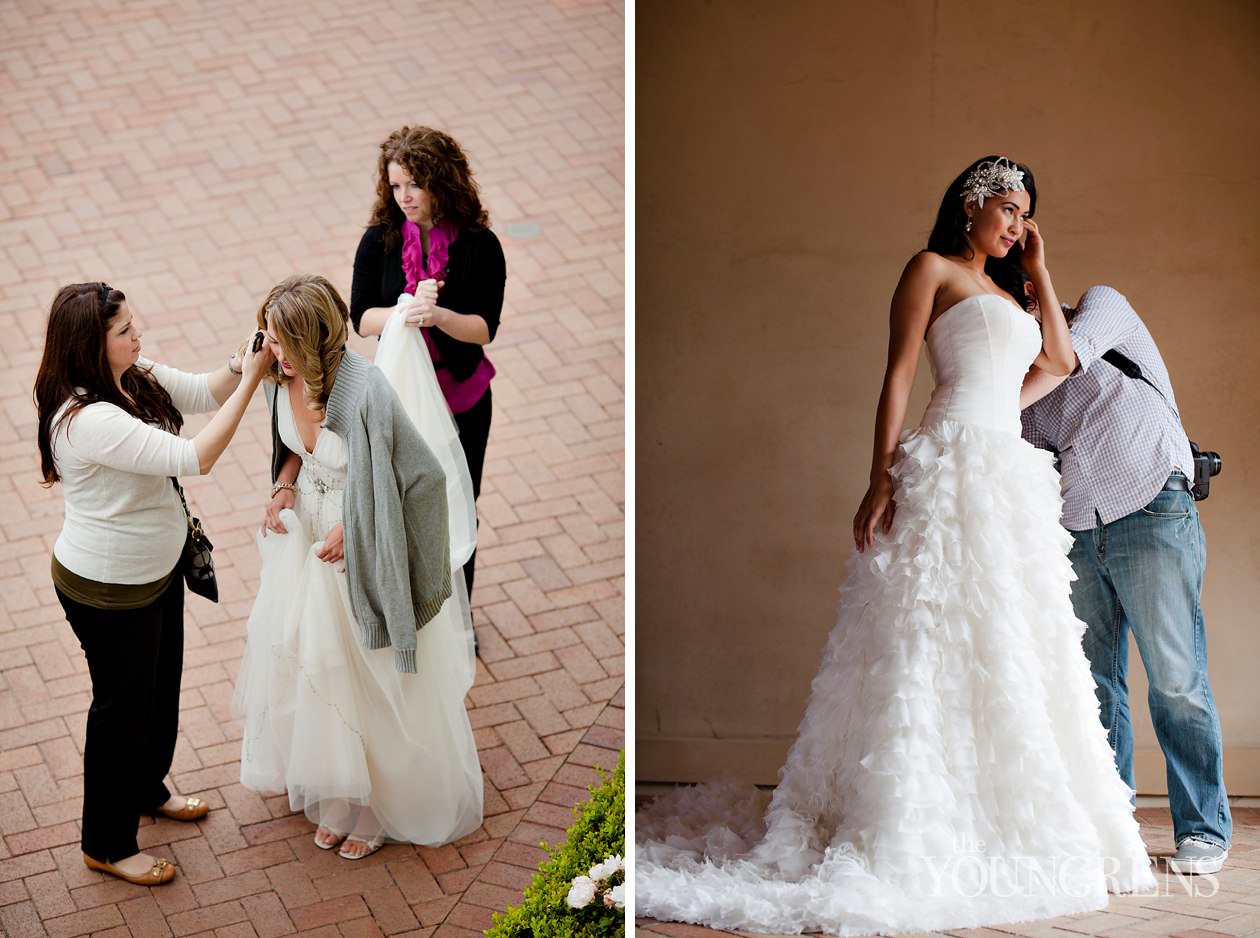 Alyssa, the producer, had a toolkit ready to go whenever we needed her, and I even pulled a pin out of my own hair at the last minute. When everyone starting laughing at me, I was like "What? I do it for my brides all the time!"
Another highlight was using the 200mm f/2.0L and the 300mm f/2.8L. **Photo Geek Warning** We own the 200mm and rented the 300mm just for this shoot because we wanted a beautiful compressed look that would feel super different from your typical editorial shoot. At many weddings, we don't have much space to back up (to our brides – these lenses are HUGE and they're used for long distances like sporting events and wildlife photos – not portraits), but Pelican Hill Resort is so spacious that we knew we'd have tons of room to move around and wanted to take advantage of the compression.
Was it worth it? TOTALLY. We came away with images that were super descriptive of our style and set apart from typical magazine shoots. We like being different. 🙂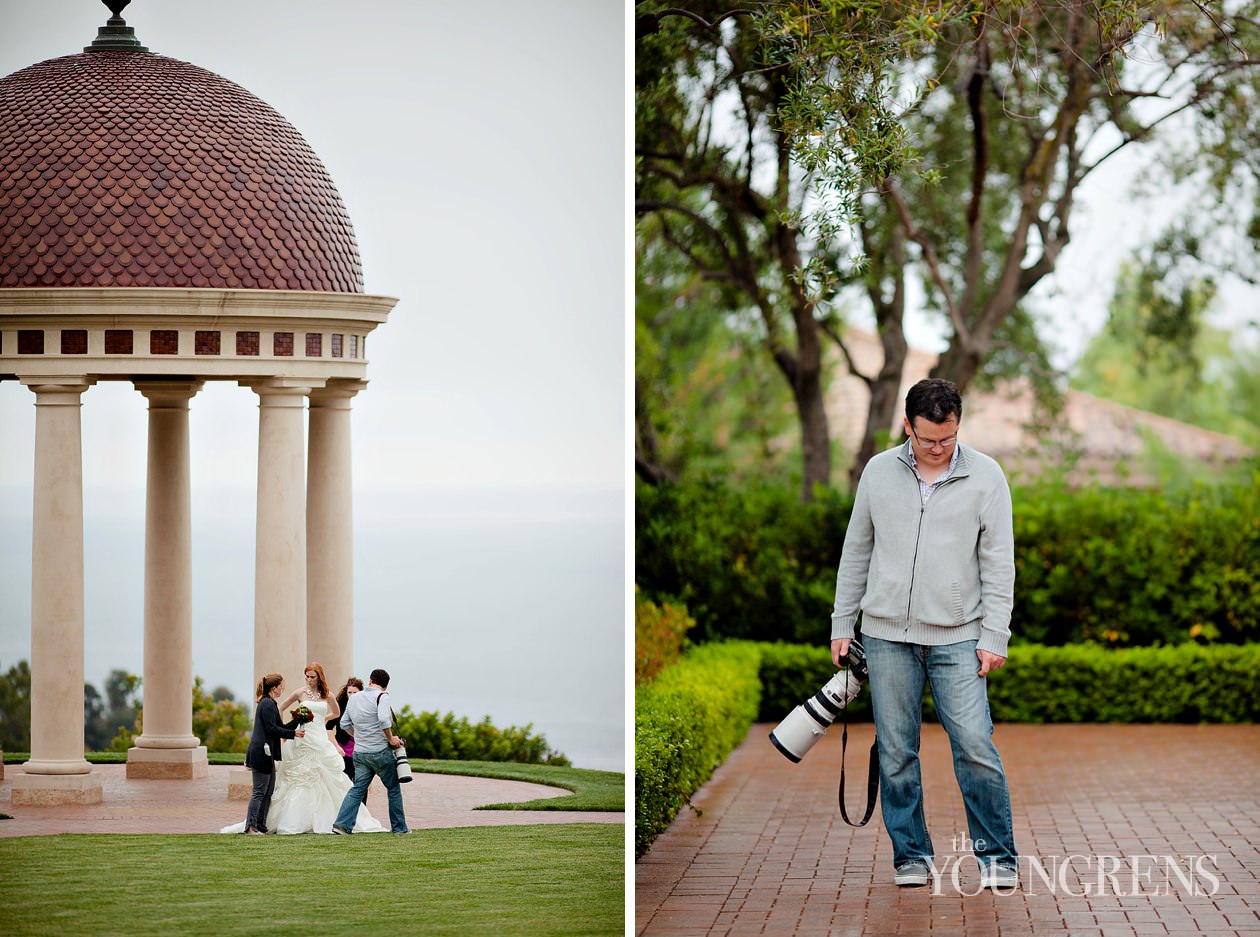 Another highlight was using the Phototek Sunbuster 84″ diffuser, which is basically a giant umbrella that we used to shade our models from harsh sunlight and shadows, and also to protect from the rain. It could diffuse an entire body, so it was definitely necessary. Big thanks to Casey Figlewicz for being our right-hand man during the shoot! He was our trusted assistant, and we couldn't have done it without him!
And since we had to find 30 different backdrops for the gowns, we had to get super creative. Here, we're not only shooting in the rain, but the model is standing in the entrance to the pool showers! Ha! (Yep – Pelican Hill is RAD!) It definitely became one of my favorite setups!
One of my other favorite setups was this awesome green window – and the rain definitely made it a challenge with the designer dresses. Helena ended up standing on top of a towel, so the shot became a waist up look.
The last highlight was getting creative and having fun with the three of us photo nerds. As we came down to the last few setups, we literally had to scour the property for new backdrops and there are plenty of test shots just like these while we said 'yay or nay' to backgrounds.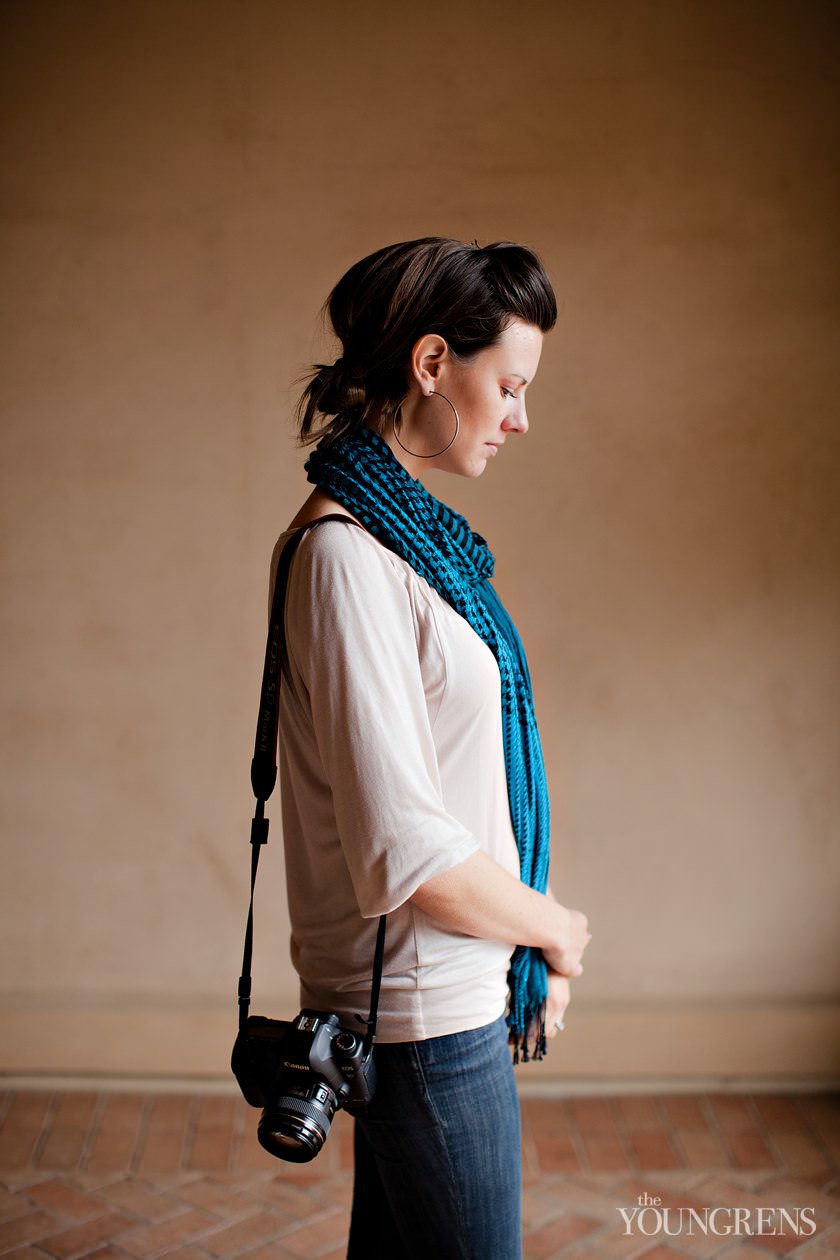 Even Casey jumped in on a few… This was him walking up and down the main promenade for me while our model was prepping and I figured out my angles for my Anthro-inspired shot. He did a LOT of walking for me! Ha!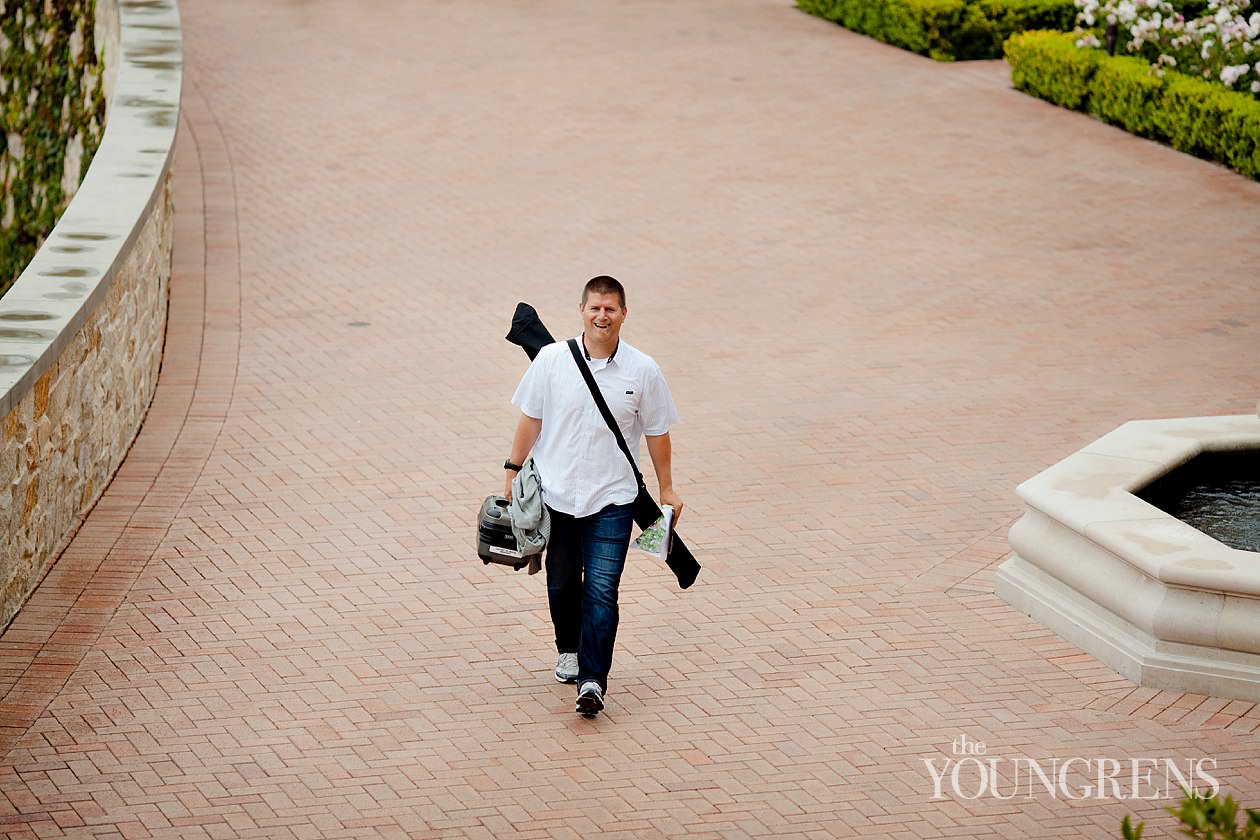 This was such an amazing opportunity for us, and I'm so glad we're able to give you guys just a little sneak peek behind the scenes! This is an incredible, upscale, fresh, and vibrant magazine, so spread the love and buy your copy of Exquisite Weddings Magazine to view the entire shoot in print!
Hugs,
Erin