I was packing our suitcases yesterday when I suddenly realized that it's been a year since our last international trip. Over the course of 2010 and 2011, we traveled a ton and got to visit 12 different countries for incredible destination weddings, non-profit shoots, and pure personal fun. We flew 100,000 beautiful miles around the globe to places like Thailand, Cambodia, Italy, Costa Rica, Australia, and beyond. But the last trip we took across borders was to St. Lucia last spring. We've been hopping around domestically on a regular basis, but I realized as I was stuffing Jeff's socks into his favorite pair of Sperry's that we haven't been through customs for a little while now.
As I shoved another load of laundry into the dryer, I strolled down to the office, pulled out my passport, stretched it open, stuck my nose inside, and took a long slow inhale. It was like smelling an old, thick library book, it's pages rich and wrinkled. I slowly scanned the stamps littered throughout, treasuring each memory of passing into another country – particularly the full-page visas for Vietnam (the most rigid border I've crossed so far) and Cambodia (a hilarious border experience full of petty theft, confusion, and an escort named Mr. Sambat).
"It's been a long while Mr. Passport," I mumbled. "Time to come out and play again." Gracie was munching at her food dispenser and paused to raise her eyes in my direction before carefully taking another mouthful. She looked confused. And a bit worried. She doesn't like it very much when the passports come out…
We're headed to Nicaragua today to photograph for a non-profit (I'm actually posting this blog from the Atlanta airport), and as I was 'narrowing down' my clothing options last week (or at least piling and shuffling as to appear as if I was narrowing things down…) I realized that my standard set of clothes that I wore around the world were showing quite the wear and tear. As if I needed a better excuse to go shopping…
My first purchase? A brand spankin' new pair of grey TOMS that I've been eyeing FOR-LIKE-EVER.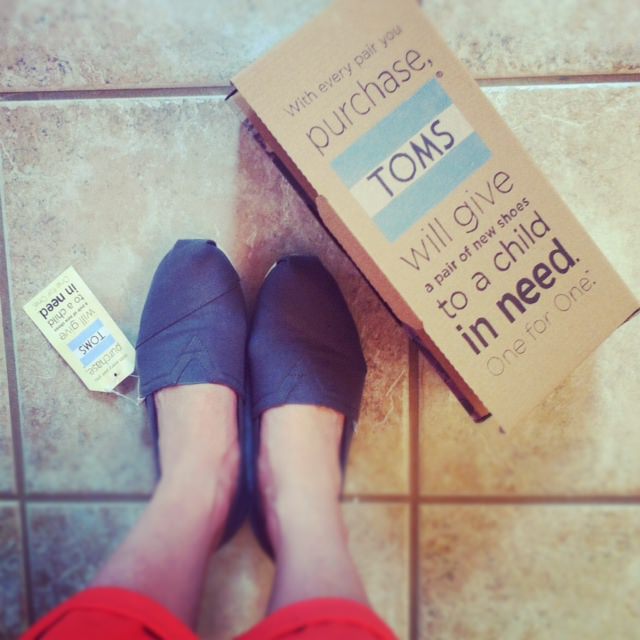 My next purchase? Some comfy/cute capris and a pile of soft t-shirts – staples for shooting in any hot and humid climate where sweating through your clothes is like a dance party on my birthday – guaranteed to happen.
I'm so excited to share our Nicaragua adventures on the bloggy-blog when we get back, so stay tuned for a few photos and plenty of stories! In the meantime, your comments for our Anthropologie Butter Dish Giveaway were so special! I love that you guys have such meaningful knick-knacks in your homes. Some of my favorite comments:
From Kendall:
"I have those same salt and pepper shakers and they sit front and center on my dining room table 

 They are the best! The thing that makes me feel at home most is this piece of wood with little handles on the sides that my mother in law made as a candle holder. What is special about it is that that piece of wood came from an old chicken coup/house that was the first building built on the family farm decades ago. It is a cool piece of family history that makes my tiny apartment feel homey.
From Melanie:
"I have a collection of vinyl records that I rotate in frames on the wall in my living room, and my favorite is The Steadfast Tin Soldier. Most of the rest are musical recordings, but this one was my dad's book-on-record from childhood. I can remember laying on the floor next to my Fisher Price record player, waiting for him to come home from work, and hearing how the broken little toy soldier fought for the love of a matchbox ballerina. It was my "toy story." Now the cover shows the careless creases of toddler hands, and there may be a 20-year-old strip of packing tape along one side to hold the feeble panels of the cover together. But every time I see it hanging over my couch, I immediately smile."
And our official random winner of the adorable Anthropologie butter dish is….
Melissa Jean with her sweet comment:
"I have a photo of dried flowers, from different occasions when my husband gave me flowers. It started when he first got me flowers two weeks into dating."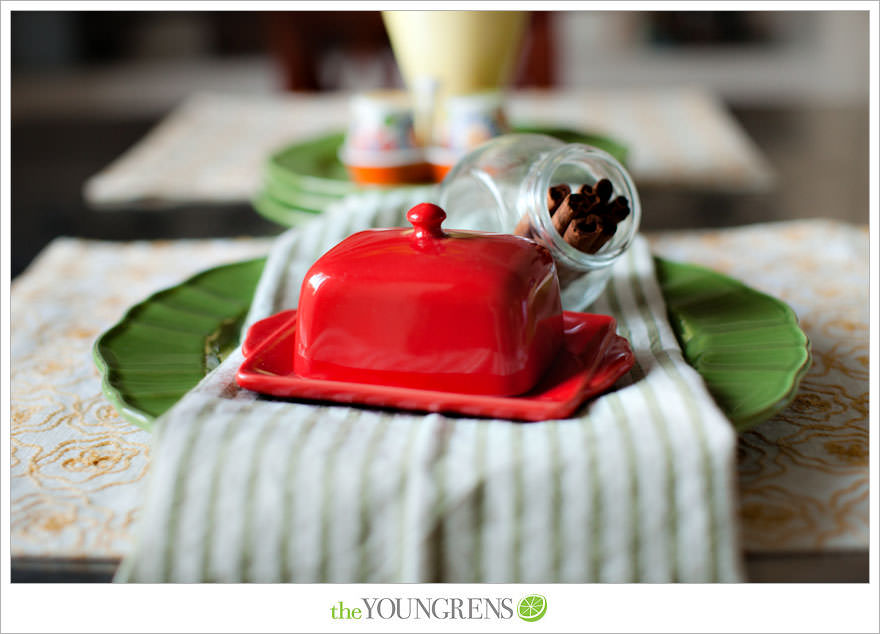 Congrats Melissa! I'll be in touch soon to send your prize on its way! Until the next giveaway, happy commenting everybody!
Hugs,
Erin