Connecting with your Dreamies on your Instagram feed is like you're hosting a dinner party at your house.
(Stick with me here…)
For example, when you invite friends over for dinner, you decide that you're going to make Italian food. That's your vision for your dinner parties – it's the kind of food that you most enjoy and think your friends will really like, too.
But what if we take it one step farther?
Instead of just making ANY Italian food, you decide that the Italian dishes that you would most LOVE to share with your friends are the dishes that your Italian grandmother used to make when you were a kid.
Those are the dishes that you feel are most worth sharing with the people that come to your house because they are the dishes that matter to you.
They tell a story about who you are, what kind of home you are building, and what you believe to be important in life.
And there will be guests that come into your home that will deeply connect with your food, not because they also happened to have an Italian grandmother that made the best meatballs ever.
They will connect with your food because…
…they grew up with an aunt that made the most delicious tamales every Christmas.
OR
…they had a dad that made incredible BBQ tri-tip sandwiches every summer.
OR
…they had a mom that baked apple pies from scratch using the apples from the trees in their childhood backyard.
These are the guests that when they encounter what matters most to you they will connect with your WHY, because those same things matter to them.
They will FEEL something about you and pursue a deeper relationship with you.
However, there will also be people that you invite into your home that will enjoy your dishes, but they won't connect with you beyond having a nice meal.
They won't feel anything deep or important, and that's ok.
You've done your job, you've been a great host, you've warmly welcomed them into your home, and then you've parted ways.
The Home of Your Brand
It's the same with your social media.
When someone comes across your feed, you're inviting guests into the home of your brand.
What kind of experience do you want your audience to have with your brand? How do you want them to FEEL?
It's fairly easy for us to post on Instagram about surface things like pretty flowers and chai lattes and gorgeous couples, and that's completely understandable!
Those are surface things that we can see, touch, feel and understand.
But a POWERFUL brand – one that creates a tribe of Dreamies that loves them for who they authentically are – is one that uses those surface things as a vehicle to get to something deeper.
A powerful brand is one that makes their Dreamies FEEL something about them.
And the truth is that you're not going to get your Dreamies to FEEL something about you unless you dig below the surface.
For example, a powerful brand will use a post about a chai latte to talk about connecting with a best friend on a Saturday afternoon.
Or a powerful brand will use a photo of gorgeous flowers at a wedding to talk about the purple wildflowers that were in their backyard where they grew up.
How This Works (In Real Life)
Let's look at a practical example of how this has played out for us on our Instagram feed recently.
At Jed and Alana's destination wedding in Santa Barbara, we only had a few minutes left to finish their couple portraits, but I turned around and noticed that their reception was in the final stages of being setup.
Now, I knew that these two had been planning – from New York where they live – their amazing California destination wedding for over a year, and they were both so invested in making sure it was an epic day for their 250 guests to celebrate.
So I turned to Jed and Alana, and I told them to stop for a minute and watch their wedding vision come to life.
And Jeff happened to grab a photo of it.
So I decided to post this behind the scenes photo on Instagram, and this was the caption:
"Stop. Look. Listen. Take it all in. Otherwise, you'll miss all of the magic. As photographers, we have unique access to our couples. We have the privilege to impact how they experience their weddings, so Jeff and i make it a huge priority to pause our couples and help them seal in the memories of their day. I love this #bts shot my hubby grabbed of me pausing with Jed + Alana. We only had a few minutes, but savoring was much more important than photos in that moment. I wanted them to remember how they felt as they watched it all come together. Because how it felt was simply magical."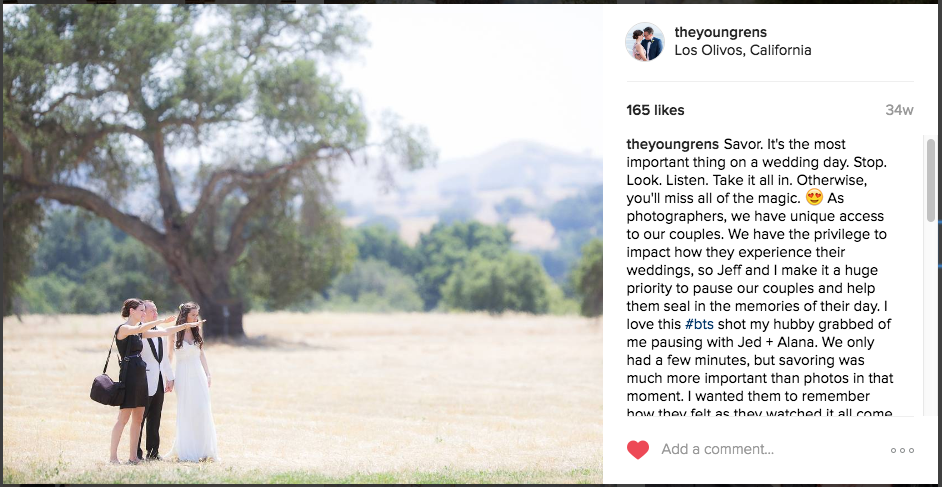 Now, this post had 163 likes and 8 comments – which is good and I'm happy with that – but it's not EPIC.
We didn't have 1,000 likes and 50 comments, and the stats for this post weren't unusually off the charts in comparison to any other posts that week or month.
But what's remarkable about this post is the comments that I hear from our COUPLES. The comments OFF of social media.
In the months following that post last year, I would be talking with potential Dreamie couples over the phone – before they hired us – and they started mentioning how they follow us on Instagram, and they love that we help our couples savor and how that's exactly what they want on their wedding day, too.
And which comments do you think matter more to me and my business?
The ones on Instagram?
Or the ones from my Dreamies when they're signing a contract?
This is how social media is MEANT to work.
This is why challenging yourself to connect on a level that's just a little deeper is totally worth your time.
This is why knowing your values and knowing the values of your ideal clients makes such a different in your marketing.
This is how you build a business that you absolutely love, while also building a business that is profitable and sustainable.
Wanna get started with understanding your Dreamies?
This guide will walk you through the first critical steps of discovering your dream clients!
Hugs,
Erin